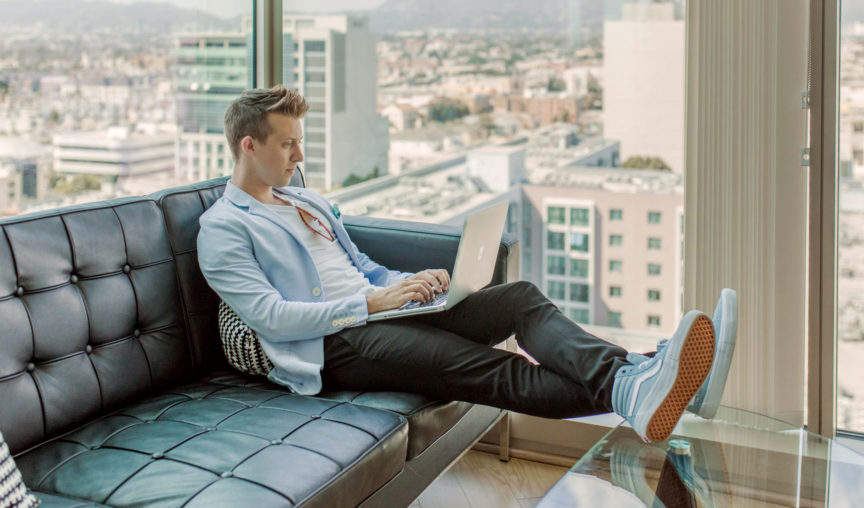 More than 65% of Australians work from home. Due to COVOID-19, that statistic is probably much higher right now. Self-isolation and social distancing mean more of us than ever are getting our work done behind closed doors. There's never been a better time to improve productivity when working from home. Working from home sounds great in theory. Comfy clothes. No commute time. And, your favourite snacks on hand. The issue is, sometimes it's hard to actually get any work done. We've all been there. You spend more time prepping the ultimate breakfast than answering emails. You're undecided on a Spotify playlist. You realise working from your sofa is less comfortable than you thought it would be. Suddenly . . . you're missing your desk. Don't stress. We're here to share with you 5 ways to make working from home work for you. Here's how to improve productivity at home.
Start your day right
The first hour of your day often determines your productivity levels. Start by getting dressed. Working in your PJs is never as good as it sounds. Then, make your bed. There's a reason your mother used to nag you about making your bed. According to productivity expert Charles Duhigg, making your bed is a 'keystone skill' of successful people. Why? Because it's one small accomplishment right at the beginning of your day. This habit tells your brain, "Right, today is going to be productive. We're going to get stuff done". So, when the alarm goes off and your work from home day begins, make your day. There are other ways to inject productivity into your morning – and your day. Exercise is key. If you're stuck inside, find a workout video on Youtube. Get the whole household in on the action. Quarantine might keep you out of the gym, but it doesn't mean you have to neglect your workout routine! It's a well-established fact that exercise improves productivity. However, you start your day, do it thoughtfully. Rolling out of bed and straight onto social media isn't likely to boost your ability to work well from home. A healthy routine is essential.
Set your own hours
Working from home means more flexibility. To improve productivity, we should use that flexibility well. When planning your day, ask yourself these questions:
How many hours of work do I need to get done today?

What time do I usually clock on for work?

What do I need to get done before that time?

When do I want to take my breaks through the day?

What time do I want to clock off this evening?
Then, write yourself a schedule. Even better, give your colleagues a heads-up about that schedule. Want to get some work done early in the morning so you can clock off earlier? Let people know, so they can work productively too. You can't just assume productivity will happen. You need to set yourself up for a win. And the best way to do that is to use your time well. Set your work hours and write your to-do list accordingly.
Take a break
When there's no-one around to remind you, it can be easy to sit at your laptop all day. This doesn't equal good productivity. Choose a decent lunch break over scrolling through social media every five minutes. Don't jump from task to task out of boredom. Work with purpose and then take a proper break, away from your work. When working from home, you can often choose when you take that break. Choose wisely. Aim to have your biggest break half to three-quarters of the way through your work day. That way, you'll have the energy you need to finish the day well. Treat your brain to the break it deserves. Here are some ideas for using your lunch break well while working from home:
Get some exercise! Jump on the treadmill or put a workout tutorial on. If you can go outside, head out for a walk around the block.

Find some face-to-face interaction. Sit down with your family or housemates for lunch.

Watch

an

episode of your favourite Netflix series. Don't have the TV playing in the background while you work. Instead, indulge in one episode.

Try some mindfulness. Find a guided meditation video on Youtube. Take a breath.
Choose the right environment
FYI, your bed is not the best environment for productive work. You will get uncomfortable. You will get sleepy. So, get out of bed. So, where should you work? Here's our review of top work-from-home spaces:
Desk
Ideally, you want to work at a desk. Productivity is maximised when your posture is comfortable and alert. A desk with an ergonomically sound chair is perfect. Your back will thank you.
Kitchen table
If you don't have a home office, your dining room table is the next best option. The issue is, kitchen chairs are not designed to be sat in for hours at a time. After a while, you might begin to feel uncomfortable. Find a cushion to sit on, to relieve some of the pressure.
Sofa
Can you work from your sofa? Well, it depends on the sofa. If you can sit upright, with your laptop positioned far enough away from you, then your sofa may be an okay place to work. Productivity may be impacted if your sofa requires you to hunch over or recline.
Change it up!
One productivity hack for working from home is this: move around. Spend an hour at your kitchen table and then half an hour on your sofa. Move to your desk for a few hours. If you've got phone calls to take, stand up and walk around your home to clock up some steps. Sometimes, a change of environment keeps our brain alert and boosts productivity. Give it a try.
Accept accountability
The fact is, accountability accelerates productivity. We all work harder when we know someone is checking in. That's why people pay for personal trainers! The watchful eye of someone we respect is often excellent motivation for working hard. In the office, there is natural accountability. Our colleagues will notice if we're scrolling through Instagram instead of our inboxes. Our boss will notice if we take a three-hour lunch break. That's not the case when working from home. That can impact our productivity. One way around this issue is to put your hand up and ask for accountability.
Send an email to your colleagues outlining your schedule for the day. If you tell people what you're hoping to get done, you're more likely to get it done!

Call your manager when you clock-on. Call them when you're taking your lunch break and when you come back to the desk. And one last call at the end of the day. Force yourself to check in with them. It'll keep you on task.

Download some productivity programs on your laptop.

Freedom

is an app which blocks social media sites and other distractions.

Ask those around you to keep you accountable. 'I'm working on this project today and I need to get it done by lunchtime. Can you check in on me and see how I'm going?'
Practice makes Productive
You're not looking for perfection. You're just aiming for progress to improve productivity. Working from home presents particular challenges. However, with a little bit of thought and creativity, you can overcome them and work just as productively at home as in the office. Take some time to prepare and plan. Think about your daily schedule and time-management. Set yourself up for success by choosing an environment that will improve productivity. These small habits can make a world of difference, especially with the power of accountability on your side. With so many of us working from home at the moment, let's support each other and encourage healthy productivity.