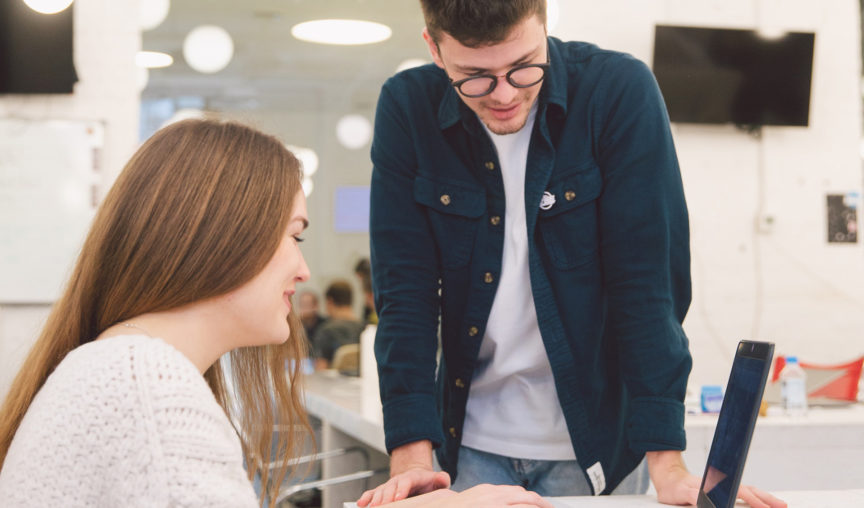 Whether your small business is growing or just getting off the ground, the way you manage human resources (HR) could determine just how much time you've got for everything else on your plate – a list that we know gets longer every day… HR systems for SMBs have become indispensable in today's fast-paced, dynamic business world. To help you assess your HR resourcing needs and understand which solution will be best for your business, we've put together a handy infographic: Then read on to discover the best options for you and your company…
Resource HR according to your needs
It takes time and effort to hire (and keep) the right people who can help you build and expand your business. You also want to make sure they're getting the development they need and are happy to stay and help your company grow. And then there are the intricacies of legal and administrative obligations, like keeping payroll accurate and maintaining adequate records, which need to be worked on continually. But not every company needs – or can afford to have – a full-time HR manager. Modern HR systems for small businesses include a range of features for companies that want the option of starting small and scaling up later on. Depending on what's needed to free up more time in your day, you can take on a solution that just helps you minimise the administrative tasks. You can also consider hiring a part-time HR professional and manage the rest yourself with an intuitive platform. It's all about finding a solution that works for you and your small business. So let's look at the options.
Solution 1: Part-time HR + HRIS
If you want to cut down the time you spend on HR-related administrative tasks, but also like the idea of having a dedicated person around at times to pick up the slack, then a combined human-software solution is the way to go. This blended approach provides the best of both worlds:
You get a Human Resource Information System (HRIS) that automates the time-consuming and repetitive aspects of employee management, allowing you to focus your time on more valuable tasks, such as sourcing new clients or improving your business strategy.
You've also got a dedicated HR person who can give you specialist advice and deal with situations that need the human touch, like resolving conflicts or negotiating salaries.
He or she can also help you onboard the HRIS system you choose, which means even more time saved at your end.
Solution 2. Implement an all-in-one HRIS
If you don't have the capacity to hire a dedicated HR resource, don't worry. There are several cost-effective solutions that can help you make big savings. These include comprehensive HRIS platforms that combine onboarding, payroll, learning and employee engagement software in one easy-to-use tool. Many HR systems for small business today come as a software-as-a-service offering. For example, Employment Hero offers a subscription-based pricing model – which means no expensive initial outlays, immediate updates when employment legislation changes in Australia, and the option to scale up or down almost instantly. At the very least, with an HRIS system up and running in your business, you can look forward to a streamlined onboarding process and having all your policy documents in one place for easy access, a boon if your business suddenly grows very quickly!
Solution 3. Get an in-house HR Manager
The more successful your business becomes, the more people you hire, and the more complex your staffing demands and HR tasks become. Once you reach that stage of growth, you'll need to start thinking about HR more strategically if you want your business to thrive, and consider things like:
How to forecast the resources you'll need in future based on your strategic business goals.
How you're developing your culture, and if it's enough to attract and retain top talent.
What perks, benefits and career development opportunities are going to help you find and keep the best people in your team.
Getting a dedicated HR Manager on board will not only help you address and implement these long-term considerations, but you'll also have someone on staff with specialist knowledge to help you navigate the various complexities of Australia's employment rules and regulations.
Solution 4. Hire a part-time or freelance HR
If your business can do away with the traditional hiring model, hiring a part-time or freelance HR person is a great way to get access to the specialist knowledge you need while remaining agile as a company. And as the "gig economy" continues to grow in Australia – the number of part-time employees has risen by 14% nationally since 2011 – the easier it will be to find an HR professional to work when needed without officially adding to the headcount. It's still important to have some form of automation with your HR processes, however, so that the freelancers you hire aren't spending all their time sorting through heaps of spreadsheets and records. Some HR systems for small business even allow you to access basic functions for free!
Solution 5. Time for a system review
In order to get the most out of your HR, it's probably time to complete a system review. There are a number of options for you to take here but it's essential you find a solution tailored to your business and it's requirements. Consider an all-in-one platform that streamlines your HR, making it easier to onboard employees, pay staff and stay locally compliant. Employment Hero is one example of a platform that can do all these things and can be easily integrated into your business. Essentially, it's a quick and effective solution to your current HR challenges.
Solution 6. You're on track
Congratulations! It looks like your HR is performing well. Don't get too comfortable though…! It's always important to monitor your current systems and ensure they stay efficient in times of change, or you start to grow. If there comes a time when you need to reassess your HR, we recommend revisiting this blog to determine the best way forward. Otherwise, 'if it ain't broke, don't fix it!' as they say.
Is your HR solution working for you?
No two small businesses are the same, and what you find to be a good HR solution for your company today may not be tomorrow. There's no one-size-fits-all solution with employee management, that's why it's a good idea to review the HR systems and solutions you have in place every so often and see if it's still working well for you. If you'd like a template to help you determine how much time you could save, download our 'To hire, or not to hire?' toolkit. Or to see for yourself how an all-in-one HR tool like Employment Hero can transform your business, request a demo today.

Employment Hero is an all-in-one HR and payroll system, built to facilitate employee engagement for small to medium sized businesses. Your employees will have access to our marketplace of specially curated employee benefits from Australia's leading insurance companies. Request a demo today.