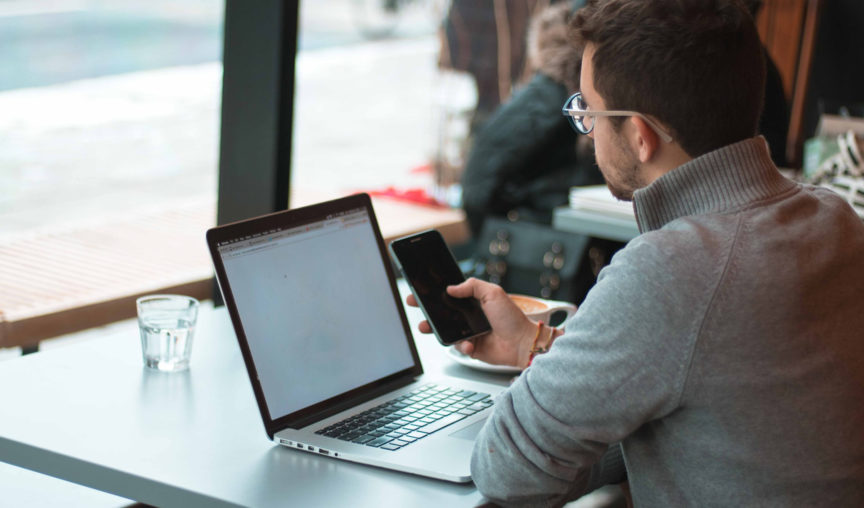 Employment Hero's Chief People Officer, Alex Hattingh, recently shared a masterclass on how to transition to a remote or hybrid workforce with Business Chicks, Australia's largest and most influential community for women. As a remote-first advocate, Alex has a wealth of knowledge when it comes to implementing flexible work options, especially as we at Employment Hero have transitioned to a remote-first working model since the COVID-19 crisis.
The impact of COVID-19 has turned the world of work as we know it, upside down. Alex explains, "it's taken decades for us to go from the industrial corporation to the hierarchical leadership model, but the most significant change has been from 2019 to 2020." In less than a year, we've seen companies "shift their focus to empathy, trust, resilience and growth. We've also seen a massive shift to wellness" adds Alex. "We're much more focused on the individual, the community and how we give back." Most importantly, however, Alex highlights the rise of employee work-life balance in the new world of work. "The employee experience is now more vital than ever," Alex explains, and there are several strategies that leaders can use to boost employee engagement in a remote context. Here are some of the tips and techniques Alex shared:
Applying trust and regular cadence
Trust and harmonious working relationships are earnt through communication. Using the 'Employee Productivity Pyramid' based on Maslow's Hierarchy of Needs, Alex explains "you want to start at the baseline where you provide your employees with compliance and trust." Towards the top of the pyramid is continued development. Alex says "a huge effort needs to be given to career development and continued success – that's when you get your happiest, most engaged and most productive employees."
Internal communication tips for the new remote world of work
At Employment Hero, "we've implemented daily Stand-Ups, weekly team meetings and one-on-one's, as well as company meetings such as Town Halls and All-Hands where we communicate business updates and performance," says Alex. "Cadence is vital, especially solid routines so that all of our people know where and when communication will occur," she explains. Employment Hero establishes its rhythm across time increments, from daily team huddles spanning to decade-long purpose, vision and values objectives.
Employees want to know what's expected of them, and this starts with establishing rules. "The special thing about rules is that they're collectively agreed upon; they build trust, understanding and support," says Alex, "so make sure everyone knows what the rules are."

"Trust and empathy is built from always assuming positive intent. Also remember that tone can get lost across various communication methods, so it's important to establish when to use Slack and when to engage in a video conversation for two-way communication."

Instilling and ensuring structure is vital to remote leadership. Alex champions transparency through recorded communications and setting a process and agenda around meetings to ensure everyone can follow along – no matter where they're based.
You can download our guide to managing hybrid workforces here.
How to achieve alignment of effort
Alphabet CEO Larry Page attributes Objectives and Key Results (OKRs) to Google's rapid growth, claiming, "they've kept me and the company on time and on track when it mattered most." As an ex-Google employee, Alex still swears by the value of OKRs. She explains "with OKRs, there's a top-down approach where you take the purpose of the company, you set an annual goal, and from there, it becomes teams working with their managers to establish individual OKRs that align to the company's." From the C-suite to the support team, the aim of OKRs is to ensure everyone knows what they're doing at any given time, and how that contributes to the company's overarching objectives. When building OKRs for your business, Alex recommends taking a step back and looking at what your company wants to achieve at a high level, before breaking that down into yearly objectives. Then, she says, get your managers on board and roll-out a plan, preferably in stages. "Be prepared to learn as you go," adds Alex. You can download our OKR's playbook here.
Reward and recognition is the activity we engage in to acknowledge exceptional performance and encourage specific values or behaviours. "Why are they important? Because people need to feel appreciated," says Alex. Leaders can reinforce positive recognition by associating it with clear behaviours that align with the company's values. Recognition is all about timing; it shouldn't be 'ticked off' quarterly or annually – it must be done on the day, especially in a hybrid work environment. Rewards, on the other hand, need to have an element of personal value, and this is best done through choice, such as a gift card. However, Alex warns, "never confuse reward and recognition with remuneration" – the focus should be exclusively on celebrating your employee. This doesn't have to be expensive; it could be as simple as a hand-written thank you card, she suggests. Employment Hero uses shout-outs through its platform, but for business leaders that don't have an HRIS system, they can get creative on Slack or Zoom. Management should take the lead here; ingraining a culture of reward and recognition through their behaviours, and encouraging their teams to follow suit.
Coaching, leadership and development
One-on-ones
"A one-on-one is a scheduled meeting in your calendar and in your mental map for open-ended and anticipated conversation between a manager and an employee," explains Alex. These meets are intended for coaching, mentorship, context or even venting, however, the value of one-on-ones is for leaders, teammates and peers to connect and communicate. As a manager, effective one-on-ones should leave employees feeling heard, safe and empowered. Begin with open-ended questions such as 'how are you feeling', and really listen to your employee. Watch out for roadblocks, warns Alex, "especially in this remote world of work, it's not as easy to walk over to someone and ask how they're feeling." One-on-ones also require leaders to be the "facilitator of solutions." This can be challenging, says Alex, so it's important to create a space of trust through respect; being unconditionally on the employee's side, and showing vulnerability. Alex recommends setting aside 45 minutes for a one-on-one, even if you don't use the whole time. For managers, she also suggests allowing yourself 15 minutes after the meeting for follow-ups to address any employee 'asks.' Using a one-on-one template, such as ours, can offer a clear structure for these meetings – just make sure it's kept confidential. Download the running effective 1:1s bundle
Feedback
"Feedback is so important to success," says Alex, "without it, you don't know where to improve." She adds that "when it comes to engagement, employees who receive feedback – good or bad – are twice as likely to be highly engaged, and highly productive as a result." According to Netflix's Patty McCord, the best time to offer feedback is in the moment; which is why Alex uses the SBI model to structure interpersonal and peer-to-peer feedback. SBI stands for situation, behaviour and impact, and can be used to reinforce positive behaviour, and to provide constructive feedback by focusing on actions and outcomes rather than personal behavioural traits. It helps to follow up this framework with an 'I need or I want' statement to share your intention for where you think someone could improve. Feedback is hard in remote contexts, especially when teams are spread across different regions and timezones, however, employees and managers need to be cross-collaborative to truly see results. It shouldn't just be managers sharing feedback; it must be a team effort.
Keeping the energy up… and taking it a step further
At Employment Hero, we use a range of techniques to keep morale and productivity levels high, such as:
Turning videos on for engagement and connection

Regular 1:1s across the team
A culture of reward and recognition! 🎉

Employee surveys to discover what the business can improve on

Theming-up All-Hands provides non-work related relief

Virtual hangouts on Zoom to enable cross-team collaboration

Social sharing channels on Slack to keep the day fun