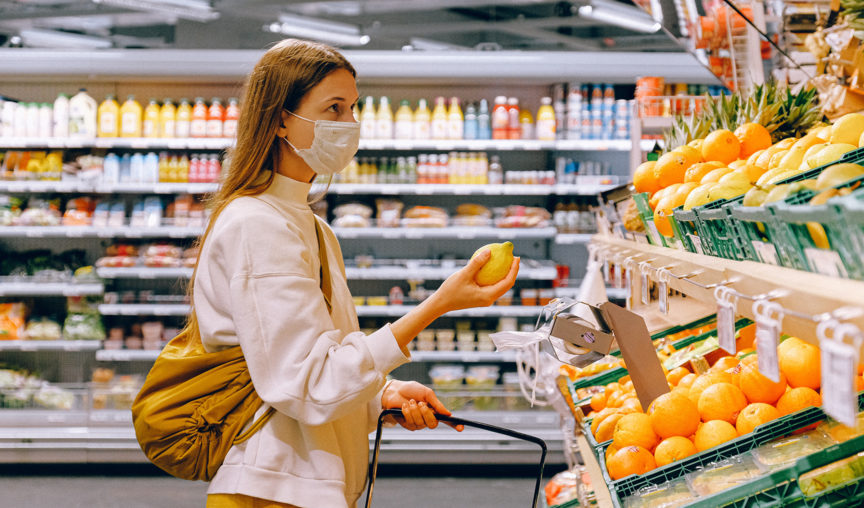 If you're an Australian business owner who has been impacted by the COVID-19 pandemic, mark this date in your calendar: Sunday 28 March, 2021. This is the day that the Federal Government's JobKeeper scheme wraps up nationally. With over a year since the pandemic first swept through Australia, we hope your business is well on its way to recovery. As the first vaccines start to be administered in Australia, the situation is finally starting to turn around, and the future is looking a little clearer. Whatever your situation, it's worth getting prepared for this important date. Let's get ready to farewell JobKeeper. Disclaimer The information provided in these blog articles is general in nature and is not intended to substitute for professional advice. If you are unsure about how this information applies to your specific situation, we recommend you contact Employment Innovations for specific advice.
Factors to consider before JobKeeper ends
Here are some things to be aware of as JobKeeper wraps up:
Changes come into effect at midnight on March 28
At this point, permanent staff salaries and hours will revert back to their pre-COVID levels. If there are any changes that need to be organised in this area, speak to your staff about it prior to this date, as businesses will not be able to alter a permanent full-time or part-time employee's hours without their consent.
Periods of uncertainty and change can take a toll on employee engagement
…and there has been a fair bit of uncertainty and change this year. Your staff members may be feeling worried about being made redundant at the end of JobKeeper. This instability can impact employee engagement, retention and employee wellbeing. We'll be talking more about supporting your employees through this period below.
Business may continue to be inconsistent
Despite the vaccine roll-out beginning, this does not guarantee that Australia won't have to endure further lockdowns. As we saw with the recent Melbourne snap five-day lockdown in February, any city, state or territory may have to suspend business operations with limited notice due to stay-at-home orders. Taking a considered and cautious approach over the next year will be key to business continuity.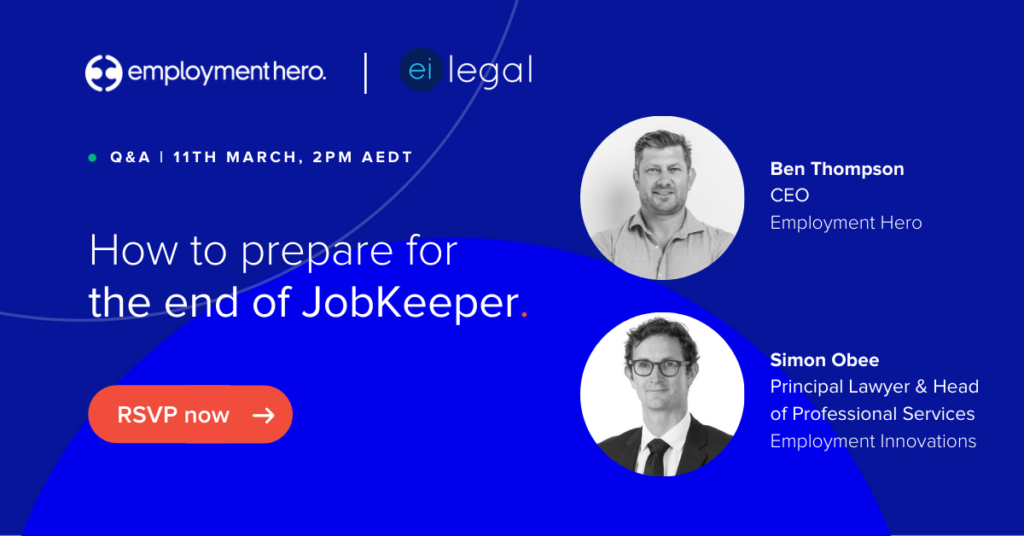 I own a business, how can I prepare for the end of JobKeeper?
Here's how you can prepare your business for the end of JobKeeper.
Forecast your cash flow for the next quarter
80% of businesses fall into rocky territory due to cashflow problems. If you've been relying on JobKeeper payments, this will be the biggest risk to your business over the next few months. With as much detail as you can, put together a forecast for the next few months. Examine this closely with an accountant if necessary. Once you have a clear understanding of how the next few months will look financially, you can realistically consider necessary adjustments. Read more about preparing a cash flow forecast. During and after the adjustment period of JobKeeper ending, make sure you keep your forecast up-to-date and update costs as necessary. Keep records of all outgoing purchases, plus spending and staffing decisions.
Cut away any extras through the adjustment
We know, there haven't been a lot of luxuries in the past 12 months, and there's probably not a lot of expenses to lose right now. But if any areas have come up in your cash flow forecast in which you could potentially tighten the business belt, consider doing that while you adjust to losing the subsidy.
Talk to your staff prior to the end of JobKeeper
You already have March 28 in your diary, but we would also recommend marking February 26. This is the date you should audit your headcount costs and see if you need to reduce any employee working hours to meet a reduced budget. As mentioned above, at midnight on March 28 your employee's hours and salaries will revert back to their pre-COVID rates. You'll need to get their consent to change these rates. Remember, honesty is the best policy at this stage and it's important to be transparent with your team. ❤️ These downturns can be really tough on business owners and staff. Download our free Dealing with Downturn Whitepaper to learn more about how you can support your team through hard times and emerge stronger on the other side.
Dial up the communication
Your staff are likely feeling more anxious around this time, as their lives are possibly about to be impacted yet again by COVID-19's many moving parts. Harvard research shows that over 69% of managers are uncomfortable with communicating with employees. Don't make the mistake of going quiet as an employer during this time, as this can have a negative impact on your long term employee engagement. Transparent communication with employees creates a foundation of trust during difficult times. Make sure communication is frequent and structured. The tone of your communications should be realistic but optimistic.
I am an employee, what do I need to know before JobKeeper ends?
If you are a permanent employee, whether you are on reduced hours or stood down, you will have an automatic right to return to the hours that you were working before the introduction of JobKeeper. It's your employer's job to be prepared for the end of JobKeeper, but in the case that you're concerned about your employer potentially not knowing their obligations, it's best to organise a meeting to discuss the change with them. Find more information about JobKeeper and your employment from the Fair Work Ombudsman.
What's the future of government support for COVID-19 affected businesses?
Although the Government is clear that it will not extend the scheme, there may be additional assistance available to employers announced soon. Watch this space for updates. In the meantime, your business may be eligible for the JobMaker scheme. ✅ What else has recently changed in Australian employment law? Here are the key updates that you need to know.
Looking for further support?
Download our Preparing for the end of JobKeeper Fact Sheet for more information. You can also visit our COVID-19 Resource Hub for more helpful information about operating a business during the pandemic. We wish you all the best in recovering your business this year.