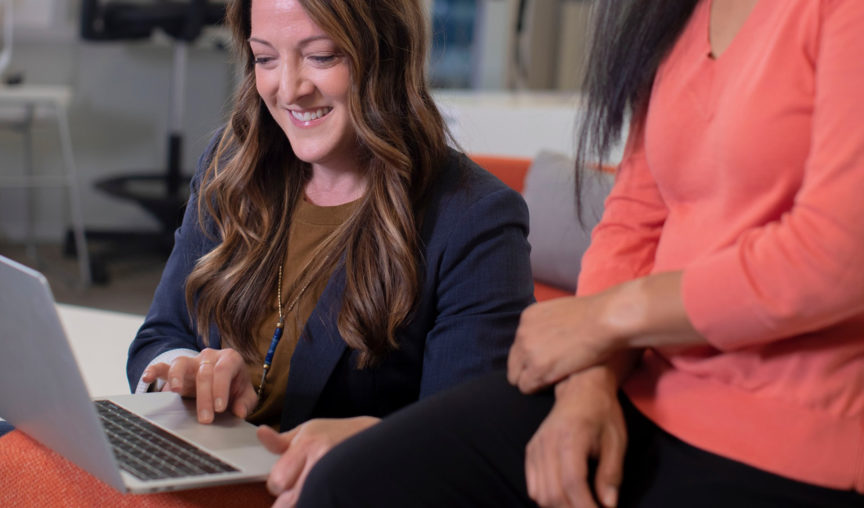 As a business, you spend a significant amount of time and investment in creating a compelling brand story around your products or services. The goal here, of course, is to attract and retain loyal customers. And while looking after the interests and needs of your consumers is important, how long do you spend cultivating an attractive employer brand for your current and future employees? If your goal is to entice and retain top talent, it's important to recognise the value in building a strong brand image.
What is employer branding?
In its most simplified form, employer branding is your brand's reputation. It's how both the industry and your employees perceive you as an employer.
Nowadays, a company's reputation is considered more important than their actual product or service. In fact, 86% of workers will avoid applying or working for a company with a negative reputation. Employer branding is really about how your business markets itself to prospective talent and current employees. The stronger your employer brand is, the more likely you'll be able to attract and retain highly qualified and experienced candidates.
If you're after a more comprehensive definition of employer branding and why it's important to your business, check out this awesome article by our talented CPO.
Why do you need an employer brand strategy?
If you want to articulate your company's leadership, values and workplace culture, you need to cultivate a compelling story. That being said, employer branding goes deeper than storytelling, it's about putting words into action that show why your company is such an awesome place to work.
We get you might be sitting there wondering, is this really that important? Do I really need a strong employer brand? Well, the simple answer is yes. Having an employer brand is vital to your company's bottom-line results. Yet, only 57% of organisations say they have implemented an employer brand strategy.
Without an effective employer brand strategy, hiring and retaining top talent becomes a challenge and a huge cost to your business. According to the Harvard Business Review and ICM Unlimited, companies with a poor employer brand need to pay $4,723 more per hire. Research suggests a strong employer brand is proven to reduce turnover rates by up to 28%, and halve your costs-per-hire.
To drive your business forward you need to show the world why your company is a great place to work. From compensation and benefit packages, to learning and development and weekly happy hours, the culture within your organisation, and how you treat your employees, are all determining factors for future job candidates.
Small to medium businesses have several key advantages when it comes to employer branding. As a fast-growing business, you have greater flexibility to play around with different employer branding strategies until you find the ones that stick. The good news is, you don't need an enormous budget and the same name recognition as Google to build a strong brand image.
If you're interested in learning how to nail your employer branding on a budget, we've provided a useful guide that won't break the bank.
Define your employee value proposition (EVP)
What attracts and retains your talent and what is your company's promise to its people? Your employee value proposition (EVP) is the foundation for your employer brand.
Defining your EVP means defining your 'why'. Your EVP should include elements such as rewards and recognition, career development, working arrangements and workplace culture. A captivating EVP will help your business stand out in a crowded and competitive market.
Remember, an EVP is essentially a promise to your people so it must be truthful and clearly articulated to current and future employees. It's about showcasing the additional perks and benefits that make your company stand out from the rest. People want to know the work they produce is meaningful, so you want to be able to articulate how you're going to deliver on this.
Make onboarding an experience to remember
Onboarding is the first experience any new hire will have with your company, so having a well thought-out program can help leave a long-lasting impression. Unfortunately, those who have a negative onboarding experience are twice as likely to seek out alternate employment opportunities.
Building a strong brand image ultimately starts with onboarding. It's vital you get your new employees engaged and excited from the get-go to ensure smoother transition periods, reduced turnover and more collaborative teams. Equipping recruits with the necessary tools and resources to succeed in their roles can help build a more supportive company culture, while effectively preparing them to hit the ground running.
If you're in need of a little inspiration, we've put together a list of the top seven companies nailing their onboarding here.
Leverage current employees
Motived, engaged and satisfied employees are your strongest brand advocates. If job seekers want to learn more about your employer brand, they're more than likely to reach out to your current employees to get a feel of how it might be working for your company.
Leverage your workforce through employee interviews and testimonials that can be displayed on your website. You can also ask your team to use their social media accounts to help bolster your company's online profile. For example, if you've recently hosted a giveaway event or expert panel discussion, your employees could post on their Facebook, Instagram or Twitter feed using company-related hashtags. This is a simple yet effective way for your employees to highlight your company culture within their own circle.
Offer learning and development opportunities
By providing training and growth opportunities to your employees, you communicate your company's commitment to ongoing learning and professional development.
Let's not forget, as your employees develop their skills the whole organisation benefits so it's a win-win situation for everybody! Consider offering special certifications, leadership training, personal interest courses and plenty of avenues for career advancement. L&D has been proven to help capture top talent and retain your employees.
Use multiple channels to tell your employer brand story
When marketing a product or service, you don't just use one channel to communicate your offering and brand message. Instead, you'll leverage an array of different platforms like social media, email, blogs, video channels and other forms of messaging to ensure you're connecting with the largest audience possible. The same rules apply when it comes to your people. If you want to clearly articulate your employer brand, you've got to consider all the different ways you can reach your employees and potential job candidates.
Commit to building a diverse and inclusive organisation
There's no doubt D&I has become one of the most popular HR buzzwords in recent times. The reason being, D&I leads to greater diversity of thought. So when a group of people from various different backgrounds, perspectives and experiences are working together, they're able to bounce off one another's differences to produce more innovative ideas.
If you want to strengthen your employer brand, making a wholehearted commitment to building a diverse and inclusive workforce is a surefire way to show your employees that you value their uniqueness. Implementing strong D&I initiatives ensures your brand is reflective of both your customers and employees. This not only speaks volumes to jobseekers but helps to extend your brand's reach to new groups of people.

Start a company blog
Quality content — and lots of it is an effective low-cost strategy to attract and engage audiences in today's highly competitive landscape.
While your customers might refer to your blog to solve complex business problems, jobseekers on the other hand, may use it to connect with your business on a more human level. A blog acts like a window to your company's style and tone of voice. It can also be used to highlight company news, updates and articles written by employees or leaders, which gives a more personable touch to your content. For job candidates, this is incredibly important in determining whether your company is the right fit.
Jump on social media and get creative
Many job seekers take to social media to gain a direct insight into a company's personality and culture. Social media doesn't just have to be about engaging with your customers, it can also be used to help build your employer brand and visualise your brand's image.
Channels like LinkedIn, Facebook, Twitter and Instagram help brands connect with their audiences through more personable and humanistic approaches (like language and visuals). If you're unsure of where to start, capture pictures of your teams in the moment, like at their usual Friday happy hour or during a lunch and learn meeting. Sharing little updates of your team's daily workflow helps job prospects relate to your brand and feel a sense of belonging before they've even landed a role.
Optimise your website's career page
Your company's career page is a core component of your brand image. It gives you a chance to broadcast your unique company culture and what it affords to future prospects.
Consistency is key in building an in-depth career page. It's important to check, and double check that your message is consistent and your EVP is clearly defined. Your dedicated careers space should aim to include any key growth metrics and company achievements, employee stories and testimonials, your mission, vision and values, and an overview of the benefits packages provided. Be sure to include some fun visuals alongside these elements to make the page more engaging for readers. For some useful inspiration, have a look at how Asana have structured their awesome careers page.
The wrap up
Having a well-defined and easily identifiable employer brand is no longer considered a business luxury—it's now an absolute must to attract and retain employees. But building a strong employer brand requires patience. These things don't just happen overnight.
By implementing these cost-effective branding strategies, you're well on your way to building an attractive brand image that'll help engage and inspire your people. Interested in learning more about employer branding and similar hiring strategies? Check out "Think like a marketer: Hiring strategies borrowed from your marketing department."
Hungry for even more content on attracting the best talent? Watch our Talent Wars 2022 webinar with Alex Hattingh, Sinead Connolly and Kate Jolly.