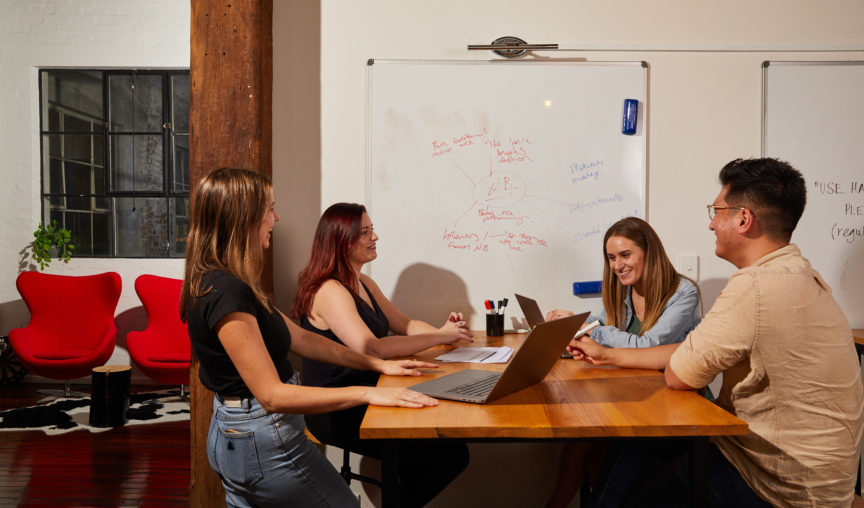 From an outsider's perspective, HR and marketing don't seem like they would be intrinsically linked at an organisation. But HR utilises more marketing principles and strategies than you might think, especially when it comes to recruitment and attracting top talent.
Your marketing department are experts in gaining awareness, which is exactly what people in talent acquisition need to do, especially in tough hiring markets. As we head into 2022 and feel the full burn of the Great Resignation, boosting your business reputation for employee experience is more important than ever. You need to show why prospective employees should be excited to work for you.
Organise a brainstorming session and start collaborating on these hiring strategies.
Employee Value Proposition (EVP)
A lot of hiring strategies have been inspired by marketing principles. The employee value proposition (EVP), one of the most important tools used by HR teams, was borrowed from the marketing idea known as 'Unique Value Proposition' (UVP).
A UVP helps marketers by always providing a core and unique message about what the product or service that they're marketing gives the consumer. Whatever campaigns they build around the product or service, it will always be guided by the UVP. Put simply, it's how the user will benefit from engaging with the product or service, with the aim to enhance their life or make it easier.
Some of our favourite examples of a UVP are;
Slack makes it downright pleasant to work together.
Great writing, simplified. (Grammarly)
Anyone, anywhere, can start a business. (Shopify)
In the same way as a UVP, an EVP is the unique value that a company can offer its employees. Instead of a snappy sentence like the above, it's a unique and distinctive set of benefits, perks, values and vibes that guides the employee experience in your business.
Get inspired by this marketing principle, and get some guidance from your marketing team when finding a direction for your EVP.
Want to learn more about putting together an EVP? Download our guide to building an EVP from the ground up.
Employer Branding
Employer branding is how you communicate your EVP to potential candidates and the wider business community. It's another HR idea that's deeply tied to marketing principles and practice.
In marketing, branding is everything to a business. It captures the 'look and feel' and 'tone of voice' of your product or service and communications. When you think about your favourite businesses, they will each have a brand that makes them recognisable and stands them apart.
Employer branding is the voice and image of your business as a workplace. This might be influenced by your product, but it won't be the same. Instead of revolving around your product, it captures the vibe of your employee experience – which is influenced by your EVP. Your employer brand tells the world who you are as an employer and your reputation. It's the message you send to future and current employees.
To build your employer brand; first, you need to think about where your potential employees are spending their time. You might ask yourself questions like;
Are our potential candidates active on LinkedIn? Are they looking at what others in their network are sharing?
Do they have Facebook and Instagram accounts? Are they often exposed to advertising on these channels?
Are there any influencers that they follow? Who do they look up to?
Where would they look for job opportunities? Would it be LinkedIn, Seek, Indeed, a company's own social media channels, a newspaper or somewhere else?
What is most important to our candidates? What would win them over?
You'll never be able to answer these questions exactly, but working through these considerations will help you understand more about your potential candidate and which channels you can reach them on. This will help you outline your employer brand's 'look and feel' and 'tone of voice'.
Look and Feel
The look and feel of a brand refers to its visual representation. When this applies to employer branding, it needs to capture the visual look of your workplace. There are many things that can make up the look and feel of an employer brand. This might apply to the colour palette that you use in your communications, or dictate if you're using photos taken on a camera phone or by a professional photographer. It might see you use lots of emojis, or none at all.
Tone of Voice
A tone of voice is a brand's spirit, conveyed through written and spoken words. It gives guidance on what is said, and how it is said. Different employers create a different voice to convey their employee experience. For example;
Apple's tone of voice as an employer could be described as; inspiring and innovative. Instead of having a person speaking to you (like a CEO or manager), it's a neutral voice.
It might be strange if their tone of voice was that of a local store manager with a casual or joking tone.
Let's look at how Apple expresses their tone of voice and look and feel in their employer brand video;
Content
Your employer content is everything that tells the story of your workplace to your business community. As your marketing department will tell you, there are so many forms of content that you can utilise. The type and style of content will also be influenced by your employer branding. Here are just a few examples of what you could do…
Articles: Members of your team could write a blog or article about what it's like to work at your business or their employee experience around a certain theme. For example, Employment Hero employees Char and Constance wrote a blog for us about their Remote Working Road Trip. These articles could live on your website, or they could be shared directly to a channel like LinkedIn; like I did with this article.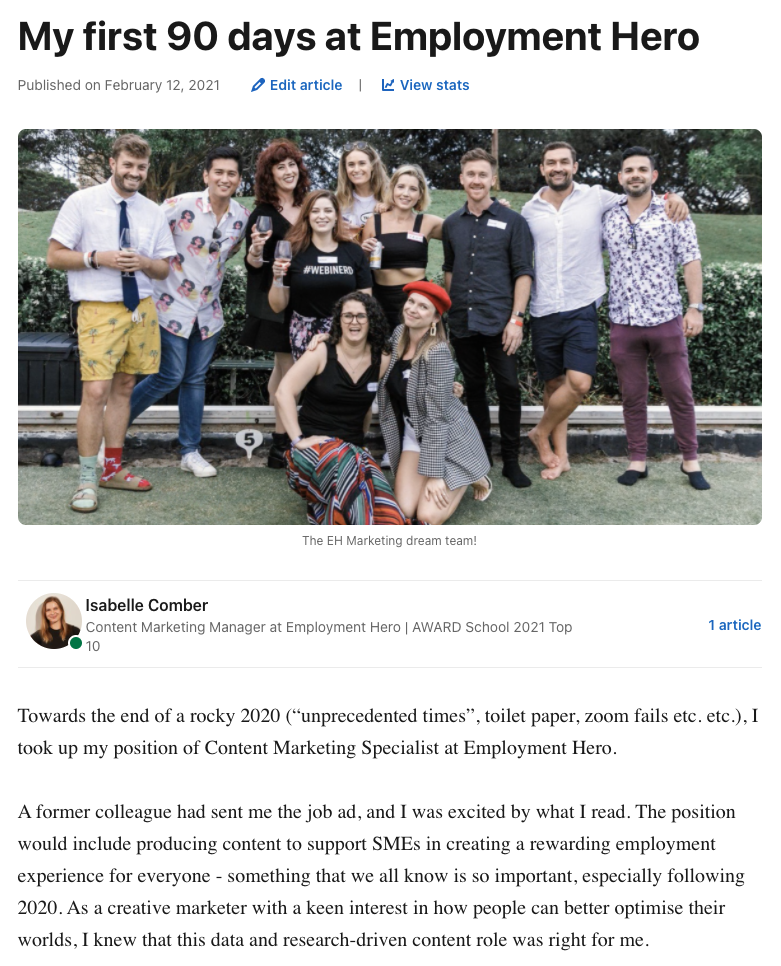 Photos or images: A visual representation of what working for your business is like is an absolute must. Whether it's a photo of a work event or a more creative execution of workplace life and values, there are lots of ways that imagery can help tell your story. We've included two examples below of how we've done this on social media; the first image is of our internal touch football team (Team Bin Chickens for the win!), the second was made up by our designer to creatively show some of the day-to-day fun we have.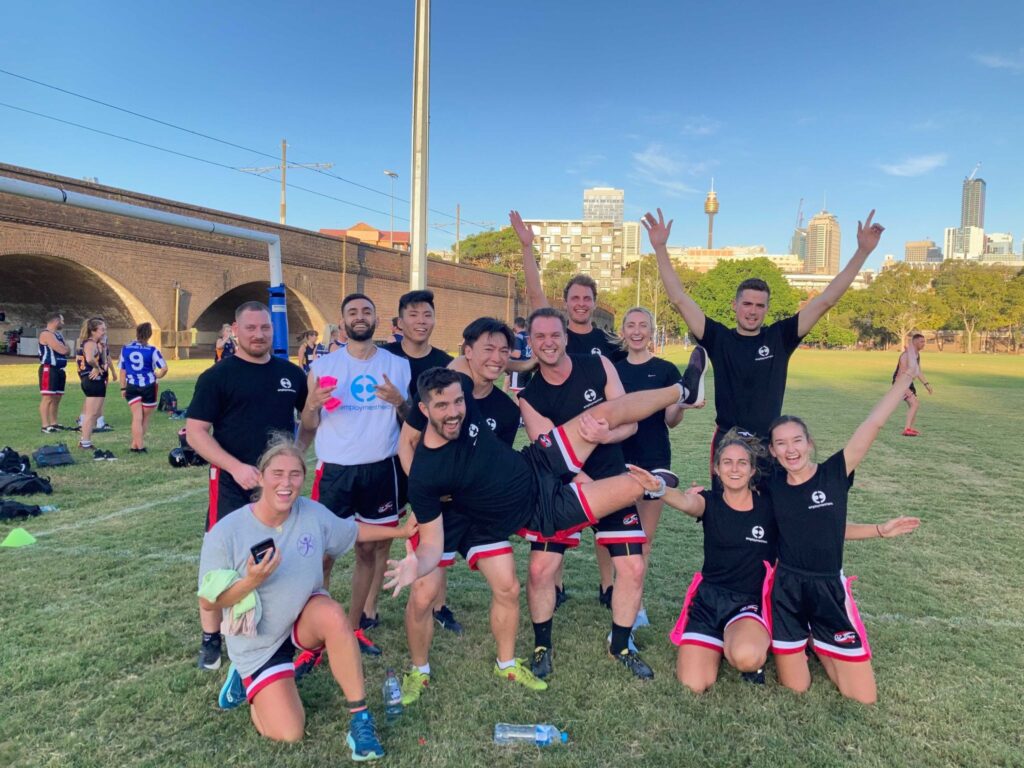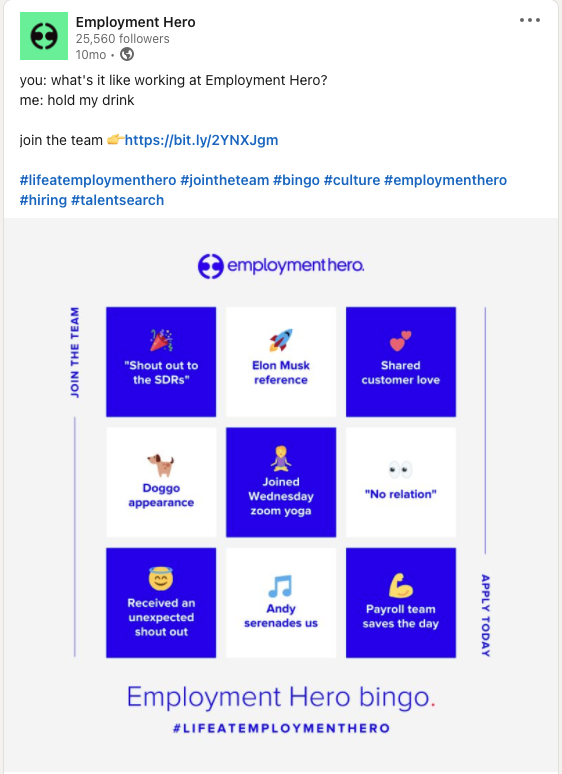 Videos: These can express employer values or showcase workplace culture. A video that expresses vibe and values might be something like the above Apple video. An example that we're loving of a workplace showing off their workplace culture through content is Duolingo's Tik Tok. Their account masterfully merges their product and employer branding using their owl mascot Duo, who wants to get users to do their language lessons and cause chaos in equal measure. The Duolingo owl is now a TikTok celebrity, and makes their US-based office look like the place to be.
Employee profiles or success stories: It's a great look for employers to express publicly how much they love their employees, and a great way to do this is by sharing employee profiles or success stories. You can do this at any point, but it's especially great if one of your teams, or team members, wins a public award or is publicly recognised.
Make your workplace famous!
It's incredibly important to market your product or service well, but your workplace also needs to be on the promotional agenda. 
When you think of the most coveted workplaces around the world, there is so much information out there about them; their workspaces, their values, their benefits and the work lives that they facilitate. But why should they have all the fame? Any business can get started today with marketing themselves as the place to work, all you need is a bit of marketing razzle-dazzle. 
Are you looking for more information about recruitment heading into 2022? Check out our complete guide to recruitment, grab a free download now. 
The ultimate recruitment and onboarding guide