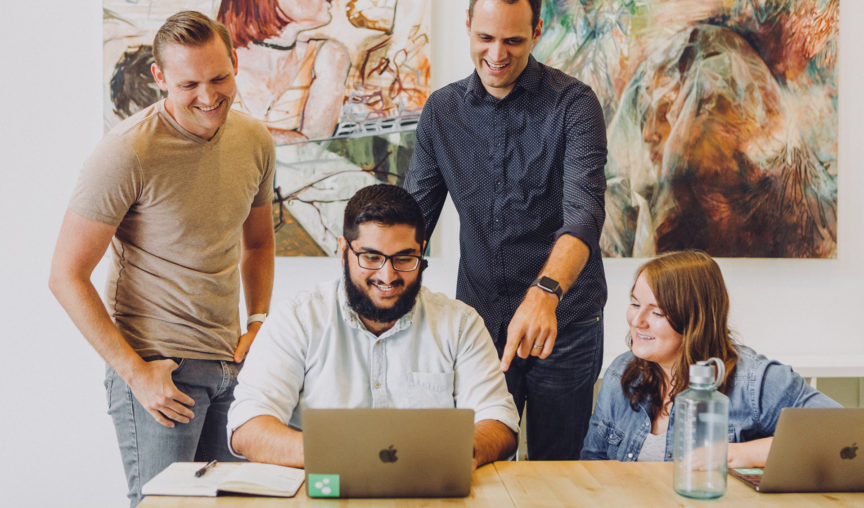 This week we hosted a webinar on How To Create An Awesome First Day. You may have noticed we have been making a lot of noise around this topic lately and with good reason. Every new employee knows how important it is to make a great first impression. But it's just as important for employers. Did you know that over 80% of people decide in their first six months whether or not to stay with a company long-term? That means it's not enough for companies to attract the best talent, you need to make sure you're actively trying to retain them from the moment they start work. That's where our Creating An Awesome First Day webinar comes in. We wanted to start a discussion around how your company can become a more welcoming workplace and provide our top tips for success. The webinar was a triumph (if we do say so ourselves) and it coincided with a competition we ran where we asked you to tell us how your company creates an awesome first day for employees. Here is a summary of our webinar. Click here to reada much demanded list of survey questions we ask new starters after they onboard with us. We find asking new recruits these questions helps us finesse our onboarding process and ensure we are doing all we can to create an awesome first day.
How to create an awesome day for new employees
Creating a great first day for new employees starts before they arrive.
1. Onboard employees before their first day
Onboard your employees before their first day at the office. A first day at work spent filling out paperwork and waiting to get logged into a computer can be tedious and uninspiring. It can also make your business look unorganised. With a platform like Employment Hero employees can onboard themselves paperlessly and read through and sign policies and contracts before their first day. We have previously run a webinar on hiring without paper where we cover this topic in more depth. Part of the onboarding process should include a phone call from the employees new manager who welcomes them to the team and confirms a start date and time. Using an HRIS platform can help with more effective communication between new employees and existing staff. Platforms like Employment Hero can ping a manager with a new employee's details, reminding them to make that introductory phone call. You can also easily create announcements, introducing new staff to the rest of the team. Don't underestimate this step! Imagine a first day at work where you are not inundated with curious stares.
2. Start on a Wednesday at 10am
After much experimentation we found Wednesday at 10am is an optimal start day and time for a new starter. A shorter working week means a new starter won't be overloaded with information and has the weekend to digest all they've learned. A midweek start is also easier on the team. Mondays and Tuesdays are usually busy and managers and existing staff aren't able to give as much time as they'd like to their new co-worker.
3. Create a welcoming environment
Having a new employee's computer set up and ready to go makes a huge difference. Ensure that when they start their computer is ready to go and relevant log in information is clearly communicated. We leave a ready printout on our employee's desk. Make sure you also include a notepad, pens and highlighters. The next step is to get creative and make a new starters desk look and feel welcoming! Include company merch and a welcome sign with a picture of the new team member. A gift basket filled with snacks and lollies and a welcome balloon are also good ideas. If there is a monitor in the lobby use it. Project a slide with a picture of the new starter with information about their manager and the role they will be filling. It's also important to create psychological safety for a new employee. You want to make sure they understand their role and your company. This leads us to.
4. A first day schedule
Give new starters a schedule for their first day. This helps them feel welcome and eases stress. It also gives you a chance to schedule proper induction sessions with the new starter. We send new starters their first day schedules prior to their arrival so they know what to expect.
5. Organise an induction
It's all about educating to inspire. Many companies do not offer formal inductions but an overview of a company's purpose and values, the different teams and how they work plus information about their goals and responsibilities, is crucial. An induction helps a new starter feel more involved with a company and quickly gets them on board with your mission and the big goals you are trying to achieve. A presentation by a CEO or another senior leader is ideal but not always practical. A video introduction can work just as well in this case. Just try to organise a roundtable or catch up with the new recruits and the company's CEO when possible. If you are a small company, you can wait till you have a few new recruits before organising such a session.
6. Don't let a new employee eat lunch alone
Last but not least, organise a team lunch on a new employee's first day! This seems like a no-brainer but you'd be surprised by how many companies do not do this. If a group lunch isn't possible try to make sure at least one other team member can dine with the new employee. Employment Hero has a system where you can easily send alerts and reminders to staff, allowing you to easily follow up on an issue like this. Photo byGaelle MarcelonUnsplash