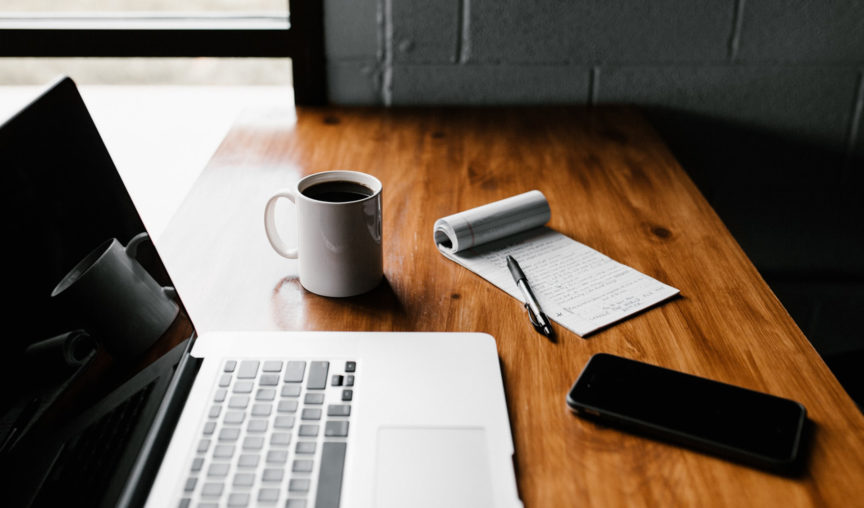 Flexible work is becoming incredibly popular and businesses of all sizes are looking to keep up with the trend. Flexible work policy refers to programs and processes that allow employees to have some control over when, where and how work gets done. Some examples of flexible work include reduced working hours, remote work and job-sharing. CLICK HERE to learn more about What Australian Employees Want One thing that fills employers with varying degrees of trepidation is implementing a flexible work policy. How do you do it? And where do you start?! LEARN more about flexible work by reading this guide. When it comes to implementing a flexible work policy the first thing you want to think about is what works for your business. Think about the types of flexible work available and what might suit you. If you're a tech company like we are, remote working is a very viable option. If you're a business that needs boots on the ground, rather than throw your hands up in defeat, consider what you can offer. Can you offer flexitime? Or job sharing? What about time-in-lieu? Once you've thought about what works for your business it's time to craft a policy! Official policies are super important when it comes to implementing changes. They help manage risk and can be used as evidence in unfair dismissal cases. When crafting a flexible work policy, clearly outline what the terms are, what caveats there are and any deal-breakers. Once you've crafted your policy, it's time to implement it. The first step is to get employees to read the policy and acknowledge they understand the terms and conditions, this can easily be achieved by getting employees to sign off on policies. By signing off on a policy an employee acknowledges they have read and understood what is expected of them.
Policy workflow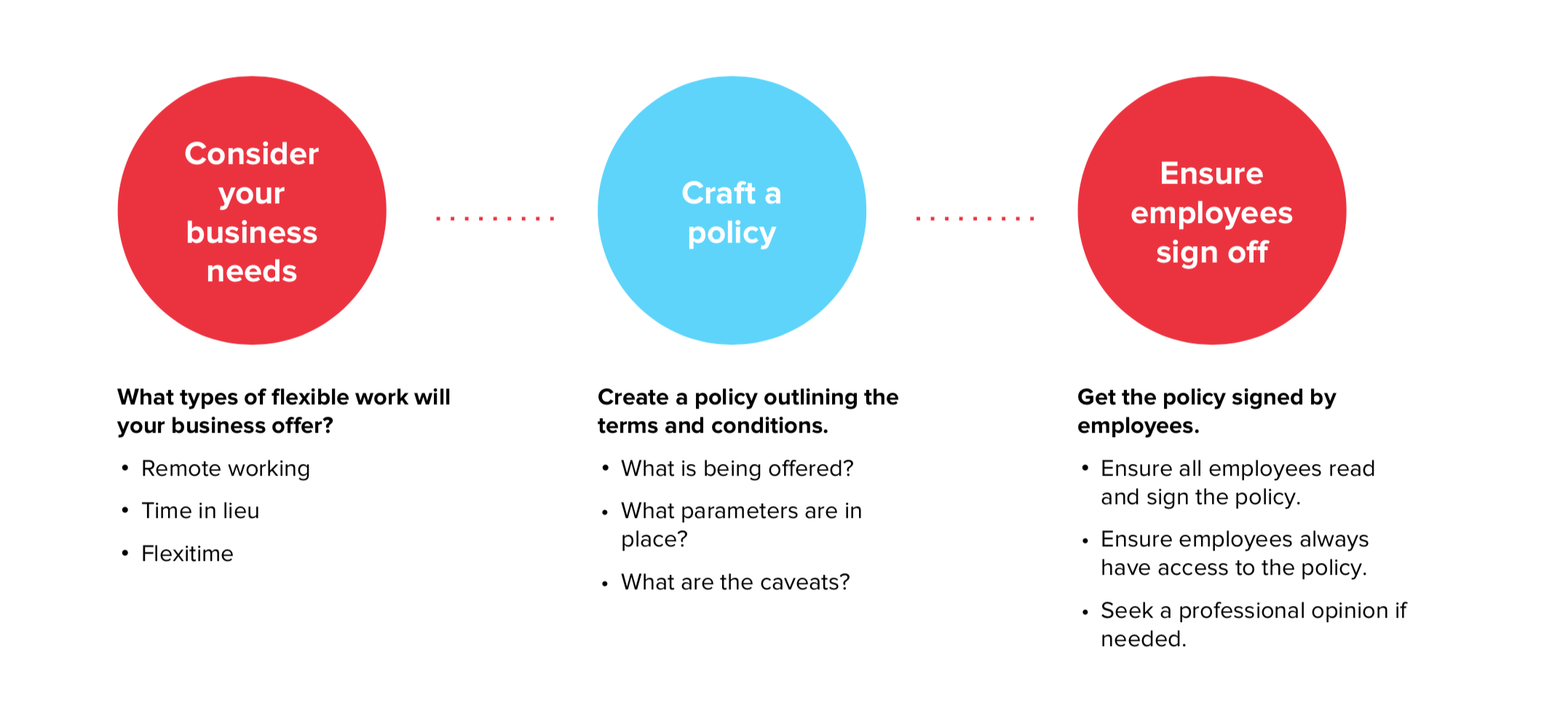 Writing a flexible work policy
Employment Hero has flexible work policy templates inside the platform that you can tailor for your use. These policies have been vetted by lawyers and are frequently reviewed to ensure they are up to date.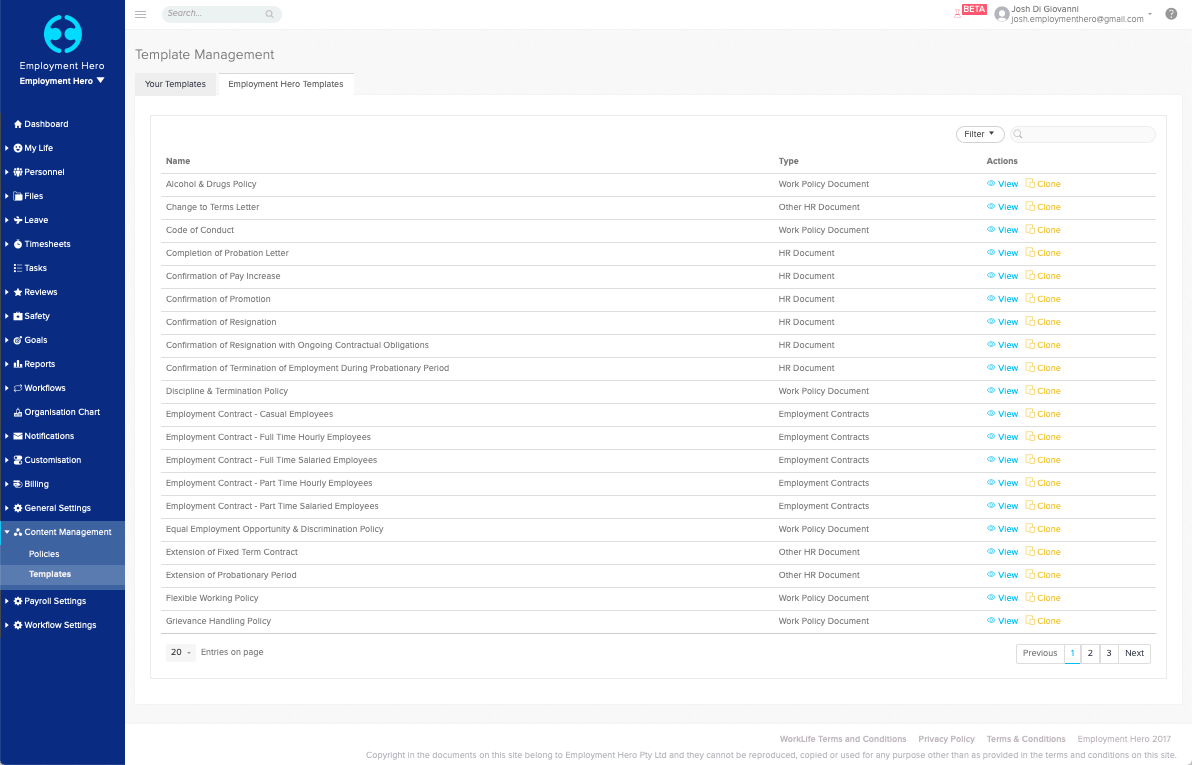 A look inside our platform!
If you aren't using Employment Hero, all you need to do is start a free account for access to these templates. CLICK HERE to create a free account.
Flexible work in action at Invictus Games
Last year, Sydney hosted the fourth Invictus Games, an international, multi and adaptive sporting event for wounded, ill and injured men and women from the armed forces. A resounding success, the Games were delivered by a diverse and constantly evolving team that developed over two years. With improving the path to veteran employment being one of the primary goals of the Games, HR Director Fiona Hitchiner ensured that the organising committee practised what they preached by implementing a fully flexible workplace from top to bottom. Flexible working at its finest! We spoke with Fiona about the role that flexible working processes play in organisations of all sizes, the challenges HR professionals face when implementing them and the benefits they can have on your business. How long have you been supporting flexible workplaces and why? "In all the places I've worked, I've been a massive advocate of flexible work. Research shows flexible workplaces see an increase in productivity, engagement and employee wellbeing. It has to be implemented so it's fair and reasonable for the whole organisation; whether that's people working part-time, working from home or adjusting time and hours. Organisations should focus more on outcomes and outputs, rather than presenteeism." Is flexible working achievable across different industries and business sizes? "Obviously there are limitations, like in the retail space, but there are still flexible options. These can include the number of shifts and days, as well as the hours of shifts. Even smaller organisations that tend not to have the big resources for programs and initiatives, flexible workplaces are a very quick win." How important is C-Suite buy-in? "It's important that the leadership team live and breathe flexible working and be very vocal about it. Leadership need to make it a part of the organisational culture and work practices so that everyone can take advantage. Otherwise you get pockets; for example, managers that don't recognise the benefits of flexible work or have the right tools and processes to implement it successfully. Leadership has to educate and provide support to managers so they can see how flexible work can be implemented across the whole organisation. This includes having the tools available to them to connect with their employees if they aren't in the office." Other than happier employees, how else does a flexible workplace policy benefit a business? "At Invictus Games, we were bringing on highly talented people that needed to come up to speed very quickly. As a not-for-profit, it was difficult for us to get the right talent. Flexibility was a way for us to attract and retain the talent we needed. It also breeds happier, more engaged and productive employees that feel trusted. I've always said to my team, 'you work with me on how you can be the best you can be'." Like the Invictus Games, Employment Hero also supports a number of flexible working opportunities. If you're interested in developing more flexible arrangements in your own business, read our comprehensive blog post on flexible working. If you are unsure about what to include in your policy or are unsure about any legal aspects, it's best to discuss the case with an expert. When it comes to compliance being proactive is always better for a business than being reactive. LISTEN to this webinar about creating a flexible workplace.