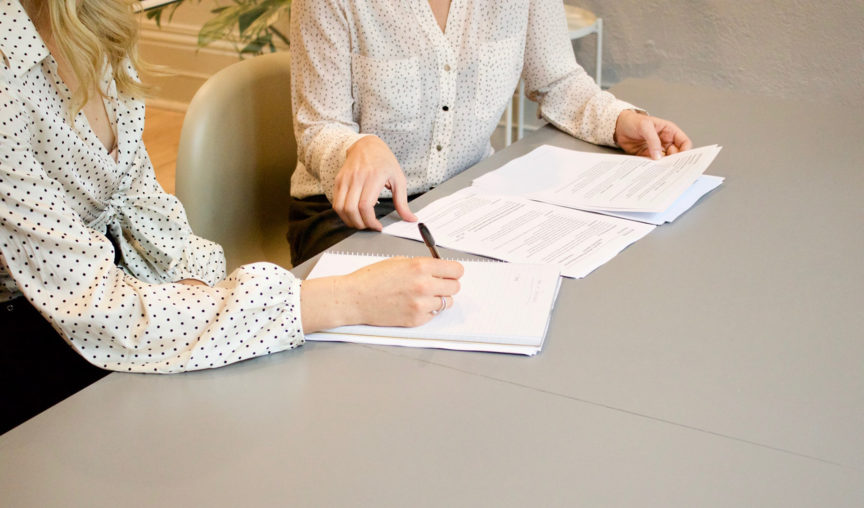 When you think about job interviews, you might feel a bit nervous at the thought. Sharing your skills, answering obscure questions and selling yourself can be nerve-racking. But, as your career progresses and you begin to make the transition to a management position, you're likely to find yourself on the other side of the interview.
Picture this: You've been gunning for a promotion for six months and last month, it finally happened. You're feeling on top of the world and can't wait to take on more responsibilities. Your manager calls a meeting with you and lets you know that there's approval to add another member to the team and they'll be reporting to you.
You start to think about what the role will look like and how you'll work with them. But, while you're thinking about all of the possibilities with your new hire, you start thinking about the actual recruiting process.
You've never led a job interview before, let alone hired someone before, so how can you ensure you feel confident as you go through the process?
If you're feeling the first-time hiring jitters, this one's for you. We've wrapped up the most important tips for first-time hiring managers from beginning to end.
1. Be prepared
If you think back to the times you were sitting in the candidate's shoes, you probably remember the interviewer brimming with confidence. It's important to remember that everyone gets nervous at times and when it's your first time leading the interview process, you might find yourself excited, albeit a little nervous.
Chances are, the reason the interviewer was confident came down to preparation. Whether it was their first time or 100th time, they would have created a list of questions to ask, known how to carry the conversation and carefully probed where they noticed any gaps.
With this in mind, it's essential you're prepared for the job interview by creating a list of nicely balanced questions and are aware of how to hold the conversation for the duration of the meeting.
If it's your first time interviewing a candidate and you're feeling a bit nervous, ask your direct manager to join in the process. It can be a great mentoring opportunity to have your manager or another senior leader join you for the first few interviews.
This way, you'll ease those first-time jitters, and they can jump and steer the conversation if you begin to go off track.
With this method, it's important you both talk about the interview process before and after, as well as discuss areas for improvement, ensuring that you use the feedback constructively for your next job interview.
Read more: Unconventional ways to source talents 
2. Clearly define the role you're hiring for
Before you get started, you need to understand the role you're recruiting for and what you expect of the successful candidate. You need to clearly define the requirements, as well as how you'd like to see the role progress over time (6, 12 and 24 months).
From here, you should determine who the role will be reporting to, where they will sit in the organisational structure, what tasks they'll complete in their day-to-day and any other skills required to complete the role.
When you've got the role definition cemented and have a clear understanding of what you'd like the successful candidate to achieve, it's time to put your role requirements to paper.
EH Tip: Some roles are a little more nuanced and you might not have a full picture of everything that the job could be. In this instance, it's important to be transparent with the organisation and the candidate that the role might evolve and change over time depending on what's required.
3. Craft a showstopper job description that will make you stand out from the crowd
When it comes to crafting a job description that will get top talent wanting to know more, we've created a formula that will have candidates intrigued from the get-go.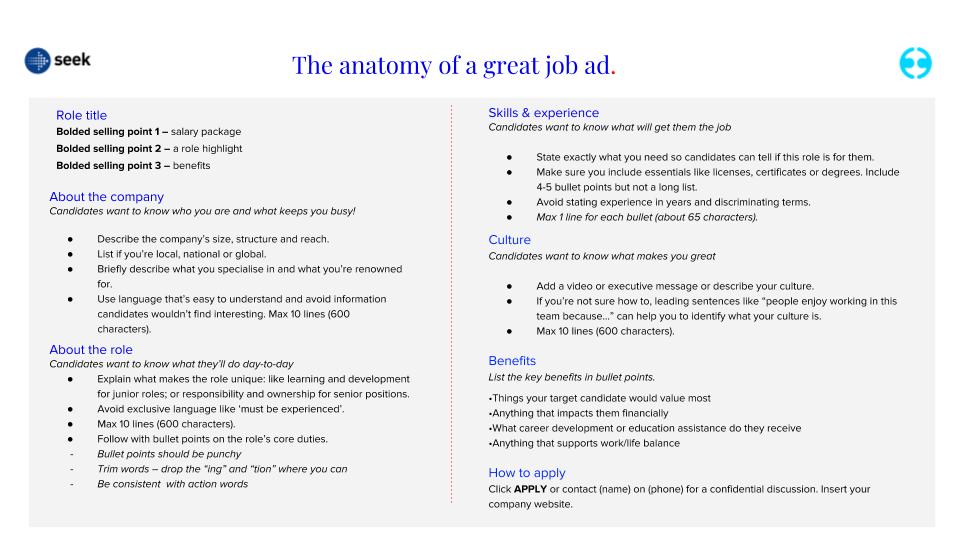 Use a relevant job title
When you think about it, the job title is arguably the most important part of the advertisement. It's the first thing potential candidates see, and just those few words have the power to make them want to learn more or continue to scroll on by.
To nail your job title, you should state what the job is and mention the level and the type of role. We recommend benchmarking your job title(s) to similar roles to see how other businesses are approaching job titles.
It's story time
The reality is that many job seekers will have no idea about your company before they scroll to your job ad. You need to share your company's story to encourage potential candidates to learn more.
Our recipe for success? Start off with a small introduction explaining who you are and why you exist. Highlight your achievements, your mission and core values. You could also include your culture and share some insights about your team.
It's time to sell the role
The reality is that candidates who are looking at your role have most likely applied for many others. You want to make sure your key selling points are clear and concise, so you can get those star candidates excited at the thought of working for your company.
Need some selling inspiration? We suggest:
Outlining company highlights
Sharing possible opportunities for mentorship and professional development
Outlining all of the benefits and perks your company offers
Showcasing your culture and cadence of social events
Be specific with your job description
You know how we said that the title of a job is one of the most important components of a job ad? The other just-as-important part is the job description. You need to communicate the role and job responsibilities of the successful applicant so the expectations are set.
You don't want candidates to feel surprised or blindsided during the job interview – this is where they'll begin to drop out of the process because expectations weren't clear from the get-go.
Looking for a job description recipe for success? Here are a few things you might want to include in your job summary:
Describe the purpose of the job and why the role is needed
List the duties required in the role. You should describe what those duties are, how they are performed and why they need to be done
Write in a clear and easy-to-understand tone. You should assume the job seeker knows nothing about the job, regardless of the seniority level. Chances are candidates will only skim read on first glance.
Provide information on who they'd be reporting to and if anyone will be reporting to them
Avoid using fatuous words like 'ninja' 'superstar' 'rockstar' 'legend' – the list goes on. Unless these words are commonly used in your everyday workplace culture, we advise steering clear of anything that could put off applicants.
Language and layout
When writing a job ad it's important to not get stuck on the details – being clear and concise is always the way to go!
By using simple language and a clear structure, you'll be able to help candidates understand the role and the business, even if they just glance at the job advertisement.
Champion your company's benefits
Including your benefits and employee value proposition (EVP) in your job ads can provide more insight into what it would be like working at your company. Your EVP on your job ad should include a balance of rewards and benefits. It should include what you're doing as a business to attract and retain employees, and we all know how hugely beneficial for the success of a business.
Need some inspiration to craft a compelling EVP? Consider these three areas. Just remember to actually follow through on them!
Supplementary compensation – free coffee, health insurance, gym memberships, flexible working (the list is endless, just budget-dependent).
Values, mission and purpose – making them feel like their job really matters, keeping them engaged with the company.
People and culture – Great people want to work with great people and create a culture that makes people feel excited about coming to work every day.
Read more: Advertising job openings effectively
4. Know what you're looking for in a candidate
When it comes time to hire, you want to have a clearly defined list of skills and attributes you're looking for. You want to hire people who are humble, hungry and smart – and have the skills and experience to back it up.
With this in mind, you want to ask questions that relate to their past experience, as well as understand where their strengths and areas of improvement lie.
This way, you'll feel confident moving through the hiring process that your candidates are well-equipped to do the job. And even better, you'll reduce your chances of bringing a bad hire on board (and the costs that come with it)!
Read more: How do you source passive candidates?
5. Determine the interview process
When it comes to finding and hiring top talent, you need to know exactly what the job interview process will look like. More often than not, the candidate will want to know what the process will entail. Being transparent can let them know what they're in for from the very start and allow expectations to be managed from the outset.
When designing a standout recruitment process, remember that it takes time, consideration and flexibility. You should also be aware that the interview process for a junior role is going to look very different to someone who's interviewing for a senior leadership position.
Regardless of the position you're hiring for, you should consider these areas:
Determine the number of interviews rounds (junior roles typically require less than more senior roles)
Clearly define who the candidates will be meeting within your business
Have a list of non-technical questions to ask during the recruitment process
Determine whether a task will be required to be completed by candidates and what the task will be
Create a list of technical questions specific to the role
Read more: Are you being biased in hiring interviews?
6. Busy calendar? Block out time for interviews before they're actually booked in
This one might not make sense looking at it, but hear us out. When you're managing lots of different interviews throughout the week, it's likely that your workload and calendar are going to get very busy. If you're collaborating with other members of the business, you want to make the process as easy as possible.
By setting aside 1 or 2 hours in your calendar for potential interviews, your HR team can give the candidates time slots when you're available. This will ensure no meetings are double booked and you're prepared if an interview were to pop up on the same day.
It's an easy way to ensure good talents are booked for interviews straight away and not left in the dark due to busy calendars.
Read more: Why do candidates ghost employers?
7. Use an ATS to streamline your recruitment process
For the seasoned pros out there, they know that recruiting a new employee is hard work. Writing the job ad, posting it online via job boards like SEEK, managing applications, sorting, calling and interviewing can chew significantly into your day.
If you were to sort through applications manually, you might opt for a spreadsheet as your hiring tool of choice, or bookmark emails from promising candidates. But at the end of the day, these are both very time-consuming and manual ways to manage candidates.
Imagine the ease that would come with viewing your candidate pipeline digitally and seamlessly moving them from stage to stage? That's where an applicant tracking system (ATS) is one of the most effective ways you can hire and manage candidates through the recruitment process.
We all know that hiring is a collaborative process. It involves different managers, departments and teams. However, the reality is that trying to be collaborative when it comes to hiring without an ATS is a nightmare.
Information is coming from every direction, and this could feed back into the candidate's experience. The last thing you want is to give off the impression that you're a highly unorganised business, especially when the hunt to secure great talent is so hard right now.
8. Ask relevant questions when interviewing for the position
When it comes to hiring, it's essential that you know what skills you're looking for. Have an interview checklist prepared and tick off the must-have skills and qualifications, as well as the nice-to-haves.
From here, you can draft targeted interview questions and tasks specific to the roles and responsibilities, helping you to narrow down your pool of candidates.
As a first time hiring manager, being prepared with questions that can assess an applicant's skills, personality and working style is an absolute must. Looking for some inspiration? Take a look at the categories below and ask your candidate about:
Their alignment with the company's purpose
Existing knowledge of the business and/or key leaders
Their work experience
Their communication style in the workplace
Some practical and technical questions relating to their role
What their preferred way to be managed is
9. Write notes throughout the interview
When holding an interview – either in person or virtually – it's essential to take notes. If you're involved in multiple interviews and meetings with many different candidates, taking notes will really help when it comes time to narrow down your candidate pool.
Did you know that an ATS can help you seamlessly share feedback and notes with everyone involved in the hiring process? For many, your first experience as a hiring manager might be riddled with lots of notes and feedback over emails, PDF CV's being forwarded around the office or multiple calendars being shared.
When managed manually, it can be frustrating and time-consuming – and tasks like these are where an ATS can really help. The ease of having everyone's notes and feedback on the same candidate profile, together with their resume, application form answers and relevant history, will make managing expectations as a first-time hiring manager a breeze!
10. Partner with your HR team or an external recruiter
Sometimes, it might not be viable to do the hiring yourself. In this case, you'll want to lean on your HR team or an external recruiter to help you find the right fit for your open role. You'll want to brief the team you've engaged with to help and set the tone so you can all be as transparent as possible.
Read more: What is an employer referral program?
11. Follow up promptly with the outcome
When applying for jobs, hearing of the outcome can be a nerve-wracking experience, especially if the candidate is really keen on securing the role. The best thing you can do as a first-time hiring manager is to get back to candidates promptly and let them know of the outcome – whether this is the next step or a final decision.
As we begin to enter the era of 'The Great Resignation', companies are looking for top candidates, and the reality is, if your candidate is interviewing at multiple companies and receives an offer before yours, there's a good chance that they'll accept it.
To reduce ambiguity during the hiring process, you should let your candidates know the rough timings of the recruitment process. Like we said before, setting expectations and being transparent from the get-go can make all of the difference.
First-time hiring managers – you've got this!
When it comes time for your first job interview, remember to be prepared, be consistent and actively listen. Don't forget to check on all the candidate's references (plus a background check if required) and collaborate with others involved in the recruitment process. Now that you have all of these tips under your belt, you're ready to hire the right person for the job with confidence!
Want more? Download our recruitment and onboarding guide below.
The ultimate recruitment and onboarding guide