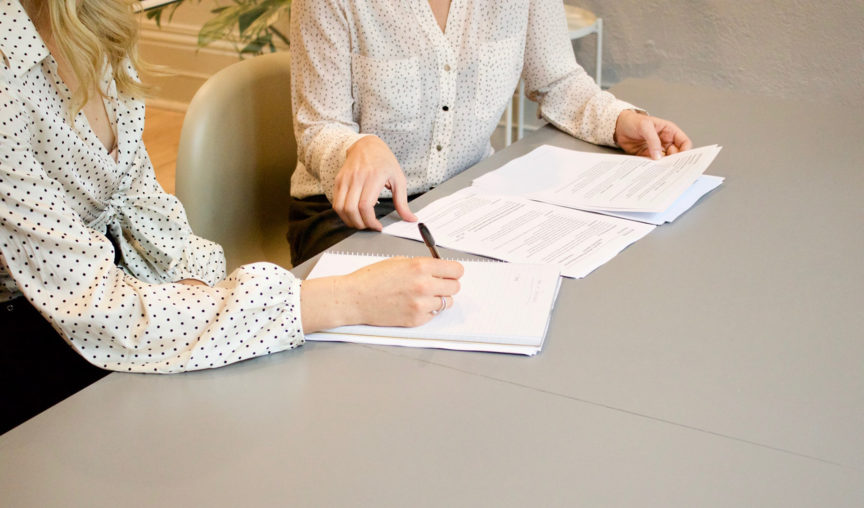 You asked and we listened. At our recent EOFY employment law updates webinarwe were inundated with questions but want to ensure you get the answers you need. Thankfully, employment lawyer, Simon Obee, is on hand to help.   Disclaimer: All information in this article is general information only. It is not intended to substitute for individual advice. While all due care has been taken to ensure the accuracy of the article contents, it is up to the individual to seek professional advice for their specific circumstances.
Minimum wage increase
Q: Where is it said that annualized salary should have a 25% buffer above the min wage? I thought it should include the 17.5% leave loading only! Can you please clarify? And is it different between states? A: There is no general obligation for annual salaries to be paid at 25% above the minimum wage, although some modern awards provide for this as an option. For example, the Restaurant Industry Award 2020 says that a 25% buffer can be paid on annual salaries instead of paying employees for overtime and penalty rates, subject to the employer performing an annual reconciliation to ensure that an employee is not worse off under this arrangement than if they had been paid for overtime and penalties at the time. The employer is required to make good any shortfall on an annual basis. Most full-time and part-time employees covered by a modern award are entitled to annual leave loading (usually 17.5%) when they take annual leave, which would need to be factored into calculating their remuneration. Modern awards apply nationally and so do not generally vary from State to State.
Superannuation rate changes
Q: Sorry if I've missed this – but is it permissible to ask employees to absorb the super increase? Or will it depend on what is in their contract? A: It is generally accepted that this is permissible (although we are not aware of any definitive court/tribunal decisions on this question). It will always depend on the exact wording of the contract, which should clearly set out if absorption will take place.   Q: About super, are we allowed to tell a new employee to open their own super account before they receive their first salary? to avoid us chasing it? A: We don't see an issue with you encouraging an employee to do so, but it would unlikely to be possible to require them to do so (as a condition of employment).   Q: I think the confusion around the super commencement date revolves around the definition of "first full pay period" – if the first pay period in July includes some days in June – does the increased rate include those days or does it only commence when the entire pay period is in July? A: We have looked into this and confirm that the rate increases apply from the date the payroll is processed. Therefore any payroll processed from 1 July 2021 onwards should include the 10% increase, even if some of the pay period includes days in June.
What did our live attendees have to say?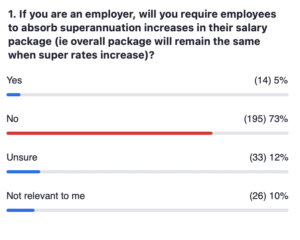 Changes to casual employment law
Read Employment Innovations handy blog on this. Q: Are long service leave entitlements changed as a result of the change to Casual employees? A: No – these are not impacted. Casual employees will remain entitled to long service leave in the usual way.   Q: If and when they are offered permanent work do they need to go on probation? A: Usually a probationary period is used to assess an employee's suitability for a role at the start of employment. If the probationary period is set to expire before the employee has been employed long enough to claim unfair dismissal (less than 12 months in small businesses, less than 6 months in businesses with 15 or more employees), they can be dismissed without a risk of an unfair dismissal claim. As the period of prior service as a casual employee will count for the purposes of calculating an entitlement to claim unfair dismissal (and given employees will already have been employed for 12 months to be eligible to convert) we do not consider there will be much to be gained by subjecting them to a probationary period, as they will be entitled to claim unfair dismissal if dismissed. This will mean they should be subject to a thorough performance management process if dismissed on poor performance grounds. See Employment Innovation's guidance on performance management here.   Q: Just confirming the "double-dipping" protection, will protect employers from backdating permanent FTE/PTE entitlements when the casual conversions are processed? A: It will protect the employer from claims from any employees who have been wrongly engaged as casuals and are later found to be permanent employees. Casual conversion is something separate. In our view, it would be difficult for an employee engaged as a casual and who is offered conversion to make any future claim that they are in reality a permanent employee (and should be entitled to backdated entitlements). If they have refused an offer of conversion, then they will remain a (genuine) casual. If they accept an offer of conversion, they will be a permanent employee from that point onwards.   Q: What happens if an employee turns down conversion? Do we offer after another 12 months? A: No – if they turn it down they remain a casual. They have a residual right to request conversion every 6 months thereafter.   Q: If your industrial instruments already contain a conversion clause, what takes precedent, this change or your industrial instrument? A: At the moment they will both apply in tandem, although we consider that casual conversion clauses are likely to be removed from modern awards at some point in the near future in light of the changes.   Q: If we have previously offered casual conversion and it was not taken up, do we have to re-offer to those employees now? A: Yes – there is no ability to avoid the new obligations by relying on previous offers.   Q: If we have an intern who has worked regular hours for 6 months, but has not met the performance threshold for a permanent role, is that considered reasonable grounds for not converting? A: The list of reasonable grounds in the legislation is not exhaustive. Performance reasons could, therefore, potentially be relied upon.   Q: We have a resource we – hold on our books – hardly ever utilised. Assume we do not need to convert. They've not been utilised in the last 12 months. Assume not conversion – correct? A: If the employee has not performed work in the last 12 months this will not be considered a regular pattern of work, so conversion would not need to be offered.   Q: Do both criteria have to be fulfilled? at least 12 months + at least 6 months regular pattern, or is it only one of those? A: It is both!   Q: Can the payrate change to reflect leave implications? A: Yes, you would just need to meet minimum requirements set by legislation (generally therefore a causal employee would lose their causal loading).   Q: Due to casuals having 25% loading to cover leave etc, what happens to their base rate of wage/salary A: As above, you would just need to comply with minimum requirements, so you would not need to continue to pay a loading specifically for casuals.
What did our live attendees have to say?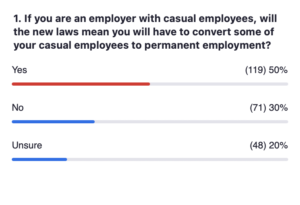 Proposed changes to sexual harassment laws
What did our live attendees have to say?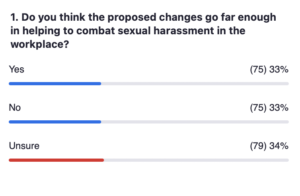 Proposed introduction of miscarriage leave
Q: Is this five days in addition to the 10 days personal leave? Q: Sorry, can I just clarify – is it an additional 2 days on top of the current personal leave amount? A: Leave for miscarriage is proposed to be added to the eligibility for taking compassionate leave. This will mean that two days leave (paid for permanent employees, unpaid for casuals) can be taken on each permissible occasion ie a miscarriage suffered by the employee or their partner, death or serious illness/injury of a member of the employee's immediate family or household. The entitlement is in this sense unlimited, but can only be taken when one of the events indicated above occurs. This is completely separate from the entitlement to personal/carer's leave. Please note that this entitlement is not yet law and is subject to change.
Changes to the General Retail Industry Award for part-time employees
Q: Are changes to Gen Retail Awrd PT employees apply to other awards – ie RIA A: The changes are only for the General Retail Award. However, some awards already contain this flexibility. There are already similar provisions in the Restaurant Industry Award that allow for a part-time employee to be rostered to work any hours during their agreed "available hours" without the payment of overtime (subject to daily and weekly maximums).   Q: Does the agreement have to be done for every extra shift or can you have an overall IFA with the employee for any extra shift worked? A: It will still be possible to have an Individual Flexibility Arrangement with employees to deal with extra shifts worked.   Additional resources: