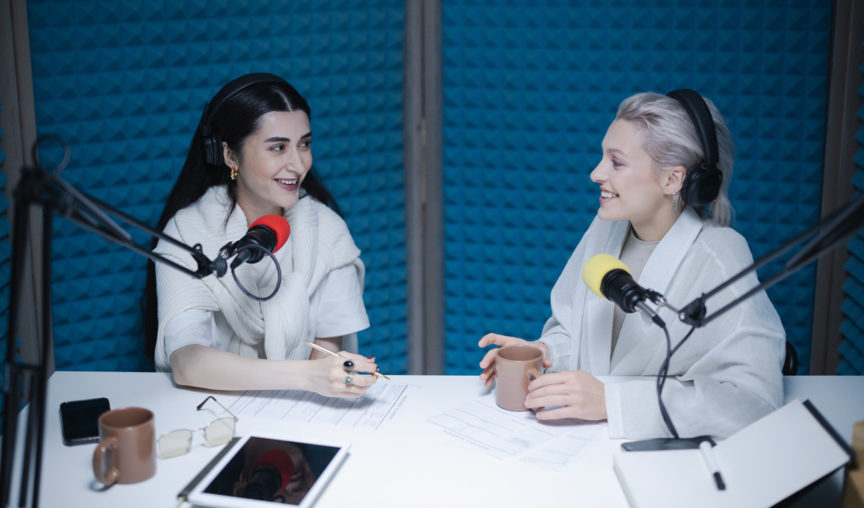 Entertainment and great financial advice all in one neat package? Yes, please.
FYI: podcasts are great. Since their inception in the early 2000s, podcasts have grown exponentially. These days, every man and his dog has a podcast. Whether you're interested in fishing or Cold War history, there's a podcast for you. For those of us interested in the fascinating world of finance, there are plenty of podcasts to choose from. Financial education is important for everyone. Let's be honest, who couldn't benefit from learning a thing or two about their hard-earned dollars? So we've compiled a list of our all time fave financial podcasts. You're welcome.
1. Planet Money
NPR's Planet Money is the epitome of great podcasting. It's fun, niche and run by experts. This is how the podcast describes itself: 'Imagine you could call up a friend and say, "Meet me at the bar and tell me what's going on with the economy." Now imagine that's actually a fun evening.' Sounds pretty good, right? Right. If you've ever thought, 'Man, I wish I understood more about the economy', this is the podcast for you. Expert opinions on financial current affairs, plus a good dose of fun to keep you interested. Since COVID-19, Planet Money has been producing some killer content to help us get our heads around the economic impact of this situation.
2. The Fairer Cents
A finance podcast run by two amazing women—who seriously know their stuff. Yes, please. The Fairer Cents delves into all kinds of financial issues, with a particular interest into how women are impacted. This feminist take on fincance is eye-opening. The podcast regularly features expert guests to nut out complex topics. Hear a behavioural psychologist talk about the impact of pay-gap issues. Hear an economist talk about the historical relationship between women and money. #Educate yo'self.
3. The Money
The Australian economy has its own particularities. Aussie workers and Aussie savers and Aussie shoppers have their own unique desires and challenges. ABC podcast The Money is a great way to learn about our local financial situation. Like all ABC podcasts, The Money is well produced, well researched and downright useful. Simple explanations and thought provoking topics, this podcast is a big win in our eyes (or . . . ears).
4. Follow The Money
This podcast is hosted by Ebony Bennett from the Australia Institute. Follow the Money promises to bust financial myths, unpack basic economic ideas and even 'make you sound smart at your next dinner party'. Now that's a promise we're interested in. Follow The Money features a pretty impressive line-up of guests. Shadow Treasurer Jim Chalmers was on a recent episode, talking about re-building the Australian economy after COVID-19.
5. The Barefoot Investor
Australian personal finance guru Scott Pape has earned himself a world-wide reputation. The best selling author has a podcast too. The series isn't running anymore, but you can listen to all the back episodes here. The Barefoot Investor podcast will give you practical tools for budgeting. Better than that, the podcast features some great interviews between Scott Pape and his financial heroes. From everyday people to multi-millionaires, these interviews will give you insight into how people make and keep their money.
6. My Millenial Money
Out of all the great financial podcasts, this might just be our top pick. My Millenial Money is run by Glen James and John Pidgeon. It's lighthearted, fun and really (really) helpful. The podcast, in open-table discussion style, discusses financial issues particularly relevant to young people. From financial minimalism and bit-coins to mental health, My Millenial Money covers all the right bases. Pushed for time? There's a shorter version, My Millenial Money Express— 10min episodes packed with useful information.
Get it in your ears
Finance can be stressful and confusing. We get that. It's why our platform is designed to make financial admin as easy as possible. Plus, a bit of self-education can go a long way. That's why we love podcasts! And, our fave financial podcasts are sure to set you up for success. So, pop your headphones in and get learning.