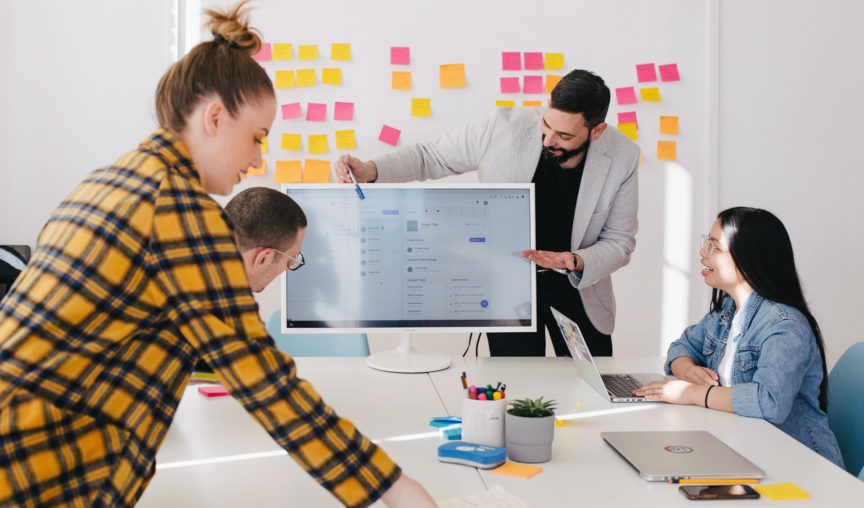 With companies now competing for top talent in today's job market, it's never been more important to get on top of your employer branding strategy. Your employer branding strategy is an important piece of both the candidate and employee experience and can set you apart from the rest when it comes to attracting and retaining star talent. This is just one of the many HR trends expected to take off in 2020 and it's one that can give you that competitive edge you've been looking for.
What is an employer branding strategy and why is it important?
If you're new to the concept of an employer branding strategy, it can be defined as the way you market your company to potential talent. Companies who have a successful employer branding strategy highlight the company culture, values and identity so top candidates with similar interests are more likely to apply. Additionally, if you can communicate your employee value proposition (EVP) to potential candidates, you're communicating the value exchange clearly right from the get-go. Did you know that In today's job market, 75% of job seekers search for the employers' brand and culture before they apply for the role? If they don't like what they see or the company is tainted with a bad reputation, the reality is that star talent will look elsewhere. According to LinkedIn, 72% of HR professionals say that employer branding has a direct impact on hiring. However, recruiting top talent isn't the only thing a stellar strategy can help with. An effective employer branding strategy can contribute positively to your bottom line, resulting in:
28% reduction in turnover rates

50% reduction to the cost per hire

50% more qualified applicants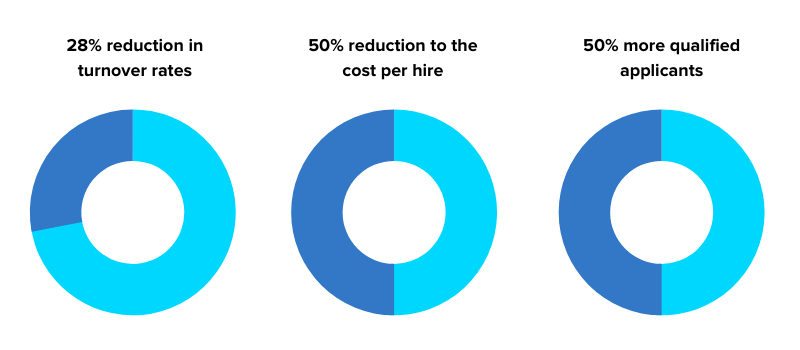 Source: LinkedIn Employer Brand Statistics Survey
  Alternately, a study by LinkedIn showed the number one concern for job seekers was the thought of not knowing what it would be like to work at a company when they applied, so it's crucial you give as much information about the culture and values in your employer branding strategy. If you have your employer branding strategy down pat, sit back and watch the 5-star applications come flooding in!
How do you measure success?
How do you measure the success of your employer branding strategy, you ask? Success can be measured by:
Retention rate

Quality of hire

Cost of hire

Number of applicants

Reviews on SEEK or Glassdoor

Number of employee referrals

Increased traffic to careers website
If you're sitting there scratching your head, thinking "where do I start?", read on as we share how you can create a robust employer branding strategy so you can attract, engage, hire and retain top talent in today's competitive market.
Review the candidate experience
Before you dive into creating a shiny new employer branding strategy, we suggest reviewing your current candidate experience and jotting down some numbers. These can include metrics such as time to fill roles or number of applicants. You could even ask your newest recruits a few questions to gain a better understanding of their experience. By doing this, you'll be able to set a benchmark of the efforts you're currently doing, whilst identifying opportunities where you can take it to the next level. Almost four in five candidates believe that the experience they receive throughout the initial phases of the recruitment process provides insight into how the company treats its employees. Additionally, 80-90% of candidates believe that having a positive or negative candidate experience can alter their decision to take the role if they receive an offer. With numbers like this, it's crucial to get your candidate experience right or run the risk of having top talent walk straight out of the interview and disappear for good.
Developing your employee value proposition (EVP)
Think of your EVP like your elevator pitch to attract new talent. It includes the perks and the benefits job candidates will receive if they are successful in the recruitment process. If you're not sure of your EVP, send around a survey to all of your current employees. You can ask them what they like about working at your company. Do they love the snacks in the kitchen, the career development opportunities, the continual education or all of the above? Use the answers from this exercise as your EVP because if your current employees see value in these things, chances are other high-quality candidates will see it too! At Employment Hero our EVP is posted on all of our job ads and website careers page. For example, our EVP consists of:
Close to public transport (Town Hall Station)

Seasonal ping-pong tournaments <—- this gets pretty serious…

Friday drinks – music and a fully stocked beer and wine fridge

Continuing education/post-graduate assistance program

Employee rewards and benefits program

Personal training, yoga classes and team sports like soccer and basketball

Weekly fresh fruit and daily breakfast

Quarterly and yearly team celebrations
If you're looking for more information on employer branding and enhancing your EVP, you can view our webinar which provides you with insights on how to use it for competitive advantage. In the fireside chat, you'll hear from industry experts Alex Hattingh, chief people officer at Employment Hero, and Katie Noakes who heads up the APAC talent acquisition at Uber. You can watch the employer branding and EVP webinar here.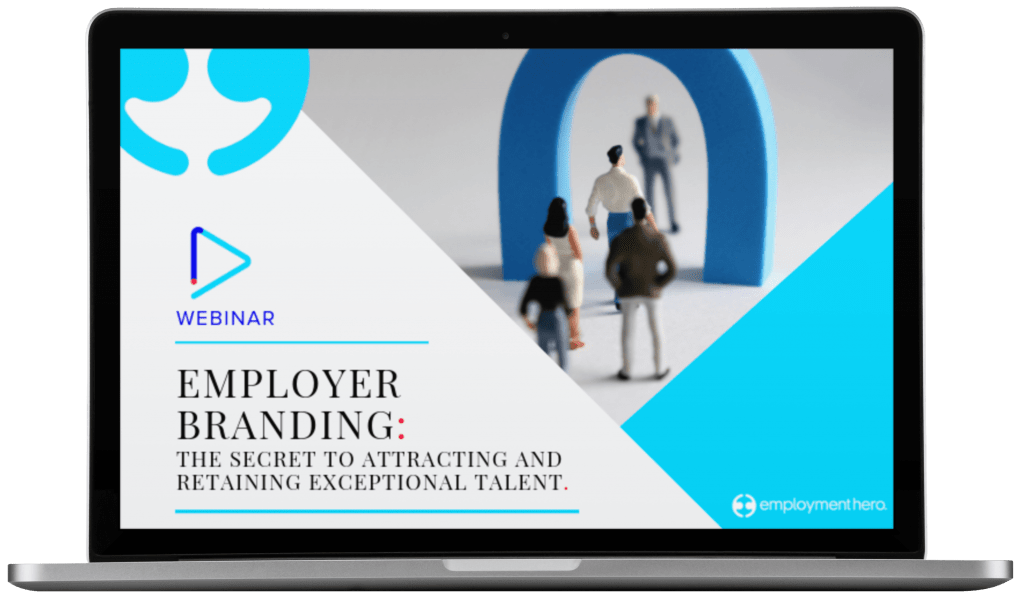 Use social media to showcase your company and culture
According to Glassdoor, 79% of people use social media in their job search. With so many people using social media to find new roles, it's important you use it to highlight your EVP. Following on from this, 52% of candidates seek out the company's website and their social media to specifically learn more about the employer. Whether it's posting a picture of the cute dog in the office, birthday celebrations or quarterly events, they should all be uploaded to your company's social media accounts. Not only does it show your employer branding, but it also provides top talent with a good idea of your company values and overall vibe. If you're concerned about not looking professional to your customers, don't be! Showcasing the people behind the brand will always be in style.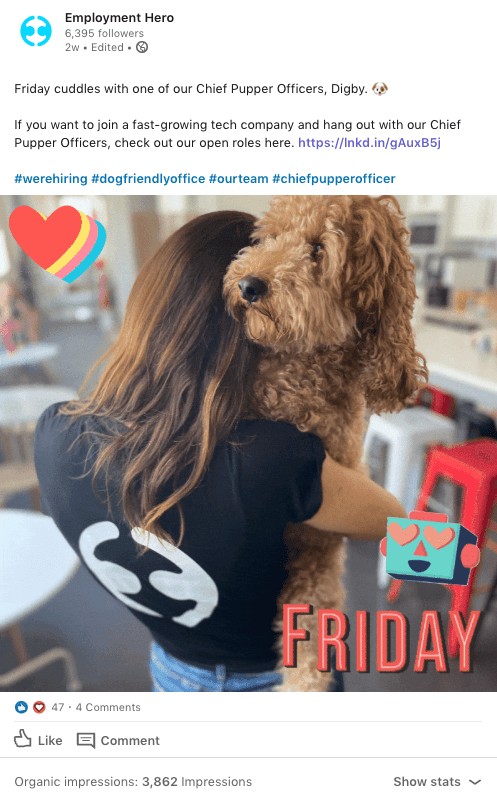 Employment Hero LinkedIn Post of Digby, chief pupper officer.
Switch up media and use photos, videos and blog posts
When creating your employer branding strategy, it can be easy to fall into the habit of posting the same content. To avoid this, you'll need to be creative with the media you use. If you don't consider yourself a designer, talk to your marketing team. They can assist you with making your dream content a reality! If not, use your phone and do it yourself. At the end of the day, it's all engaging content that people want to see! Some examples include:
Having an 'about our team' page on your website

Asking some of your team to respond to a list of questions to collate for a blog post

Interviewing your team to provide insight into what it's like working at your company and posting it as a video
If you're looking for some inspiration, we recently created an employee testimonial video. We interviewed Sarah Topjian who has been an important part of the Employment Hero journey for the last four years. In that time, she has had incredible career growth and by sharing her experience, we can show potential candidates we're invested in our team and their professional development. Take a look here. 👇
The wrap up
At the end of the day, there's no denying that attracting and retaining top talent is challenging. In a competitive market, it's no surprise people managers are beginning to get strategic when it comes to employer branding. By making tweaks to your current employer branding strategy such as using social media to communicate your EVP or using employee testimonial videos, you'll be able to attract and retain star talent, which is proven to positively impact your bottom line. Go on then, get to it!
Want more?
Want to find out what your employees are looking for in their role? Download our FREE 'What Employees Want' whitepaper here. 👇👇👇