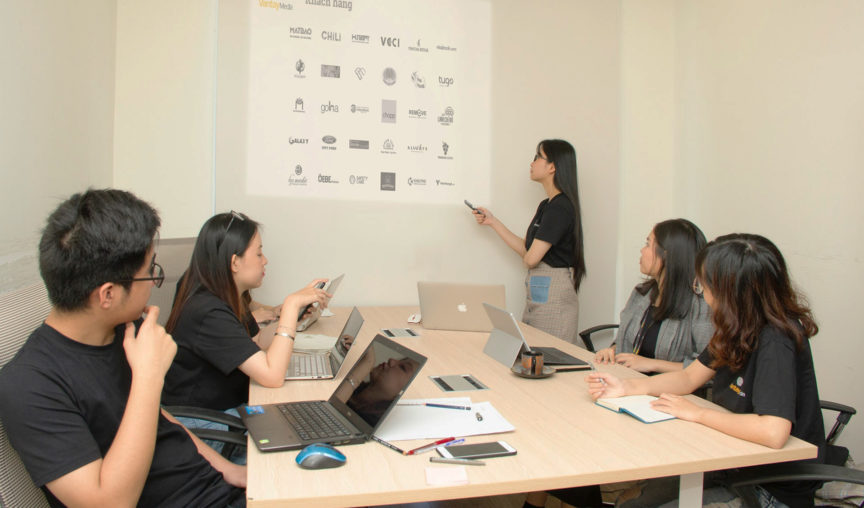 What if we told you that creating a standout employer branding strategy required people professionals leaning on another team's strengths? While you're the one driving the strategy, it's time you become besties with your marketing team. Why? Your marketing team are seasoned pros when it comes to crafting engaging content. They know how to use marketing to attract top talent so, why not use them for your employer branding? They're digital natives so it's important you take this opportunity to harness their skills. While people managers are responsible for the strategy behind employer branding, it's your marketing team that can bring creative dreams to life. Hello competitive advantage! Whether it's creating engaging blog posts, video content or organising a podcast with an influential HR professional, your marketing team can help you take your employer branding strategy to the next level. This is just one of the HR trends that we can expect to see continue into 2020 and beyond.
Why is creating a strong employer brand important?
Did you know that according to Glassdoor, 69% of applicants are likely to apply for a role with a company that is dedicated to managing their employer brand? With stats like this, it's never been more important your employer brand is on point. By creating a strong employer brand, you'll position your company as a great place to work and you'll end up reaping long term benefits. We all know that happy employees result in more engaged employees, so it's time to get your employee experience right. Today, it's easy for a potential candidate to find out what it's really like to work at a company. With employee review websites like Glassdoor and SEEK available at the touch of a button, it's never been easier to see reviews from previous employees. With this being readily available, it's never been more important to get your employer branding right or you can set yourself up for an employer branding disaster that could deter star talent. It's also something you don't want to fabricate on your job descriptions because candidates will see right through it if the company reviews don't stack up.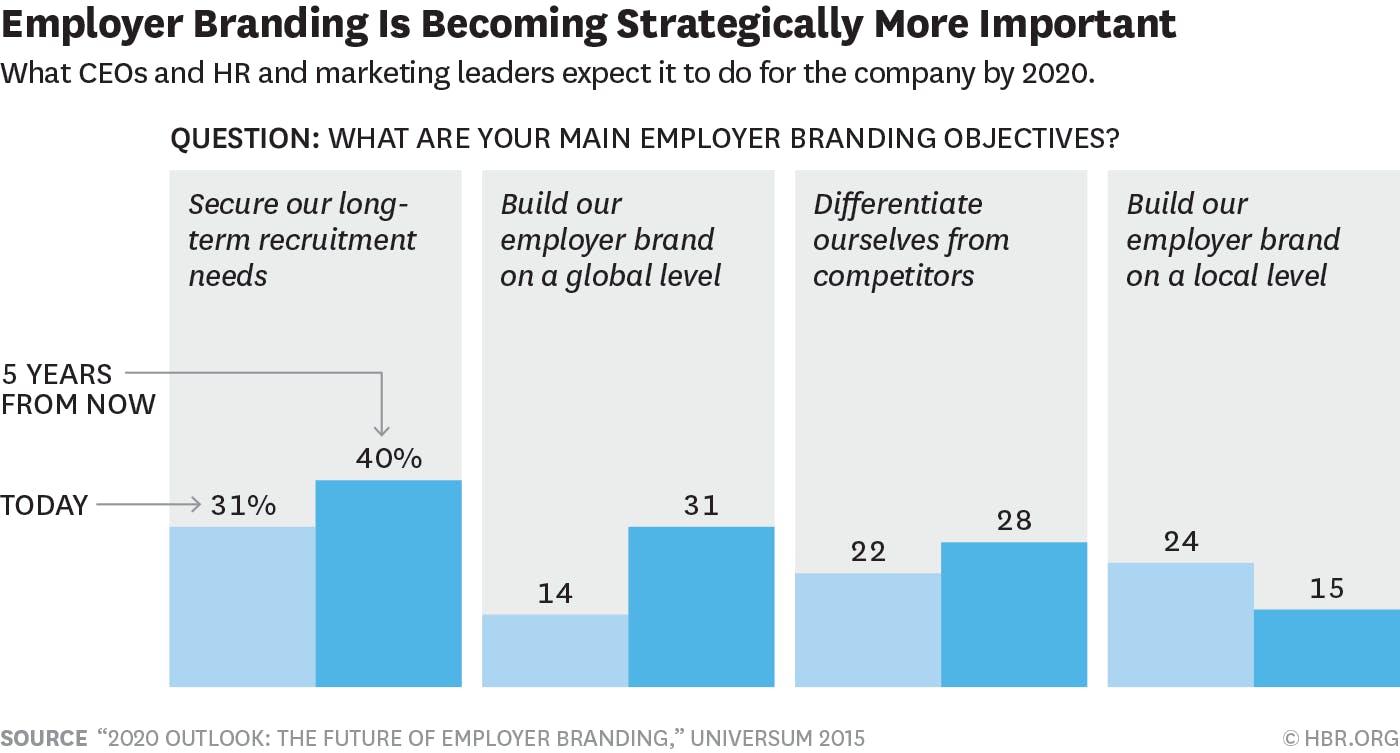 If you're looking for more information on how to create a strong employer brand, we recently teamed up with Uber in an exclusive webinar. Hosted by Alex Hattingh, Chief People Officer at Employment Hero and Katie Noakes, Recruiting Manager at Uber, they both shared their insights to all things employer branding including:
How to create an effective employer brand

How you can use employer branding to attract and retain top talent in an extremely competitive job landscape

Defining your EVP

How to create an all-star candidate experience
Interested in learning more about employer branding? You can watch a recording of the 45-minute webinar here. If you're looking for ways you can work with marketing to create a strong employer brand, read on as we share our top tips.
Shine a spotlight on your employees in social media, blogs and newsletters
According to Sprout Social, 65% of consumers feel more connected to a brand that has a presence on social media. Not only this, consumers are looking for brands who post content that "humanises an otherwise faceless brand, and they want the people behind the brands doing the posting". One way you can contribute positively to your employer branding is to use your blog to highlight your employee experience. It's a great way to provide an inside look into your company for your customers, whilst improving your employer branding. Your marketing team is ready to think outside of the box when it comes to content. Whether it's photography, videography or graphic design, they're ready to tackle your employer branding strategy to put you ahead of the rest. For example, our marketing team recently created a customised social media post for an open Marketing Director position. Obviously you don't need to do this for every open role but for your harder to fill positions, this could be a great advantage. Pro tip: Tag the people in the team on Linkedin for future team members to see who they could be working with.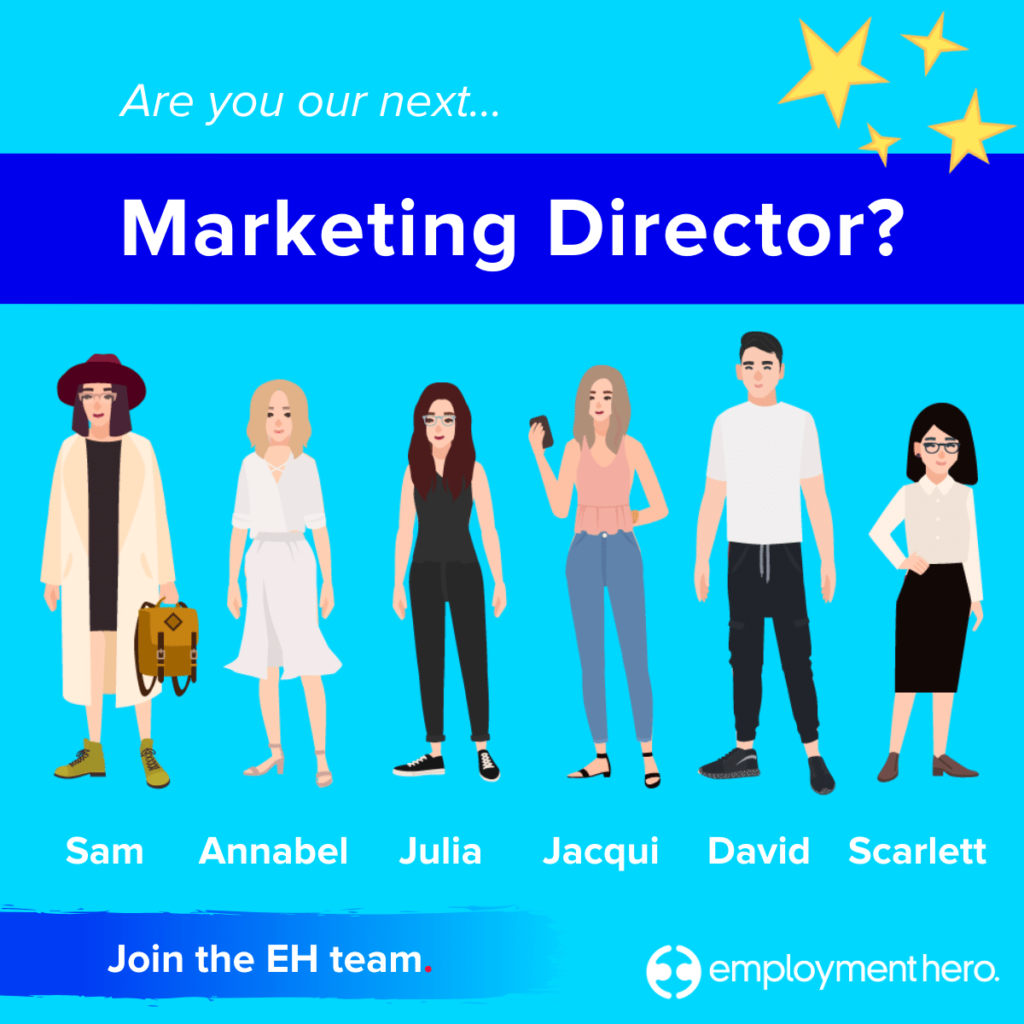 Use videos to highlight your company culture
Regardless of the size of your marketing team, they're the ones you can talk to about creating videos to highlight your company culture. If they're unable to complete it, they might be able to help you outsource it. An employee testimonial video can be as simple as using your iPhone and asking your employees a few questions. If you're looking for inspiration, you can watch our recent employee testimonial video with Sarah Topjian. The equipment we used was a Canon 6D, tripod and a wireless lapel mic. Nothing crazy!
Defining your EVP
If you're going through growth or experiencing unusually high turnover, nailing your job descriptions is crucial for attracting talent. Gone are the days of posting a few sentences with vague duties of the role. Today, job descriptions are expected to include information about:
the company culture

your unique EVP

a video highlighting the history and culture
If you don't consider yourself much of a writer, ask your marketing team to help. This could include them creating an engaging job description template that you can add to all of your listings. You'll be surprised at the result! Did you know that companies who follow through on their EVP experience up to a 69% decrease in their annual rate of turnover? However, in saying this, it's important to deliver on your EVP. If you don't, you could run the risk of top talent walking out the door because their expectations weren't met.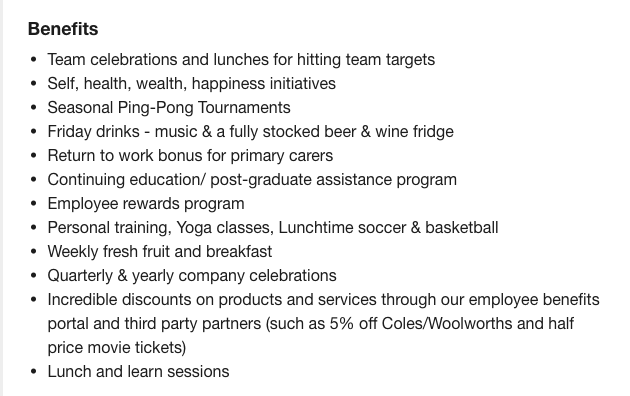 Design an engaging 'about us' page that will draw talent
This is your time to get creative with your marketing team. Depending on the size of your team, why not include a bio about each of your employees. By including an element about the people behind your brand, you'll show potential candidates who they'll be working with. If you're not sold on employee profiles, why not create a video that showcases your team and culture? Leave it to marketing to update the website with copy, images and videos and you'll see traffic increase.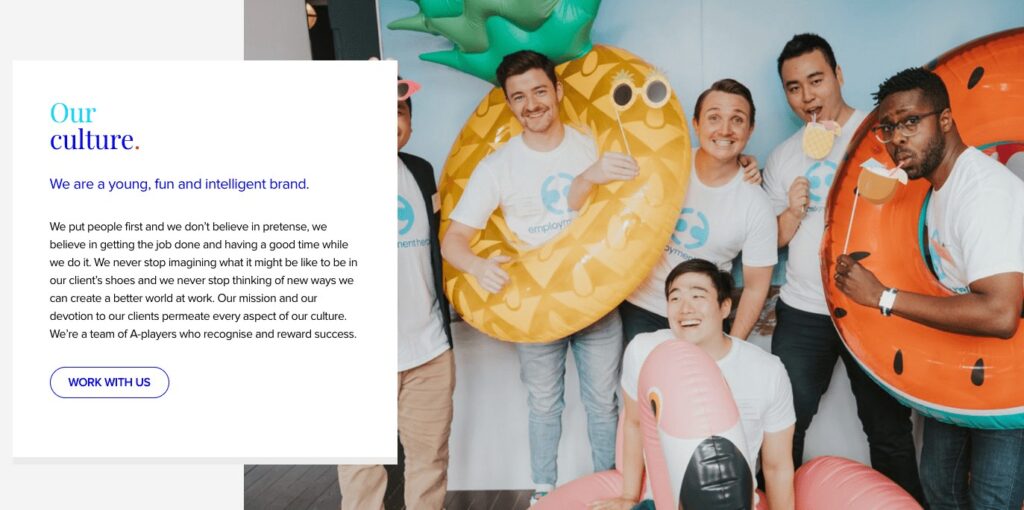 Employment Hero's About Us Page
The Wrap Up
When it comes to employer branding, your marketing team can be your best friend. They're creative and are usually ready to think outside the box when it comes to getting your brand out there to top candidates. Whether it's using videos to showcase your culture or sharing one of your employee's career growth in a blog, they're ready to help you turn your employer branding up a notch. Are you ready? Pencil in some time with your marketing team pronto!
Want more?
Want to find out what your employees are looking for in their role? Download or FREE 'What Employees Want' whitepaper to learn more. 👇👇👇