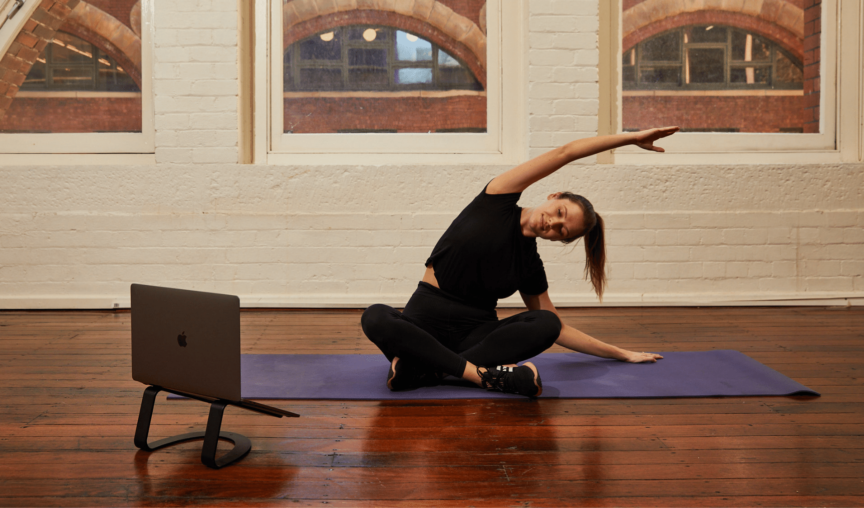 Have you considered implementing a workplace wellness program in 2022? These employee wellness statistics might inspire you.
To say that there's a lot going on in Australia right now is an understatement – and these events are impacting your employees in many ways. They can significantly impact one's sense of wellbeing, which can seep into every part of life – including work.
The cost of living is skyrocketing and we're facing the challenges of the Great Resignation, all against the backdrop of Covid-19. To better support your team, investing time and money into an employee wellness program can help ease the strain of these events.
Wellness is on everyone's mind right now – and it's changing constantly. If employee wellness is in the back of your mind, here's your reminder why it's so important to prioritise health and wellness programs. We've pulled together the most interesting wellbeing statistics from our 2022 wellness at work report so you can better understand how to support your team during one of the most challenging periods of our time.
How did we gather our employee wellness statistics?
Between the 13th and 25th of February, 2022, we surveyed over 1,000 workers from around Australia. We asked them about the ongoing impacts of Covid-19, how financial stress affects their workday, how personally fulfilled they are by their work, plus so much more. It's a complete snapshot of the current employee wellness sentiment and essential reading for any employer.
If you're going to build the culture you want, now is the time to invest in a workplace wellness program. Remember, if your employees' wellbeing is supported in the workplace, you attract and retain the best the world has to offer. Armed with these essential insights, you can put in the groundwork now to make sure you build a loyal workforce where everyone's wellness is supported.
Interested in reading the full report? Download it here.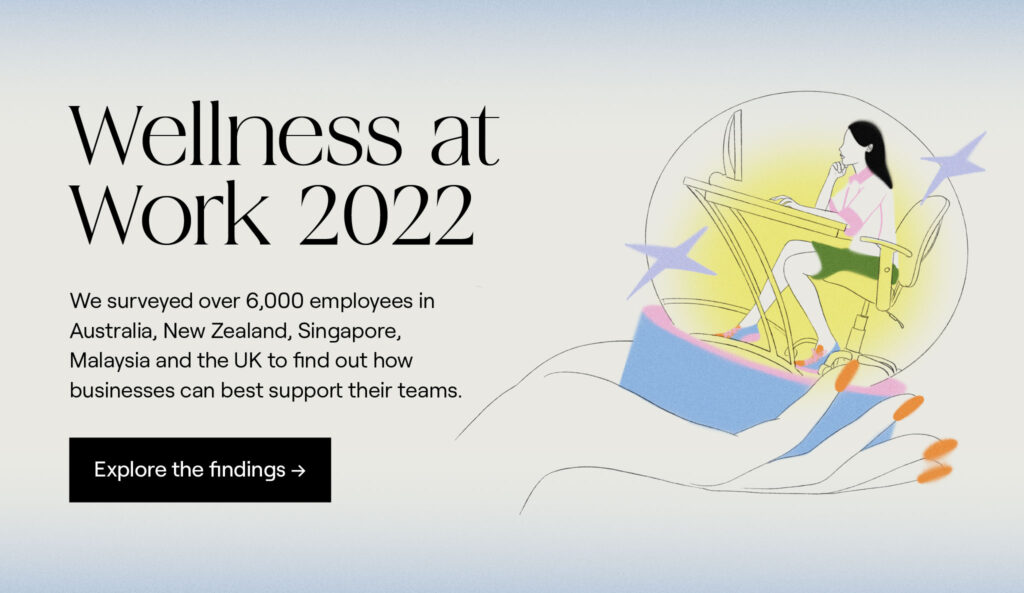 10 employee wellness statistics you need to know in 2022
69% of Australian workers are in meaningful work
When we're fulfilled in our professional lives, it contributes to our overall sense of purpose and wellbeing. After a rocky two years, we can see firsthand that it's left a wave of burnout – however, it's nice to see that we're finding fulfilment in our professional lives.
The majority of Aussie employees are finding fulfilment in their work, with 69% of workers agreeing that the work they did was meaningful to them. 
36% of Australians are questioning the importance of their career
Even though many employees are finding their work meaningful, the importance we're placing on our careers may be shifting.36% of workers agree that Covid-19 has decreased the importance they place on their career.
In line with the Great Resignation, this signals that more workers could be seeking a change of scenery, an industry-swap or even a side-step.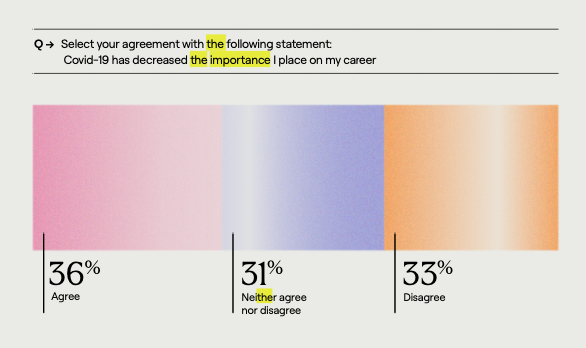 56% of Aussie workers are stressed about finances
Are you finding that everyday life is more expensive these days? It's because everything is on the up – annual inflation has risen 3.5% last year. Not to mention other factors at play like staff shortages, supply chain issues and the rising cost of fuel.
Whether it's due to loss of work, the uncertainty of the pandemic or skyrocketing inflation, it's no surprise that 56% of Aussies are worried about their finances. 
More than half of Australian employees are struggling with burnout at work
When it comes to employee health, burnout is spreading quickly across the working population. Workers have felt a sense of extreme fatigue recently, with 53% signalling that it had affected them within the past three months (November – January).
This comes as no surprise, especially as we continue to feel the effects of Covid-19 and staff shortages.
52% of Australians rate their work-life balance as poor or average
An average sense of work-life balance could be a contributor to the burnout that we're all feeling, with 52% of Australian workers rating their work-life balance as poor or average.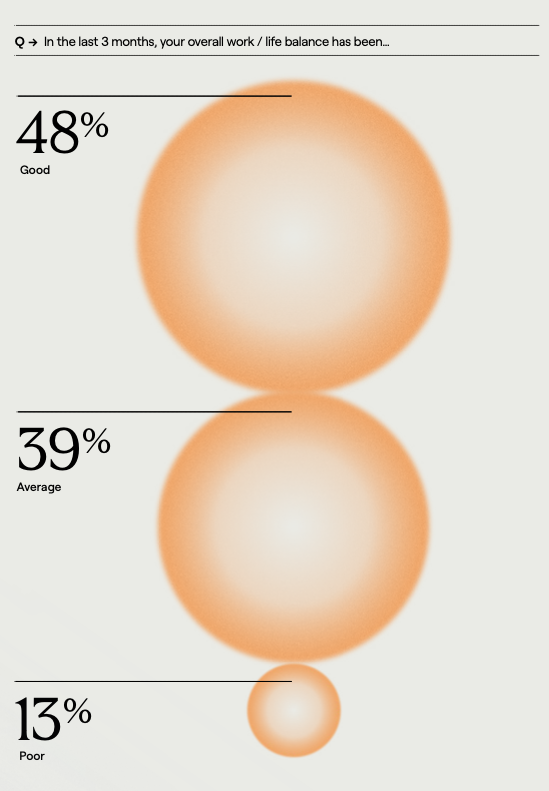 46% of Australians agree that mental health discussions are harder when working remotely
As many of us continue to work from home at least some of the time, there's an increased chance that poor mental health may go unnoticed. This means that those typical signs to look out for when someone is struggling, are flying under the radar.
While we're all well-versed in working from home, 46% of respondents who work remotely in some capacity agree that mental health conversations are harder to have remotely.

34% of Australian employees don't know how to approach their manager/HR about their mental health
Talking about mental wellbeing in the workplace can be a difficult topic to navigate, however, it's an important one. Mental health affects all of us at one point or another – 1 in 5 people will experience mental illness in their lifetime — and yet there is still a stigma that surrounds asking for help.
Open up the conversation and get involved with initiatives such as R U OK? Day. It's initiatives like these that do an amazing job of normalising a conversation that can sometimes be difficult to have.

36% of Australian employees believe their company has no budget for mental health support services
As we spend so much of our lives at work, it's no surprise that any changes in mental health will spill into our working lives. As well as affecting the individual personally, poor mental wellbeing can result in a knock-on effect, impacting employee productivity, morale and engagement.
Although 36% of Australian employees believe their company has no budget for mental health support services, there are many free and low-cost options for employers to show they care. If you're finding it difficult to implement wellness initiatives due to limited or no budget, take a look at our guide on low-cost ways to support employee mental health. 

36% of Australian employees believe that mental health stigma in the workplace is a worry for them
Although improved drastically over the years, 36% of Australian employees believe mental health stigma still remains. Creating a supportive and inclusive workplace, where mental health conversations are championed can have a huge impact on your bottom line and culture, whilst creating a team of healthy employees.

19% of Australian employees claimed to have lost their motivation at work due to financial stress
Financial stress is one of the most subtle types of anxiety. It has the uncanny ability to seep into every part of an individual's life; if it's the number one cause of relationship stress for Aussies, it's no surprise that it's on employees' minds at work.
With the cost of living skyrocketing, it's no surprise that 19% of Australian employees claimed to have lost their motivation at work due to financial stress.
Armed with these workplace wellness statistics, it's time to create a standout wellness program for 2022
We all know that workplace wellness programs can make employees feel more supported, reduce risks to their wellbeing, and improve overall happiness in every aspect of their lives. By implementing outcomes based wellness programs, you can expect fewer sick days, improved workplace health and improved company culture.
After all, it's estimated we spend on average, one-third of our lives at work, which can be exhausting if our wellbeing isn't supported. We want to bridge the gap between employers and employees when it comes to creating thoughtful and powerful wellness programs. If you need some inspiration for some standout workplace wellness programs, take a leaf out of these companies' books.
Download our workplace wellness bundle
Workplace wellness bundle