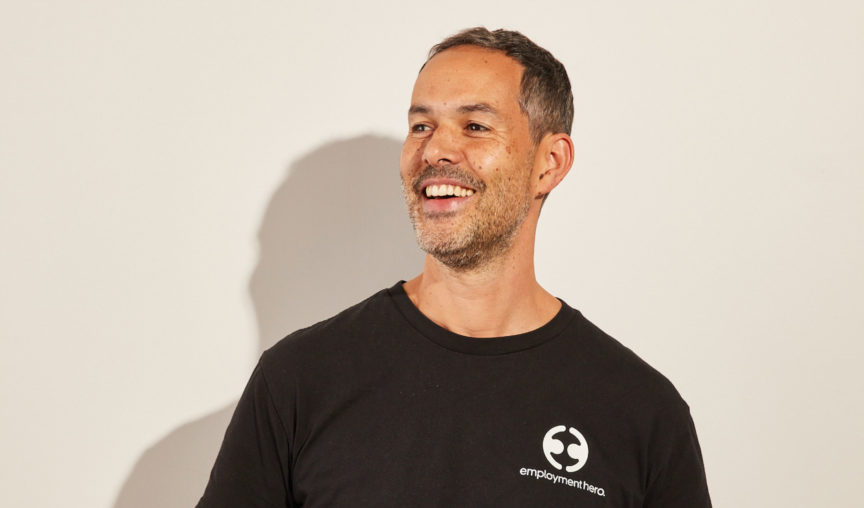 So, do you want to know how to improve employee retention in your business? Well, you've come to the right place. If can guess correctly, you've got a freeze on wage growth, but you're also under pressure to retain top talent? We know the struggle.
These days, effective employee retention strategies call for alternative ways to reward employees. For instance, did you know that by improving employee engagement you'll automatically improve employee retention?
That's because there's a strong link between employee engagement and being happy at work. Happy employees tend to stick around longer meaning you have a workforce of trusted, reliable and enthusiastic employees.
Let's look into five smart ways you can improve your employee retention rate for your business.
Five smart ways to improve your business' employee retention
Want to keep your people happy and improve employee retention? Focus on providing access to a broad range of benefits – thinking a little outside the box.
The good news is, that even when budgets are extremely tight, you can put the following five options into play. They cost next to nothing to implement!
1. Flexibility in the workplace
Have you noticed how employee expectations for where, when and how they work have radically changed over the past few years? In fact, flexible working is no longer considered a perk. For many workers in a wide range of occupations, it's absolutely mandatory. Flexibility can of course mean many things:
Working remotely

Being able to pick and choose hours, or, at a minimum, choose start and finish times

Job sharing

Opting for part-time work over full-time work, or

Condensing a five-day working week into three or four.
From an HR point of view, flexibility delivers serious payback to employers. Along with higher retention levels and lower absenteeism, it's also a key component of employee wellness.
Offering flexible working arrangements allows employees to improve their work-life balance which reduces stress levels. And so, employees with flexible work schedules typically have higher levels of job satisfaction.
And while offering flexibility might take a bit of work to set up, for most employers, it costs absolutely nothing to offer.
Pro tip: If you're not offering it already, figure out how you can accommodate flexibility in your workplace. Be creative and offer job-sharing opportunities, and the ability to condense the working week as well as working remotely. You'll be pleasantly surprised at how helpful and productive your happy, life-balanced employees are.
2. Mentoring
One of the major reasons why talented people leave is they are not given the career development opportunities they deserve. In fact, understanding this is key to retaining them. Many companies are now funding coaching and mentoring programs to develop talent.
Mentors help the employee to grow in their current position and become ready for new career opportunities. But instead of turning to external providers, you harness the value of internal employee resources to develop others.
This approach not only saves on cost but increases overall employee satisfaction – both for the mentors and the mentees.
Pro tip: Identify skilled resources in your company who could become mentors and match them to employees who are ripe for career development. Mentoring is particularly powerful when an employee identifies career skills that he or she lacks and you can match them to an individual in your company with those skills who can pass on the knowledge.
3. Recognition will boost your employee retention
Everyone likes being told they've done a good job. In fact, according to McKinsey, praise and commendation by an immediate manager is more motivating than performance-based cash bonuses! But, for it to be effective, recognition shouldn't be a one-off expression of gratitude.
Rather, it should be given frequently when deserved. According to the Gallup organisation, recognition for good work has a "shelf life" of just one week. You don't need to hand out trophies. Just a few minutes of thoughtful recognition goes a long way.
Pro tip: A first step in developing a culture of recognition is getting into the habit of writing a simple thank you message to deserving workers. Then share it with the team by posting it to an internal communication channel.
4. Bring your dog to work day
Okay, this one is a little left field. But, Friday 23 June is International Bring Your Dog to Work Day. There's a growing belief (probably originating at a hipster startup in Silicon Valley!) that pet-friendly workplaces improve the lives of employees. Apparently, workers who bring their dogs to work feel significantly less stressed than those who don't.
In fact, dogs lower stress, heart rate and blood pressure, and make individuals who work alone feel less lonely. So, pet-friendly workplaces are definitely on the rise. Not convinced? Read these articles in Commercial Real Estate and Fortune for more on what sort of companies are embracing this trend.
Snarling Dobermans aside, people are actually perceived as more friendly and approachable with a pooch by their side. And, I don't know how many job candidates have ever asked you about pet-friendly policies, but having one is certainly a conversation piece, and creates something of an unusual drawcard for potential hires.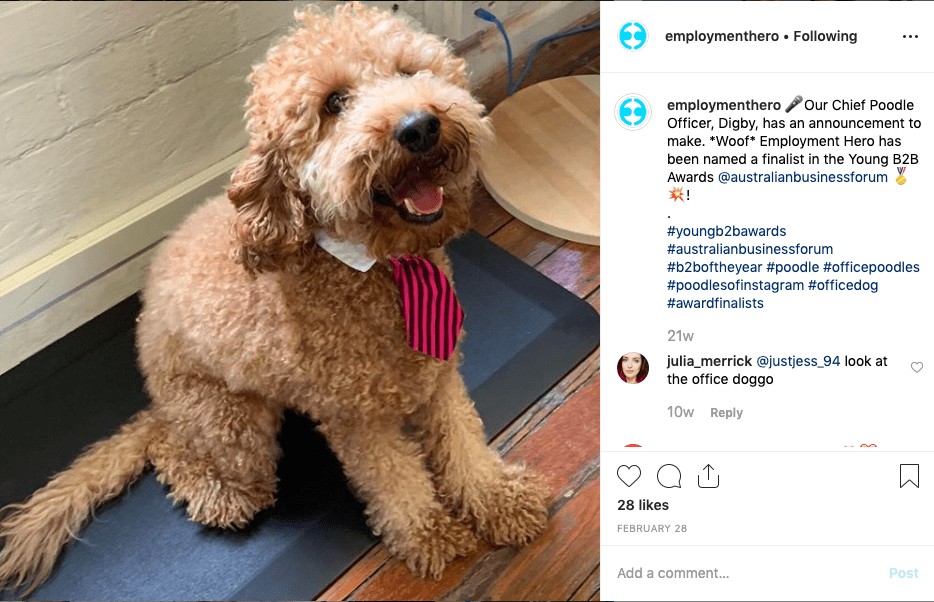 Whether you invite dogs into the workplace once a month, once a quarter, or once a year, it costs next to nothing – apart from a few packets of doggy treats!
Pro tip: You don't need to wait until the official day to introduce a pet-friendly policy in your office. Think about how allowing just a few furry friends in the office may help improve morale and make employees think better of your company.
5. Benefits that make your employees' income go further
According to MetLife, employees who are very satisfied with their employee benefits are almost four times more likely to be very satisfied with their jobs. And for 51% of employers using benefits to retain employees will become even more important in the next 3 to 5 years. Because so many working Australians see employee benefits as an important consideration when joining or deciding to stay with an organisation, it's becoming increasingly important to ensure you offer the right mix.
Even on a budget, you can offer your employees compelling perks such as competitive rates for personal loans and mortgages, car leases, health insurance, or corporate superannuation that aren't available in the market. And all without it costing your business a cent. These kinds of benefits make a big difference to an employee because they effectively make their income go further.
Pro tip: Partner with an experienced provider like Employment Hero, to give your employees so much more than their pay and bare minimum regulated benefits.
Webinar All About Employee Engagement, Retention and Benefits
Remember, as salaries stagnate, introducing alternative ways to reward employees are sure to be a big hit with employees – without it being a big hit to your bottom line. For more ideas, watch our on-demand webinar about employee engagement, retention and benefits.
Employment Hero is Australia's first all-in-one cloud HRIS offering a comprehensive HR software, payroll system, and employee benefits platform in one easy solution. Trusted by Australian businesses, Employment Hero is about making rostering, onboarding, performance management, time tracking, payroll, and award interpretation a snap. Employment Hero's HRIS also integrates with Xero, MYOB, KeyPay, and Accountright Live. Stop wasting time with spreadsheets, and request a demo today.