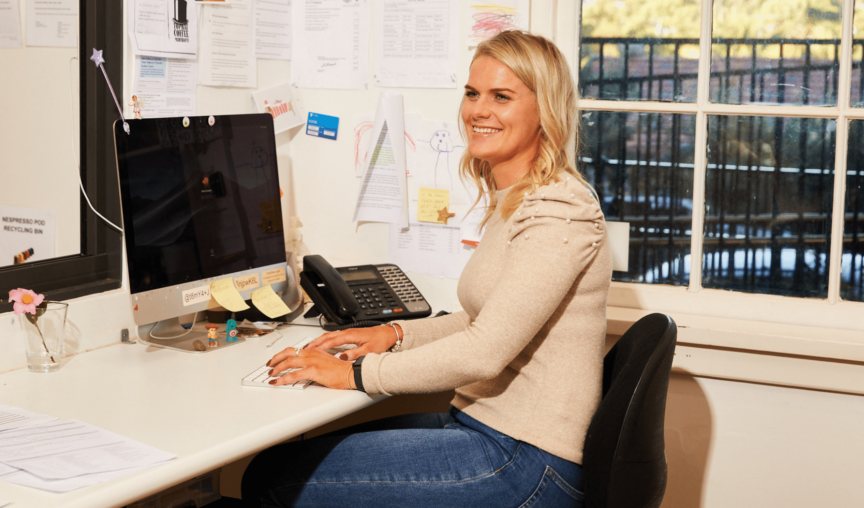 Has your workplace energy seemed a little flat lately? Do you feel that your team members haven't been doing their best work, or they feel a bit disconnected from their goals? Do you feel like the day-to-day vibe at your business needs a refresh?
Chances are it has nothing to do with the work itself, and you certainly don't need to replace any team members to bring in new energy. The secret to keeping your team motivated and evolving is to invest in employee engagement.
Only an engaged team will keep pushing your business forward. It's the best way to develop your team, both on an individual and collective level.
Getting employee engagement right takes a balanced combination of communication, connection, training and recognition. But it doesn't have to be complicated, and you certainly don't have to do it alone. Employee engagement software is the best way to reignite your team's energy and establish long-lasting engagement measures.
What is Employee Engagement?
Let's start by getting back to basics. How can we define employee engagement? Employee engagement is a measure of motivation and whether or not your team is willing to put in the extra effort to help your business perform and grow. It is also a sign of commitment.
Think of it as a positive cycle. Staff who are highly engaged offer higher value and contribute to a better work culture, which then improves morale and enjoyment for other team members as well. Engaged employees are energised and passionate about their work and raise the bar of the service offered by your company.
Employee engagement isn't something that just exists or appears. You wouldn't feel excited and driven about a company that wasn't showing you appreciation and consideration, right? You'd be more likely to come into work and watch the clock.
Engagement is a result of investment from the business – but the payoff is significant.
Staff will not only be happier and more fulfilled by their job, they will be more productive and are less likely to be tempted by roles at other companies.
How can employee engagement support team development?
Employee engagement and team development go hand-in-hand. This connection becomes clear when we look at the different elements of employee engagement.
You've got;
clearly defining your organisation's values
making a shared purpose
providing a positive company culture
motivating employees with rewards
caring for health and wellbeing (physical and mental)
defining individual employee roles
nurturing employee relationships
maintaining clear communication channels
creating and fostering leaders
supporting training and learning, and;
encouraging employees to be themselves in the work environment.
All of these elements play some part in helping your individual employees grow or progress their growth as a team. Each one demonstrates that you are investing in your employees' growth, happiness, relationships, and comfort; which in turn, will lead them to invest back into your business.
Employee engagement can also develop your team by enhancing the appeal of your workplace. It will be much easier to win over new candidates when they can see that your team feels great about what they do.
How do I measure employee engagement?
When we talk about employee engagement, we think about some clear benefits; higher productivity, improved relationships between team members and clients, greater profitability, greater retention and dynamic teamwork. What's the best way to measure these things?
Excluding profitability, which you already know how to measure, we would recommend implementing a few tools to help you track the ROI of engagement.
People Analytics
Over the last decade, there's been an explosion of interest in data-driven decision-making. Data analytics is used across a range of business functions, from finance right through to strategy. Now it's also a key part of employee engagement under your HR function; this is called people analytics.
What kind of numbers can you collect and track? We recommend getting started by examining turnover rates and tenure; the number of employees moving in and out of your organisation, and the length of employment. Absenteeism is another helpful number to watch; according to Gallup, highly engaged teams realise a 41% reduction in absenteeism.
Within Employment Hero you can easily generate headcount reports and measure them against termination reports. If you want further insights, you can filter by employee type (full-time, part-time etc.) and location. This is just the beginning of what you can do with employee data on the platform.
Happiness Surveys and Scores
Using employee surveys is one of the easiest and most authentic ways to evaluate how engaged your employees are. By using Employment Hero's employee engagement survey templates or Custom Surveys, you can easily seek feedback from your employees on what engagement efforts are working, what they'd like to see more of and what could be improved. It's also a great way for your employees to feel like they're active participants in building a better workplace.
For an even quicker way to get a temperature check on employee satisfaction, you could also use Employment Hero's Happiness Score. This is a quick anonymous score that your team can leave, along with any comments of honest feedback.
Productivity
How do you currently track productivity in your business? If you're not already using goal setting and task management tools, you're missing out on helpful actionable insights.
Task management tools can help your employees organise and track their work, while creating a clear and transparent environment for productivity. Check out tools like Trello, Wrike and Asana to help you get a better understanding of your employees' productivity improvements.
Kicking goals is another clear sign of an engaged employee, so make sure you're across when and how employees achieve their targets. Using a framework like OKRs (Objectives and Key Results) allows you to easily track each team member's progress and achievements. It's a goal-setting method that's used by some of the world's biggest companies but can easily fit the needs of SMBs.
Benefits of Employee Engagement Software for SMBs
When you look over what it takes to keep employees engaged and track the success of your engagement strategies, we wouldn't blame you for feeling a little overwhelmed! Teams have a lot of needs, and it can be a challenge to implement and be consistent with every engagement measure.
It's definitely too much work for one person to take all of this one, which is where employee engagement software like Employment Hero comes in. Our tools are purpose-built for SMBs that are looking to have their most engaged team ever. Here's how.
1. Recognition
Reward and recognition are key to employee engagement. Studies have shown that for every piece of criticism that an employee receives, whether constructive or not, six pieces of positive reinforcement are needed to counteract it.
Employees that don't feel recognised or appreciated are less loyal to their employers than their appreciated team members, whereas employees that feel recognised are more engaged, leading them to be more productive. Companies that effectively appreciate their employees being 20% more profitable than those who don't.
Employment Hero's digital tools make employee recognition and reward easy, so you and your team members can celebrate a job well done, reward achievements and keep your team aligned.
Our ShoutOuts feature is a feed on the Employment Hero app visible to the whole company – it's the fastest way to shout your appreciation and provide positive reinforcements. For bigger achievements, you can reward your team with HeroDollars, to spend in our on-app marketplace of thousands of discounted items. Imagine having your boss contribute to your next takeout night or smartphone as thanks for a job well done; it allows you to thank your team with something that's meaningful to them.
2. Employee Feedback
Remember our 10 types of employee engagement? Although they're all important – 'maintaining clear communication channels' is an absolutely essential one.
There are a few ways that software can help you schedule, automate and document employee feedback and communications. Our one-on-one meeting functionality is a great place to start. 1:1s are a scheduled weekly or fortnightly catch up that an employee has with their direct manager. This is time dedicated for the employee to talk through how their past week or fortnight has gone, as well as commit to things for the future.
Employment Hero's 1:1 feature allows you to identify the questions you want, create recurring meeting templates, and document the discussion points; creating a consistent routine of employee communication. This constant feedback loop is so much more conducive to engagement and development than the traditional annual model of performance reviews.
3. Goal setting and alignment
How great does it feel when you know that you're making a contribution and a difference in your role? Alternatively, how demotivating does it feel when you're working so hard but you can't see the impact that you're making?
Goal setting and tracking can make all the difference in accelerating your team towards their best work. Employment Hero's OKRs framework can help measure your team's engagement, but it can also contribute towards their engagement. OKRs give a transparent view of their progress and can help them easily see what part they're playing in the success of the business.
OKRs consists of an Objective, which defines a big goal to be achieved (the 'what' or 'where do we want to go'), and up to 5 Key Results, which measure progress towards the objective ('how do we know we're making progress?'). Each OKR can also have Initiatives, which describe the work required to drive progress on the key results.
OKRs are created top-down and bottom-up. The only top-down OKRs should be your company level OKRs. From there, it's up to each person and/or team to establish their employee OKRs together. This gives your employees the opportunity to have a say in how they, in their role, will help to achieve the company OKRs. They are also designed to be publicly seen and set for everyone inside the business, and they can all be housed in the Employment Hero app. This transparency helps to cultivate a culture of trust and team spirit.
4. Training and development
Humans are not meant to stay still for too long. We gain fulfillment from always learning and growing. When you make training and development a priority for your team, you don't only show them that you're willing to invest time and money into them personally – you also invite valuable skills into the business.
Whether you want to make training mandatory or you want to help your team set up their own learning pathways; a Learning Management System is the best way to do it. That's why Employment Hero has made Learning Plus available on our platform; so your team can access thousands of online courses on-demand.
5. Benefits
Whenever you've been job searching in the past, have you been guilty of scrolling through the job ad straight to the benefits section? It's an awesome feeling to feel supported and rewarded just for being part of a team; benefits are an incredibly underrated engagement tool.
The best employee engagement software will not only assist with communication, goal setting and learning; it will also give your employees easy access to a range of benefits. Usually, great work perks are the remit of big organisations, but using software like Employment Hero can help you stay competitive with great benefits of your own.
With our marketplace of thousands of discounted items, expert advice on mental, physical and financial wellness, and great deals on services from health insurance to gym memberships; your team will feel spoiled by a suite of benefits.
Employee Engagement Software Comparison Criteria
So what is the right employee engagement software for your business? Obviously, we're biased as to which is our favourite – but if you're still unsure, we encourage you to ask these questions.
Is the software purpose-built for SMBs? Big enterprise software is just not going to be relevant to teams of small and medium sized businesses. You need something that's tailored for smaller businesses, which means being flexible, customisable and scalable; you can pick up more functions as you grow.
Is it easy to use? If your employee engagement solutions are complicated, your staff simply won't embrace them. The last thing anyone wants to do is add a complex program to their workload, so you'll need something that's straightforward and simple.
Is it cloud-based? In our world of remote and hybrid working, we need our employee engagement tools to be flexible and easy to access. There's no use trying to engage your employees just from the office in 2021, everything needs to be stored on the cloud so we can work on the go.
Free employee engagement resources and templates
If you'd like to learn more about Employment Hero's employee engagement tools, speak to one of our business specialists today. Otherwise, check out more employee engagement resources and templates to take your teamwork to the next level.
Template: Employee Engagement Survey
Blog: Six Essential Employee Engagement Trends You Need to Action
Blog: The Rules of Engagement: Reward and Recognition
Whitepaper: How to Engage and Retain a Millennial Workforce
Whitepaper: Engaging Employees: A Key Competitive Differentiator