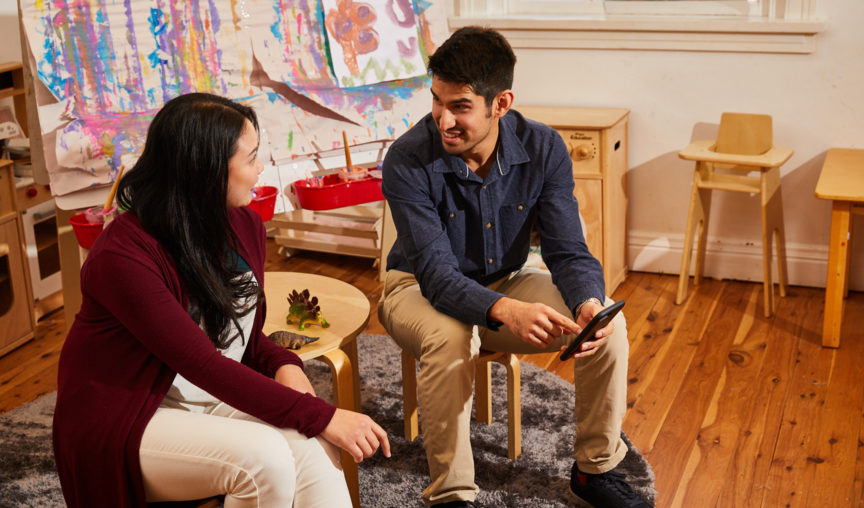 Get moving, together.
Exercise is good for you. Exercise is good for your spouse and your kids. You know this, but…is it really worth the whinging? The toddler topples off their bike and the teenager sulks at the back. Your partner races ahead or lags behind. Honestly, family exercise can be a nightmare — but that's probably because you're doing it wrong. Family exercise should be fun. Research shows that exercising together improves family bonds. It also sets your kids up for success in the future by establishing healthy attitudes and habits. With a little creative thinking and some clever tips, everyone in the family can enjoy exercise together. It really doesn't have to be that bad—trust us.
1. Daily walk
Don't underestimate the power of a daily family walk. Regular low impact exercise is an important part of any life and is suitable for every member of the family. If you set this habit now, imagine the long term impact it could have, years or even decades later. Become a family who walks. You can make it a morning walk or an evening walk. Take the dog or bring the scooters. However you choose to move, do it daily.
2. Dance party
Do you have music playing in the house? Use that as a chance to get everyone on their feet. While you're preparing dinner or cleaning the house, put on an album everyone loves and get a little bit silly. In an hour of dancing, you can burn up to 300 calories. Plus, this is serious memory-making in action. Let loose and have fun together. The trick to exercising together regularly is seizing any opportunity you can. A great song + an empty kitchen = the perfect chance.
3. Ad break workouts
Watching TV together? In every ad break, choose a physical exercise and get moving. Crunches, push-ups, star jumps or burpees – those ad breaks will fly by. If you're streaming something and there are no ad breaks, you could try pausing every 15-20 minutes or in between episodes. Breaking a TV session up with short bursts of movement may seem slightly cruel, but it can be a fun way to engage with each other instead of just staring at the screen.
4. Sports night
Form a family sports team. This is far and away the most fun way to get exercise together. Find some friends and head down to the local sports oval. Alternatively, you could find an official family-friendly sports club in your local area. Whether you're playing touch football, cricket, AFL tennis, hockey or T-Ball, there's nothing like team sports to bring out the best (and worst, sorry!) in your family.
5. Nerf competition
Now this is an idea we can all get behind. Get some nerf guns. Load up. And start firing. A nerf gun fight is the ultimate way to exercise as a family. You could head out into the backyard or play around the house. It's like hide and seek on steroids. While this activity could work for all sorts of families, it might be especially apt for rough and ready teenagers. Having said that, we're pretty confident everyone in the family-except maybe Grandma—will get behind this idea.
6. Learn to rollerblade
Family bike riding is great. It's a tried and tested way to get exercise as a household. But when you get sick of two-wheeling, why not try a different way to get around? Learning to rollerblade could be a great chance to get moving together. Sure, there will be stacks. Yep, there might be a few tantrums. But surely this skill is so cool it's worth a few bruises? Just a hint, parents are far more likely than kids to get injured in this situation so…take it easy, tiger.
7. Bush walk
Family bush walks are a quintessential part of the Australian Dream — and for good reason. Our beautiful country offers plenty of incredible walks which are suitable for the whole family. You could even pack a picnic and make a day of it. This is a great option for a stir-crazy Saturday. Bushwalking gets you all out of the house and into nature. Take a deep breath and enjoy stretching your legs.
8. Gardening
Weeding, raking, planting; gardening is a great whole body workout. Get some yard work done and keep your family fit—win, win! Set some garden chores or plant a new veggie patch. From the littlest to the biggest, everyone can contribute in some way. Gardening is an easy form of exercise. So easy, in fact, your family may not even realise they're exercising! A bit of fresh air and vitamin-D can't hurt either.
9. Train together
Okay. This one is not so 'fun', but it is rewarding! Any personal trainer worth their salt would love the chance to work with an entire family. They'll be able to coach you through workouts together. Even better, you could work toward a goal. Maybe you could all run a 5km race together or participate in a charity event? Get a trainer on your case and you'll be kicking goals as a family in no time.
10. Playground time
If you've got small children, you're probably not a stranger to your local playground. But how often do you sit on the park bench with a coffee in hand? Instead, take this as a chance to get some exercise. Playgrounds are a great exercise opportunity for the whole family. Climb that frame, swing on those swings, play tag.
Better together
Exercise can be hard work. Doing it together can actually make it easier—we promise! Once you've established some good family rhythms, exercise can become the highlight of your week and a wonderful bonding opportunity. Healthy, educational, a chance to relax and recharge; the benefits to family exercise are honestly hard to list. There is every reason why you should invest the time and effort into incorporating movement into your family life. It doesn't have to be a slog. Get creative, ask for advice and experiment. At Employment Hero, we know how important your physical and mental wellbeing is. Our integrated platform includes resources to keep you in great physical health, no matter your family circumstances. Sooner or later, you'll find something that works for every member of the family.