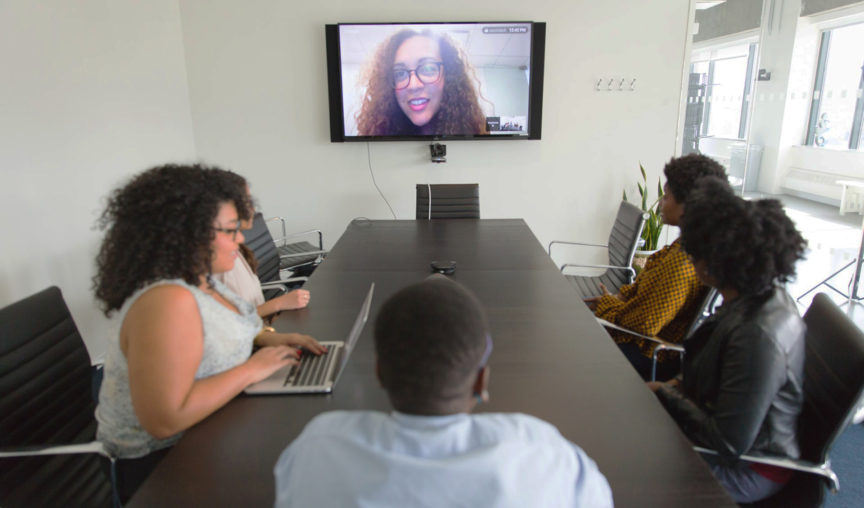 Hybrid teams are the way of the future. With many teams recently shifting to remote work and heading to the office a few days a week, it's a model that's working for everyone. It allows for flexibility, collaboration, deep work and autonomy. If you ask us, it's all the things that make up a highly engaged and top performing employee and who doesn't want that? How do you know this, I hear you ask? Earlier this year we conducted our own remote working research. This research was prompted by COVID-19 in an effort to better understand employee attitudes to remote work. While we weren't surprised at the results, 84% of people said they enjoyed working from home and 92% would continue to work from home regularly if given the opportunity. With numbers like these, it just makes sense to allow employees to continue to work from home in the future.
Want to see the results?
👉 You can view the 2020 remote work survey results here. 👈
As we move forward, it's only expected that we will see more blended or hybrid workforces. These types of working models simply mean that employees have the option to work onsite or from home. It's the ability for the employer to empower their employees to choose how, where, and when they choose to work. While many of us have become accustomed to working remotely, many businesses are still ironing out issues. One area that can be challenging to achieve remotely is the management and alignment of company goals for hybrid teams. According to Gallup, managers who set actionable goals with their team are 69% more engaged at work. With this front of mind, it's a no-brainer that to create a high-performing, engaged workforce, you need to have solid goals set up! Ready to learn how to manage company goals for hybrid teams? Let's dive in! 🏊‍
Source: Giphy
Choose a goal framework
Goal setting is more than just a list of ambitious things you'd like to achieve on it. Goals should follow a framework and inspire hybrid teams to work toward them. At Employment Hero, we love using OKRs (Objectives and Key Results). OKRs consist of an objective, which can be thought of as the thing that defines the goal you'd like to achieve. Think of it as the 'what' or the 'where do we want to go?'. From here, there are up to 5 key results. Think of this as the measurement of your success or the tracking towards your objective (how do we know we're making progress?'). Lastly, each OKR can also have initiatives. Think of these initiatives as a to-do list that describe what you need to do to reach your goals.
Let's take a look at an example of a goal for an HR professional using OKRs
Objective: Increase Employee Engagement Key Results:
Increase employee participation by 5% in the quarterly engagement survey
Leadership and HR work together and commit to 4 action items related to feedback
Communicate action items to leadership. These action items will be addressed through an all-hands meeting and also an internal newsletter by 1 March 2021.
Looking for more resources on OKRs? Read these blogs below. 👇
Did you know that Employment Hero offers an OKRs feature? In here, you can set objectives and key results and align them across the entire company. Cool, right?
Check out this quick video below or get in touch with one of our small business specialists today for a demo.

OKRs not your jam? Take a look at these other goal frameworks:
The Rockefeller habits
Key Performance Indicators (KPIs)
Goal Pyramid
BHAG
SMART goals
At the end of the day, there are a countless number of goal setting frameworks out there. The key to creating and successfully managing goals for hybrid teams comes down to finding a framework that works for you and your team.
Create company, team and individual goals
Creating goals for every level of the company may seem like an overwhelming task. But trust us — it's necessary when it comes to managing your team and giving them the autonomy they long for. With clear goals in place, you can give the power back to your employees to choose how they reach their targets. ⚡ Goals in action: At Employment Hero, we have one BHAG (Big Hairy Audacious Goal). Our BHAG is an extremely ambitious, aspirational goal that keeps us motivated and driving forward. We also use OKRs for company, team and individual goals, keeping the entire business accountable and aligned.
Check-in on goals regularly
So you've taken the first step and set up your goals. Great! But now what? Where do you go from here? Setting up your goals is the easy part. It's the steps beyond this that involve the hard yards. Creating a goal-driven culture can seem like an uphill battle, but with a few little changes, you'll have it down pat in no time. How can you ensure people are checking-in on their goals? Some ideas include:
Visiting your goals each week in your one-on-ones (1:1s)
Putting time in everyone's calendar each week
Bringing up goals in team meetings
Sending out a company wide message regularly reminding people to update their goals
Offer incentives for reaching company goals
To create a business culture that's driven by smashing goals and targets, it's important you reward and recognise your team when expectations are exceeded. ⚡ Looking for some inspiration? You could try…
Offering a bonus for achieving company based targets and goals
Setting up a commission structure for employees
Holding quarterly celebrations for reach goals and targets
Providing additional days off for reaching targets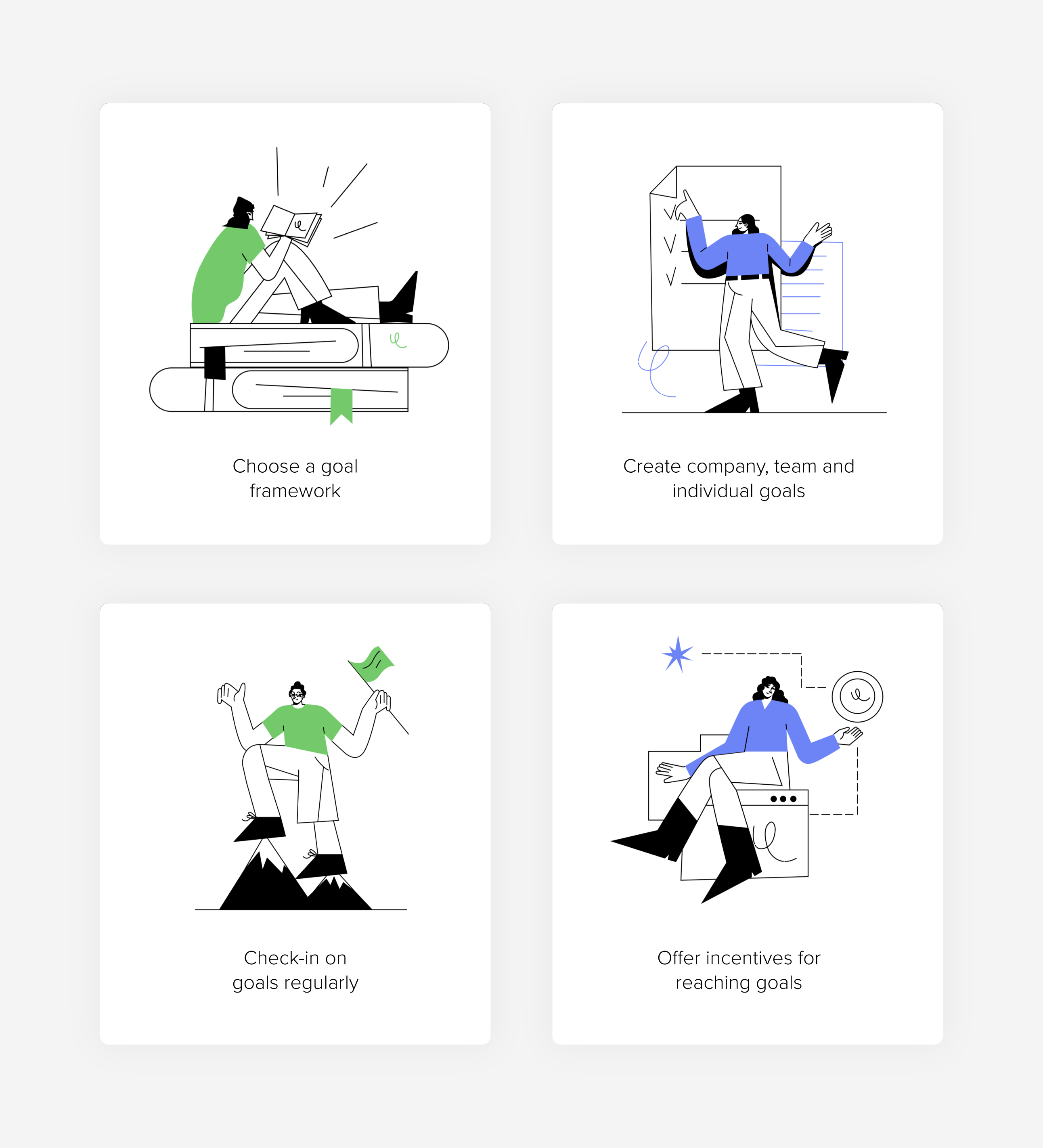 The wrap up
Creating and managing the goals for hybrid teams may seem like an overwhelming task, but it doesn't have to be. With a clear goal framework in place and regular check-ins, you'll be on your way to creating a goal-driven workforce in no time at all. So go, start planning some ambitious goals to take your company to the next level!
Want more?
Looking for a goal framework but not sure where to start? Take a look at our comprehensive guide to creating OKRs here. 👇