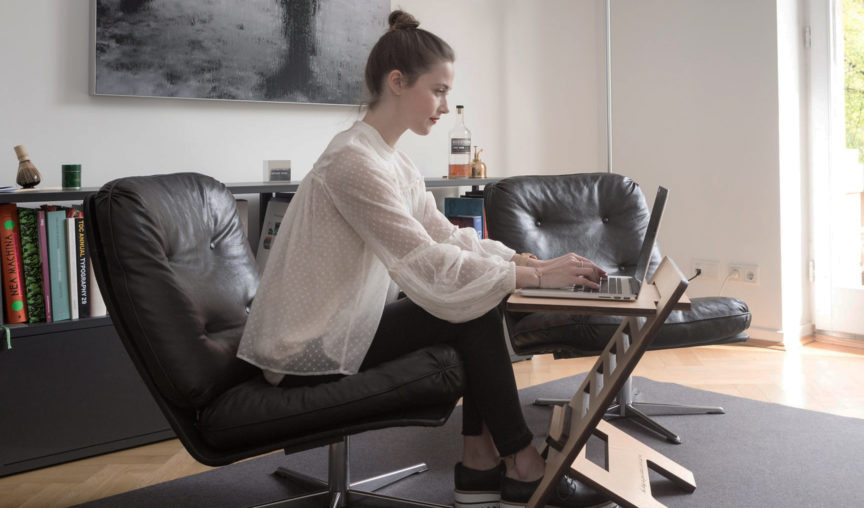 If you're like many businesses that have shifted their entire team to remote working, you've most likely been faced with many different challenges. But one area that's difficult to achieve when working remotely (especially if you're new to the concept), is how difficult it can be to maintain company culture.
During times of uncertainty, it's crucial you support your team. This is the most important thing you can do for your team now and over the coming months. It's no secret that COVID-19 is causing anxiety and stress for many Australians. So with this in mind, it's important to show support and provide light to your employees during these trying times.
Don't underestimate the power of small gestures and activities that can help with improving company culture when working from home. These are the things that can make a world of difference and can brighten someone's day. If you're looking for more information on how to add the human back into your team when working remotely, we've put together a few pointers here. Additionally, if you're looking for more ways to support your team throughout this tumultuous time, we've created a COVID-19 resource hub to help answer some common questions you may have.
So how can I maintain company culture when working from home, I hear you ask? There is a lot you can do! Read on as we share 9 activities you can get your team involved with while working from home to help improve company culture.
'Dress up' company or team meetings
To make things a little more fun, why don't you add a theme to your team meetings or All-Hands? At Employment Hero, we have a different theme each week and offer prizes for best dressed. It gives our team something to look forward to at the end of the week and also provides a lot of laughs!
Some ideas you could use:
Favourite sports team

Fancy dress

Bring your favourite cocktail

Pyjama party

Hat parade

Best cocktail competition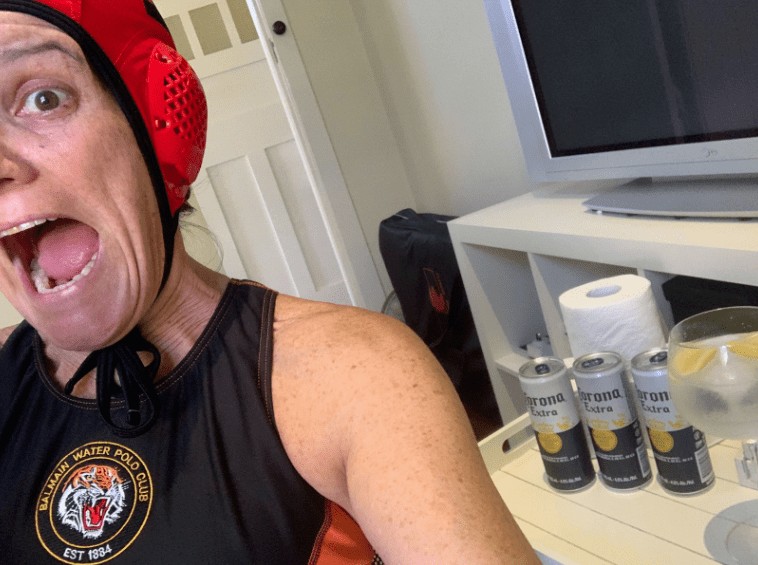 The Winner of our best sporting team competition – Esther in her water polo gear!
Morning check-ins with the team
This is an easy one to get started with, especially for those new to remote working. By having a regular check-in with your team, you'll improve your communication and help them set their day up for success. It also helps with reducing the feeling of isolation that comes with working from home.
Daily virtual chit-chats
Transitioning from socialising with your team everyday to being at home alone can be a shock to the system. During times like this, it's important not to underestimate the power of simply having a chat with your co-workers.
At Employment Hero, we have a #chitchat Slack channel and everyday at 10am, 12pm and 5pm there is the option for anyone in the company to join the Zoom call and chat about anything they wish. It's a great way to stay social and also a nice thing for those who are living alone and feeling the impact of isolation.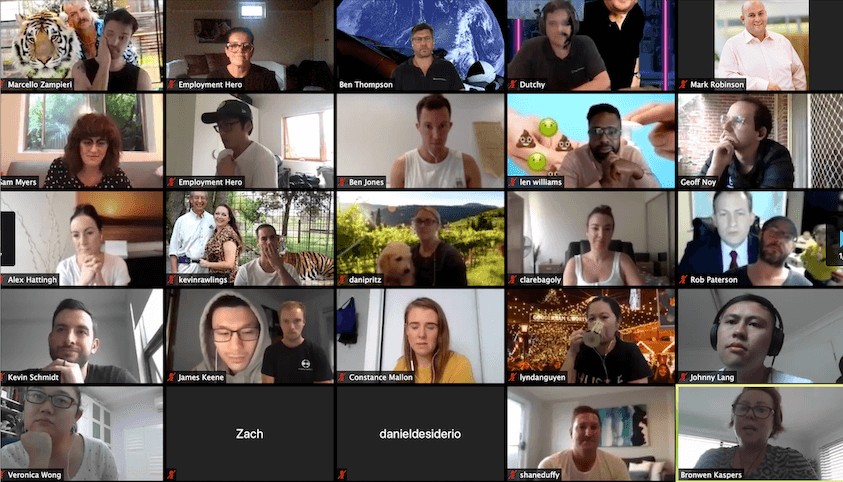 The Employment Hero team
Cutest pet photo competitions
At Employment Hero, we're a bunch of animal lovers. Between our #animalsbeingcute Slack channel and Chief Pupper Officers, there's no shortage of adorable animals being shared. If your workplace is the same as ours, why not hold a cutest pet competition? It's a great way for your team to learn more about each other's furry friends, whilst giving your team warm and fuzzies.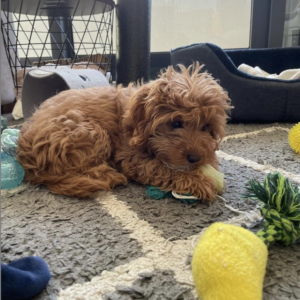 Lily's entry in the Employment Hero cutest pet competition
Introduce your family and partner to the team
Chances are you've heard all about your colleagues' family in the office, so it makes sense to introduce them to your team online! Your team will be able to put a face to the name and it's a fun activity for your team to get involved with. We know that some people may want to keep their personal life private, so this one is definitely optional.
Tour of your house
Similar to the above activity, we know that this won't be everyone's cup of tea. However, for those that do want to get involved, it's a great way to learn more about your teammates. Inviting them into your room or home is a great way to learn more about them and recognise common interests between your team.
The workplace culture bundle
Netflix streaming lunch party
Hosting a Netflix streaming lunch party is a great way to keep up to date with the latest movies and shows, whilst adding a bit of fun for your team. With a Netflix streaming party, you can add participants and all chat together to discuss what's happening. You could set one up for each lunchtime based off a poll for preferences, and allow anyone to drop in whenever they see something they'd like to watch. It's also a great way to stop that one person who always talks throughout the entire movie…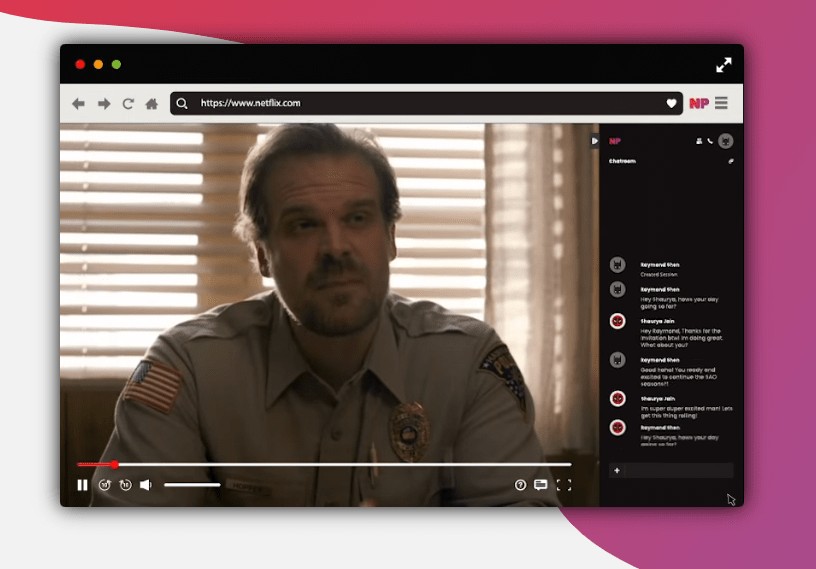 Source: Netflix Party
Workspace goals competition
With everyone now getting into the swing of things working from home and it now being said that we're going to be staying home for a long while to come, why not ask your team to share their workspaces with the team?
It's a great opportunity to get some inspiration from one another and can really help your team stay on track when they've got a workplace they're happy with. It's even said to reduce stress and lead to an improvement in productivity.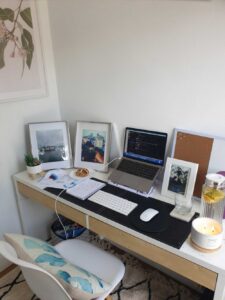 Julia's zen setup
Virtual cooking class
During these times of isolation, it's no secret that everyone has a newly found passion for cooking. Whether that's baking or making a gourmet feast, why not ask some of your most keen foodies to share a cooking demonstration?
Prior to starting the cooking class, give your team the list of ingredients, the recipe and the opportunity to follow along. For those who'd rather just watch from the sidelines, invite them to pull up a chair with a glass of wine or soft drink.
Looking for more?
If you're looking for more to support your team beyond the working from home culture activities, we've put together a resource hub to help you. It contains helpful information around setting up your team for remote working, how you can support your team and much more. We've got templates, articles, webinars and guides available to help you through this time. You can visit the Employment Hero COVID-19 resource hub here.
The remote first workplace playbook
A complete guide to remote management.