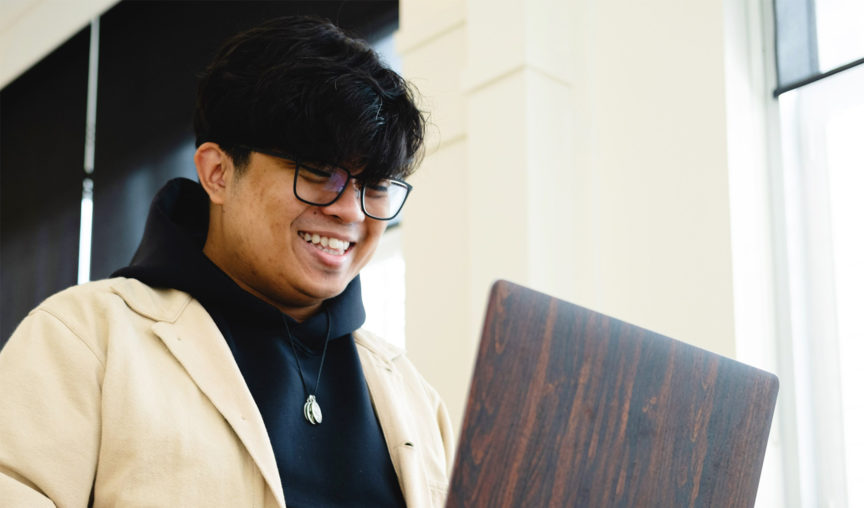 COVID-19 has been the driving factor for many businesses to embrace technology and begin working from home. But for many, working from home can pose a significant challenge when it comes to being set up correctly and having effective communication tools in place. To ensure an easy transition to the new way of work, it's crucial you make communication with your team as easy as possible.
When working from home, it's inevitable to see an influx in the number of emails received and sent each day. This can chew into your teams' productivity greatly. With an instant messaging or video call app, you can improve productivity and easily ask questions with almost instant response time. Let's face it — emails are slow, time-consuming and make your team inefficient when it comes to internal communication.
By introducing a chat and video tool that streamlines communication, you'll see productivity and overall communication skyrocket as you begin to adapt to your new normal. Ready to learn about some of the most popular communication tools? We've shared our top five tools to help you improve communication within your team when working from home.
Slack
At Employment Hero, we're big fans of Slack. It's our go-to platform for internal communication and helps us stay in touch when working from home and in the office. Slack allows you to create channels to group relevant conversations together. Whether this is creating channels for each individual team, topic or project, they are a great way to streamline your workflow communications. If you're looking for more information, Slack have released an in-depth guide to using Slack when working from home.
This guide runs through how to set up channels for:
Company announcements

How to use slack to keep the wheels turning on projects

How to connect the tools you use every day in your business like Google Drive, Dropbox, Calendar and more

Using status updates to let your team know of your whereabouts
Hint: You can add various apps to your Slack channel like polls, games and more. You can find the full list of Slack apps and integrations here.
Pricing:
Standard: For small and medium-sized businesses The standard plan starts from $6.67 USD per person, per month, when billed yearly. Plus: For larger businesses or those seeking advanced administration tools $12.50 USD per person, per month, when billed yearly
Google Hangouts is a great option for video calls — especially if you're already using the G Suite. It integrates seamlessly with the entire G Suite and Slack. Joining a meeting is as simple as sending a calendar invite or clicking on a link. Google Hangouts happen in your browser, so there's no need to worry about your colleagues or clients having the correct software set-up to access the meeting. They also have the option to dial in from mobile on their higher plans.
Pricing:
G Suite offers a 14-day free trial and it includes access to many of the different Google apps including Gmail, Hangouts, Docs, Drive and more.
Basic

: AUD $8.40 per user, per month

Business

: AUD $16.80 per user, per month

Enterprise

: AUD $34 per user, per month
You can find the full list of pricing for the G Suite here.
Skype
Skype is one of the more well-known video platforms and is great for personal and business use. It allows for high definition group video calls and similar to Google, participants can dial into a landline call. Additionally, you can share your screen with participants making it easy for presentations and can also record entire conversations. It is available for download on desktop, mobile, tablet, Xbox and Alexa.
Pricing:
You can get started with Skype for free. For a full overview of the features available, you can visit their website here.
Zoom
Zoom is one of the most popular video tools that has been used during the COVID-19 outbreak. With Zoom, you can set your team up for success as it allows for video calls, webinars, conference rooms, phone systems and chat functionality. At Employment Hero, we use Zoom for our company-wide All Hands and team meetings.
Pricing:
Basic

:

Host up to 100 participants

40 mins limit on group meetings

Cost

: Free

Pro

:

Great for small business

Host up to 100 participants

24 hour limit on group meetings

Cost

: AUD $20.99/mo/host

Business

:

Ideal for small to medium-sized businesses

Host up to 300 participants

Cost

: AUD $27.99/mo/host

Enterprise

:

Ideal for large enterprises

Includes up to 500 participants

Cost

: AUD $27.99/mo/host
If your business is using the Microsoft suite, Teams would be a great choice to ease the technology barriers when working remotely. Microsoft's goal is to help you meet, chat and collaborate from anywhere.
Pricing:
You can get started for free with Microsoft Teams. The basic version includes:
Video calling

Unlimited chat and search

Team and personal storage (10gb per team and 2gb per person)
You can visit the Microsoft office website to view their other plans that allow for video recording, scheduled meetings and more. Helpful Hint: Microsoft has just announced the integration of Teams with Slack.
The Wrap Up
Whether you're new to the reality of working from home, effective communication tools are the best investment you can make. Not only do they reduce the time spent sending long, formal emails internally, but they also assist with boosting productivity as we adjust to our new normal.
Looking for more information?
If you're looking for more information on how you can help your team work from home during the COVID-19 outbreak, we've created a COVID-19 resource centre. In here you'll find templates, articles, FAQs, webinars and lots more to help you through this tumultuous time.