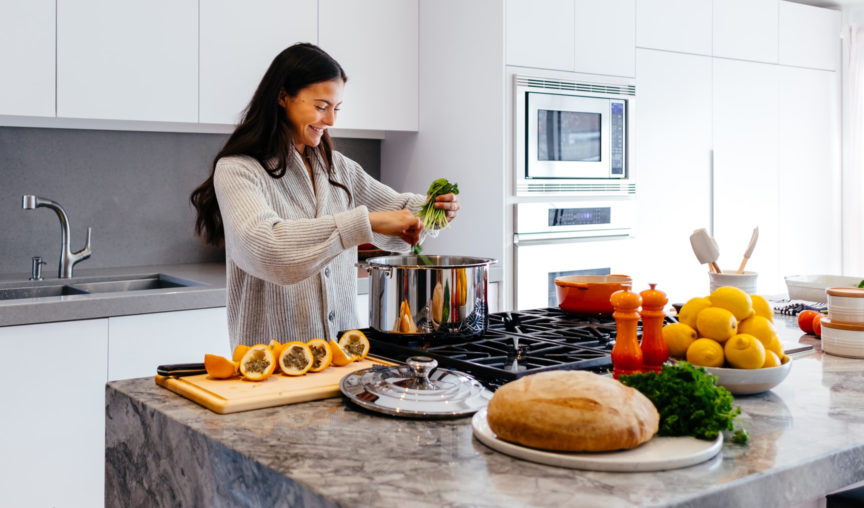 If you're new to the idea of 'clean eating', it's easy to let your mind wander to fad diets that cannot only be unhealthy, but can take the joy out of food. The key thing to remember is that clean eating isn't a diet. Instead, it's a lifestyle approach that focuses on consuming less-processed foods and shifting towards store bought (or locally farmed) ingredients for you to prepare at home.
Finding the motivation to cook can be hard on the best of days, let alone finding the inspiration for what to cook — especially if you're trying to be health conscious. But don't worry, we've done the thinking for you. Here are six of our favourite picks from Delicious' list of healthy and easy recipes that you can take into the new year.
1. Sunflower chicken Caesar salad
Source: Delicious
Our first pick is 'The ultimate guilt-free sunflower chicken Caesar'. As the name suggests, this recipe uses sunflower seeds as a gluten-free substitute for breadcrumbs, while the chicken and greens give you the nutrients your body needs. This recipe has also made an effort to swap out some of the usual elements of a Caesar salad for healthier alternatives. Prosciutto often gets a bad rep for its high-salt content. And while this isn't untrue, it can act as a healthier option than bacon while still adding a salty kick to your meal.
The classic Caesar dressing is also notorious for ingredients high in cholesterol. Instead, Delicious has chosen a mix of Greek-style yoghurt, lemon, garlic powder and olive oil to complement your salad. Now, this isn't to say you should never eat bacon or enjoy a regular salad dressing again. This is just an alternative you can try out when experimenting with your meals. Serves: 4 Woolworths Estimate: $58.86
2. Lamb wraps with turmeric tahini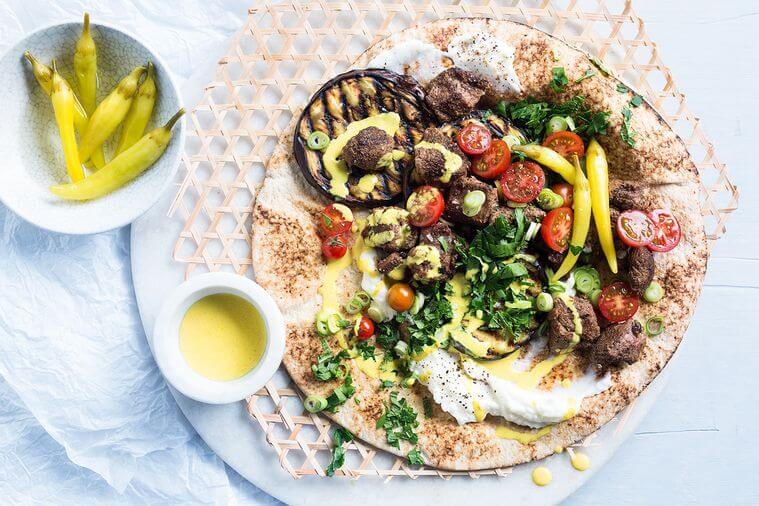 Source: Delicious
The second dish we've chosen is 'Falafel-spiced lamb wraps with turmeric tahini'. This healthy and easy recipe should only take you 30 minutes to make including prep time. Not only can this act as a delicious dinner option, but you can also kill two birds with one stone by saving the leftovers for lunch the next day.
If you're after something more substantial, the use of wholemeal Lebanese flatbread should keep you full until your next meal time. Like we said before, clean eating isn't a diet. So for all those carb-lovers out there, you don't need to worry about having to kiss bread goodbye. Instead, you could look at healthier alternatives to white bread such as wholemeal or wholegrain. The variety of herbs, spices, vegetables and meat also gives you the freedom to decide the type of ingredients you want to use. If you're sticking to the clean eating mentality of consuming less-processed foods, you can opt for organic or locally sourced lamb and vegetables. Serves: 6 Woolworths Estimate: $82.19
3. Goat's cheese and vegetable frittata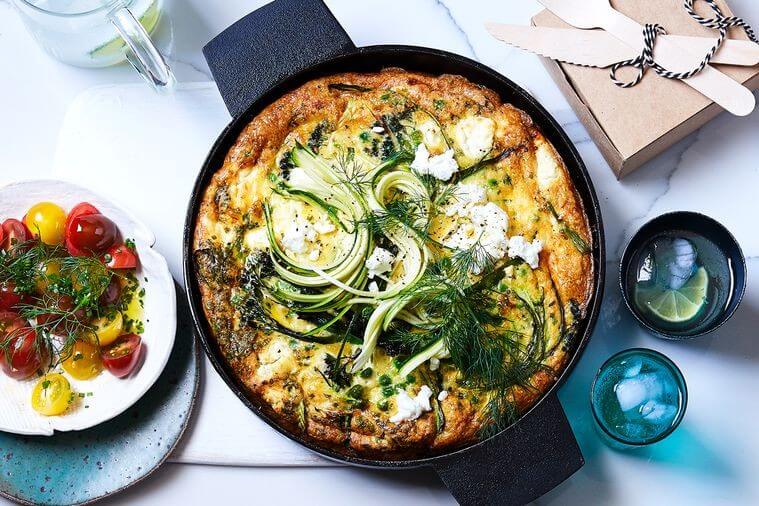 Source: Delicious
Our third option is a 'Goat's cheese and vegetable frittata with tomato salad'. This two-in-one recipe can also serve as a veggie-packed dinner and lunch. If you're not a huge fan of vegetables, it can sometimes be difficult to incorporate them into meals that leave you satisfied. By using ingredients like broccoli, peas, zucchini, and tomatoes, you're giving your body a variety of nutrient dense vegetables that are essential to a healthy diet.
With classic recipes like this, you can always add or substitute other vegetables as you please. Sweet potato, spinach and asparagus all fall into the category of vegetables that are high in vitamins, minerals and fibre. The main thing is that you're choosing ingredients you like so that clean eating can be an enjoyable process, rather than a chore. Serves: 6 Woolworths Estimate: $48.26
4. Chicken quesadillas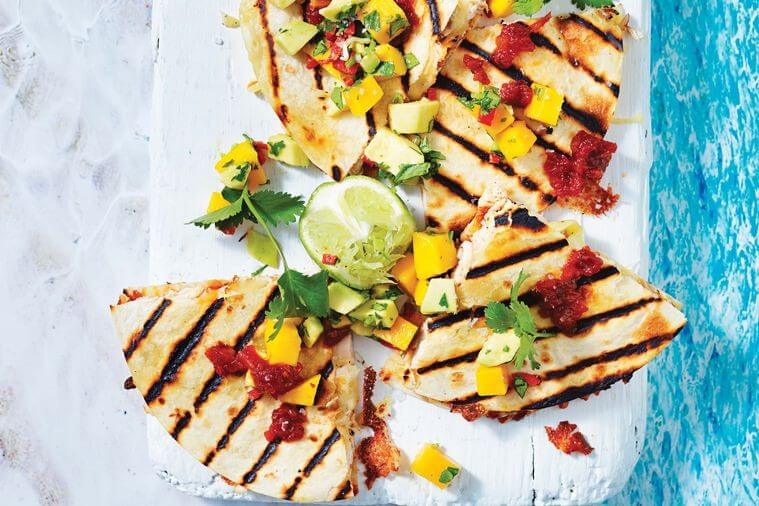 Source: Delicious
For all you spice lovers out there, we've chosen the 'Chicken quesadillas with chipotle relish and mango salsa' as our fourth recipe. As tasty as packet seasoning may be, this is a great alternative if you're taking a less-processed approach. By combining fresh herbs and spices yourself, you once again have the choice and knowledge surrounding the quality of ingredients you're using. Like the second recipe, you can also always opt for wholemeal or wholegrain options when choosing your tortillas. This light and fresh recipe is a great option you can enjoy with friends and family, but keep in mind that it'll take around an hour and ten minutes to complete — so it might be best suited for when you have a bit more time for the kitchen! Serves: 4 Woolworths Estimate: $51.63
5. Singapore rice noodles
Source: Delicious
Created by the founder of Goop herself, our fifth choice is 'Gwyneth Paltrow's Singapore rice noodles'. This gluten free option is packed with vegetables like broccoli, green beans and fresh peas. Plus, it should only take you around 25 minutes to make! This dish also features tofu as a main ingredient. While tofu is a packaged food (and technically undergoes a 'process'), it can serve as a great vegan option high in protein, vitamins and minerals. However if you're after a little extra protein, you can always add chicken, prawns or beef. Serves: 4 Woolworths Estimate: $37.44
6. Lamb cutlets with mixed vegetables and mint sauce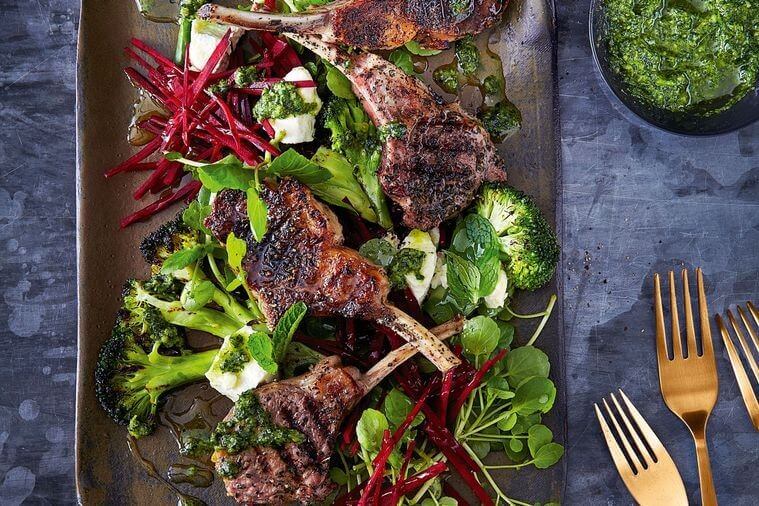 Source: Delicious
Our final option is 'Minty lamb with beetroot and charred broccoli'. This fresh and nutrient-rich dish is a perfect dinner option as for summer meal times. With time in mind, it shouldn't take you more than 35 minutes to whip this up. As you can see from the picture, this recipe is packed with staple ingredients that have impressive nutritional benefits. High quality lamb is a great source of protein which can provide a variety of health benefits our bodies need for growth and maintenance. Lamb is also rich in vitamins and minerals like vitamin B12 and niacin that are important for several bodily functions. Vegetables like broccoli and beetroot also hold great nutritional value. So not only will you be enjoying a delicious meal, you'll also be fuelling your body with clean and beneficial ingredients. Serves: 4 Woolworths Estimate: $87.24
But remember!
These are just some of the recipes that we thought to share with you. There are a plethora of different websites out there that specialise in providing you information on clean eating as well as healthy recipe options. While we love our food here at Employment Hero, we're not dieticians. So if you're looking for more detailed and personalised advice, it may be a great option for you to reach out to a professional for advice on clean eating and incorporating it in your life. Diet is only one aspect of maintaining your wellbeing. For more ideas on how to improve your overall health, check out our blog on A Beginner's Guide To Staying Healthy or take a look at our Employee Wellbeing Library.