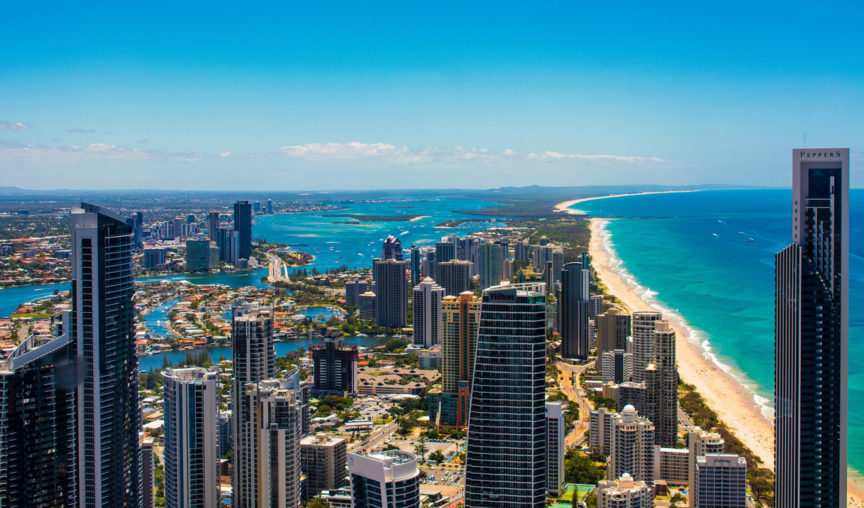 You won't be travelling overseas for a while — but that doesn't mean you need to wave goodbye to holidays.
Australia is a beautiful country and a very popular tourist destination. You might forget that, living here and all. Well now is the time to fall back in love with your own backyard. COVID-19 travel restrictions mean that overseas holidays are off the table for the foreseeable future. It will be quite a while before your passport needs dusting off.
So where are you going to spend your holidays? Here, of course! A domestic holiday might be just what the doctor —and the accountant — ordered. We've put together a list of eight domestic holiday ideas to get you dreaming, scheming and saving.
1. Winery Escape
Australian wine is well loved around the world. Our very own vineyards—from South Australia's Barossa Valley to New South Wales' Central West—produce a range of incredible drops. If you've never done it before, a winery weekend away should be a no-brainer. Autumn or winter is usually the best time to take a break, but any time of the year works.
Wineries offer tastings and tours, so you can learn a thing or two while enjoying what they've got on offer. Some wineries include accommodation onsite if you want to make the most of your time near the cellars. Otherwise, hire a car (or road bikes!) and find a cozy B&B. Every state in Australia has at least one wine region, which makes this holiday perfect for everyone. Just be prepared to return home with very heavy suitcases!
2. Island Paradise
Australia has 8,222 islands. Seriously, why are we so quick to fly overseas? Our coasts are brimming with life and warmth. Many of Australia's tropical regions have islands which are temperate year round. Or you could head to somewhere a little cooler: Kangaroo Island, Phillip Island or even Sydney Harbour's Cockatoo Island. There are little slices of island paradise all across our country. Think long walks on the beach, snorkelling, camping, fishing and more. If resorts are your style (and you're missing out on Bali or Thailand this year) hunt around for an Aussie island resort.
3. City adventure
Have you been to every state in Australia? How about every major city? Tick another one off the list in a city-scape domestic holiday. There's plenty of reasons to head to the concrete jungle for a vacation: easy and cheap transport, plenty of accommodation options and activities to keep the whole family happy! Australian cities have heaps to offer, from art galleries to diverse international food. Take a walking tour, buy a guidebook, go shopping, stay in a fun hotel — don't underestimate how great a city adventure can be. Tight budget? Don't go far. Book a hotel or rental in your own city and enjoy it from a different point of view!
4. Take a Hike
Surely, a holiday in the great outdoors is about as Aussie as you can get. If you're up for a challenge and ready for a real break, why not take a hike? There are breathtaking multi-day hikes all over Australia. Check out your state's national park website for suggestions. Grab some friends, pack a bag and lace up those boots. This is a domestic holiday which promises to make real memories. Imagine, camping out under the stars, your muscles pleasantly aching from a hard day's walking. Aussie national parks are some of the world's most treasured. Use your next holiday as a chance to explore!
5. Catch a Train
You might be surprised just how far you can go on a train. In most states, trains connect major cities with smaller regional towns. You can get from city to city, town to town and even state to state. There are even sightseeing specific trains which go long-distances, such as The Ghan and The Indian Pacific. If you've got the time and budget, these are seriously bucket-list adventures. Cruise across our great nation in style, seeing a huge diversity of landscape. If you're looking for a cheaper option, just take a look at your local region's train lines. You never know where you'll end up! It's an affordable and fun way to travel. Plus, if you have kids, train travel is a great way to go.
Learn to Love the Land of Aus
A much needed boost to domestic tourism is a silver lining of current travel restrictions. Australia has much to offer — from our beaches and mountains to our cities and towns. Pack the car and grab a map. It's time that we showed our very own country some love. Domestic holidays are great for the budget too. Don't fork out thousands on plane tickets and foreign exchange rates. Settle for something a little closer to home instead. After the year we've had, we all deserve a holiday. And lucky for us, we've got plenty of options.