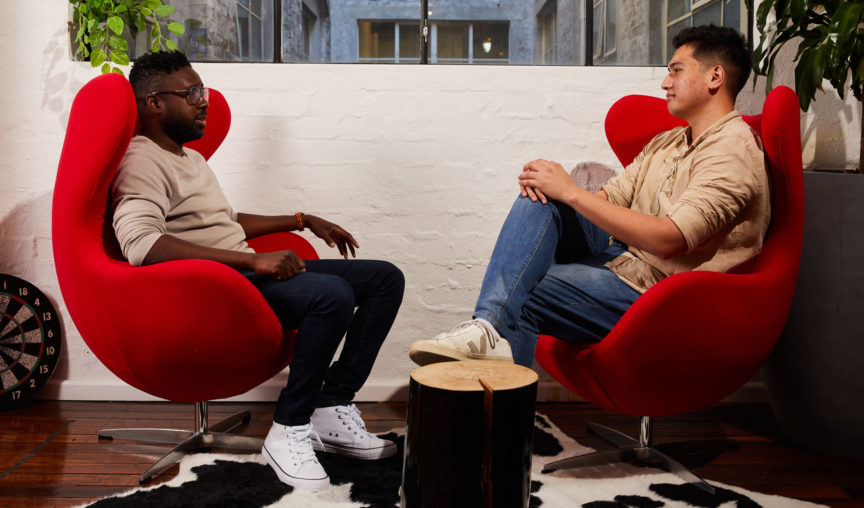 Have you checked in with your team lately? With so much uncertainty in the world right now, we know it's been difficult for everyone to adapt.
Bushfires, floods, a global pandemic and now a recession is causing unprecedented amounts of stress for the entire world. So, what can you do? We know that an employee assistance program can support your team, but what else can you do beyond this?
Prior to 2020, research showed that approximately one in five workers suffer from a mental health condition at any one time. With many events unfolding this year and increased feelings of financial insecurity, social isolation, and uncertainty around the future, it's expected that this statistic has risen. And it's your duty of care as an employer to provide support where you can.
At Employment Hero, we know how challenging and stressful this year has been. If you're looking for more information on supporting your team, we've pulled together a range of resources to help you through. We've created the COVID-19 Resource Hub to answer some of the questions and uncertainties you may have. 
What is an employee assistance program (EAP)?
An employee assistance program (EAP) is a service that an employer can use to provide support for their employee's mental health and wellbeing. It allows employees to access professional and confidential counselling services when they need it most.
With the situation that we're currently faced with, providing your employees with access to an EAP is one helpful way you can support them through this challenging time. You can find more information on supporting your team with an EAP throughout the COVID-19 pandemic here.
How can you offer support to your employees?
Now that we've covered the basics of how an employee assistance program can help, it's important to remember that providing support to your team goes beyond just providing an EAP service.
Keeping your team mentally well is an important part of employee engagement and one that shouldn't be brushed off. At the end of the day, you have a duty of care as an employer.
Providing your team with support to feel empowered and in control of their mental wellbeing can help you achieve this. It's important to assess other aspects of your business and process that can help keep your team mentally well.
Keeping your team engaged in their role, recognising their hard work, rewarding them accordingly and having dedicated time for managers and their direct reports to communicate are just some ways you can help your team feel mentally well.
Not only are you supporting your team's mental wellbeing, but all of these components are proven to improve overall business performance.
Actively reward and recognise your team
When an employee is being rewarded and recognised for hard work, they get a sense of achievement and appreciation. By incorporating regular reward and recognition into your company culture, you're proactively supporting your teams' mental and psychological wellbeing.
Remember: Reward and recognition doesn't have to be in the form of large bonuses or extravagant events. Recognising your team can be as easy as a simple thank you or shout out in a team meeting. It's often the small gestures that get pushed aside that make the largest impact on developing a supportive workplace culture
Introduce 1:1s
We know that regular communication is the basis of any high performing team. However, it's important from time to time to step away from that results-driven meeting and have a chat about how they're doing. 1:1's are a great way to do this as they allow for improved communication, trust and transparency.
New to the concept of 1:1s? You can learn all about them here. Alternatively, if you're looking for a big dose of question inspiration or looking to jazz up your existing template, we've collated 105 questions to ask in a 1:1 here.
Support flexible working arrangements
Providing your employees with flexible working arrangements is another way you can offer support alongside an EAP.
In our own research conducted last year, we found that 63% consider it to be a benefit that helps maintain physical and mental health. In addition to this, 59% said flexible working was a benefit they'd like to see their company provide, making it the top benefit employees wanted to see in their workplace.
Not sure how to manage a flexible workforce? Employment Hero has all of the tools you need to help manage on-site and remote working. With features to assist in supporting your employees' mental wellbeing, engagement, performance and much more, we're here to help make flexible working easy and compliant for both you and your employees.
Encourage physical activity
We all know that exercise is beneficial for living and maintaining a healthy lifestyle. Not only does it help protect against preventable disease, but it also helps improve your overall mood and mental health. When we exercise, endorphins and serotonin are released which can help reduce the symptoms of anxiety and depression.
So with this in mind, why not introduce personal training or yoga sessions during the week? By providing this option, your team will be able to get the endorphins pumping, helping them to feel better and more motivated to achieve their best work. You've got nothing to lose and everything to gain when you prioritise physical activity in the workplace!
Hint: Have remote workers? You can hold virtual yoga classes via Zoom or ask your personal trainer to write down the session so you can pass it onto your remote workers to do at home.
The wrap up
2020 and 2021 have been an extremely difficult time for most of us. Fires, floods, a pandemic, and now a recession has turned life as we know it on its head.
With so much going on, it can be hard to know how to support your employees. While these events have been hard to navigate, providing a supportive workplace can help ease the situation.
While introducing an EAP is a great place to start, there are many other things you can do to support your team. Encouraging flexible working, having regular 1:1s, actively rewarding and recognising your team, and encouraging physical activity are a few ways you can help your team through challenging times.
Supporting your employee's mental health is one of the most beneficial things you can do for your team. By providing your employees with access to an employee assistance program and access to professional counselling services, you can create a mentally well workplace that will reap you many long term benefits.
Workplace wellness bundle