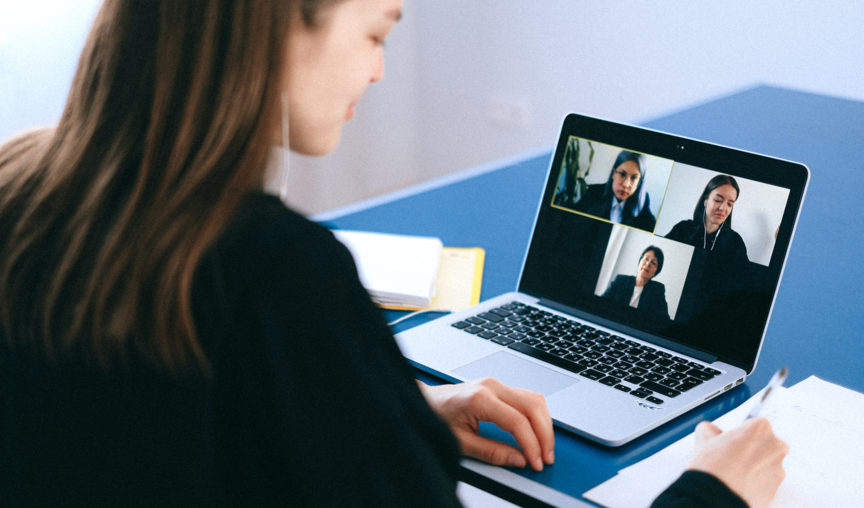 Stick a fork in us, we're DONE with 2020. We couldn't be more excited to call it quits on this year, which has made life and work more challenging than we could have ever imagined.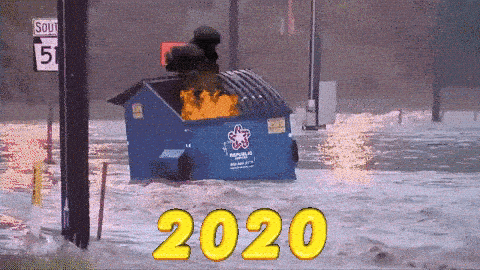 Accurate.
As the world settled into a new way of life, there was always bound to be some mishaps amongst the upheaval. Working from home often led to a hilarious, and sometimes very NSFW, look into the domestic lives of regular employees around the world. So before we throw this year overboard (push it out to sea, feed it to a hungry shark, any other nautical punishments), we're looking back at our favourite work moments of 2020 – the year that made pants at meetings optional.
Working from home fashion
This is the year that we all got a little too personal.
  If we were wearing pants, they were almost certainly of the track variety. Around the world, trackpant sales soared in 2020. While clothing sales dropped by 79% in the US, sales of trackpants increased by 80%, with some brands seeing a 1000% increase in pants purchases. If you need any further proof that hell has actually frozen over, US Vogue Editor Anna Wintour even showed off her Zoom trackpants look on Instagram in April.
View this post on Instagram
Potato Boss
From couch potato to actual potato, 2020 gave many professionals a fast-tracked education on using video conferencing and it didn't always go to plan. A favourite viral moment of the year, manager Lizet Ocampo downloaded a potato face filter to her Microsoft Teams but didn't know how to de-spud for her morning meeting. "We had a great laugh and proceeded with the meeting," she told Junkee. "Meanwhile I'm trying to figure out what is going on. I turn off the camera a few times. I end up giving up and just finished the rest of the meeting as a potato."
my boss turned herself into a potato on our Microsoft teams meeting and can't figure out how to turn the setting off, so she was just stuck like this the entire meeting pic.twitter.com/uHLgJUOsXk

— Rachele Clegg (@PettyClegg) March 30, 2020
💡 Keen to master management in a remote-first world? Download our Remote First Workplace Playbook for all the tips you need to be the best remote boss ever.
Dogs working from home
2020 was the year in which our doggo overlords took their rightful place at the top of the corporate ladder. In late March Melbourne brand manager and national hero Mark Polchleb set up the Dogs Working from Home instagram account, accepting submissions of boss dogs snapped while working. "While we're all losing our minds, our dogs are just wondering y t f they suddenly just scored us being home all day," he captioned his first post. Now with a following of over 97k, the account has been a source of joy and inspiration for professionals and pooches alike. We can once again confirm that dogs are too pure for this world.
View this post on Instagram
View this post on Instagram
They may be harder to dress up in professional outfits, but we also have to give a shoutout to all the hard-working cats out there. We see you.
View this post on Instagram
just started talking to my cat in the middle of a 68-person zoom meeting—and i wasn't muted!!! send the meteor!!!!

— daniel taroy (@danieltaroy) March 16, 2020
Interesting home decor
Art and style can be subjective things. What some might find a tranquil and homely scene, others might find…distracting.
If you do WFH and have a Skype meeting, always consider if the 'art' on the wall is:

A) In shot B) Appropriate pic.twitter.com/CqRAvCV4AF — Gareth Barlow (@GarethBarlow) March 18, 2020
Likewise, novelty glass and kitchenware will appear from time to time. It's important to stay hydrated while working.
Got on a video call with all managers, directors, and VP of my department…

Went to take a drink.. and realized the cup I'm using 🤦🏻‍♀️ pic.twitter.com/clYwd8nW1V — Bex Runs It (@tothaground) March 18, 2020
Kids making their presence known
Are parents the real MVPs of lockdown? We bow down to the mums and dads that held down work whilst homeschooling and parenting. It seems there was no end to the *precious* moments this year.
So my kid interrupted my zoom lab meeting to inform me (and everyone else) that "daddy is pooping." How's your day going? Mine is in serious need of boundaries.

— Sarah Stern (@sarah_stern) March 20, 2020
My kid just walked into my video conference, yelled "look at my penis," and hit the button on his fart machine. Working from home going really great!

— Jenna Weiss-Berman (@WBJenna) March 17, 2020
My kids just pounded on my office door yelling "FBI – open up!!!" when I was on a work call, so yeah, I'm totally looking forward to them going back to school in-person.

— Robert Knop (@FatherWithTwins) November 2, 2020
Put on your out of office and call it a year everyone.     Happy holidays from the Employment Hero team. Why not make remote working more seamless in 2021? Our HR and payroll tools can help you manage your people from anywhere. Book a demo with our small business specialists today.