Employment Hero recently had a marketing intern straight from the US. Gianna Varotta who came to Australia to study a "summer semester", had the opportunity to work in our office. It was a great arrangement for both parties and before she left, we had Gianna write a blog about her experiences. You can read it below. Cheers Gianna! Thank you for all your hard work.
An American Intern In Sydney
Being able to study, intern and live in Sydney is something I've always dreamed about. My experience definitely matched my expectations and I feel beyond lucky to have interned at Employment Hero. In my time as an Employment Hero marketing intern, I got to learn how the whole company is run and how each department functions to support the whole. Everything was new to me and to say I learned a lot would be an understatement. I was especially struck by the cultural differences I experienced. Interning in a new company offers a culture shock in itself, throw a new country into the mix and you've got a recipe for a mind blown.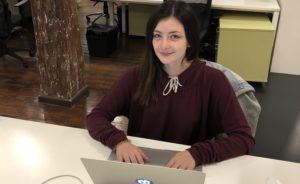 Culture shock
I originally hail from New York. Coming to Sydney from one of the biggest cities in America required a readjustment. Sydney is a smaller, more slowed down version of New York and so I had to adapt to a less hectic lifestyle. In doing so I got to appreciate Sydney's unique beauty. Living and working in the CBD meant I got to enjoy the perks of great food, amazing coffee and culture. I like that Sydney is smaller and so you can easily walk the CBD which is calm and clean compared to New York. There are amazing views to be had from every part of the CBD and beautiful beaches close by. Not to mention close proximity to the infamous Opera House and Harbour Bridge. New York a.k.a the concrete jungle does not offer this brand of beauty. As for the cultural differences, I noticed them almost upon landing. One of my favourite things to do was compare Australian lingo to words used back home. My coworkers and I had the classic "soda" vs "soft drink" debate and I learned that "Maccas", "Straya" and "cheers" are accepted Australian vernacular. Ordering coffee in Sydney was also a new experience for me. There's nothing but espresso here, which isn't something to complain about but a plain "black coffee" has a very different meaning back home. Along with cultural differences, there were workplace differences that shocked me as well.
Working at Employment Hero
While interning at Employment Hero I've been able to experience a unique type of work culture. As a business major living in New York, work has high expectations. The city is filled with corporate offices and is home to many famous companies. Dress codes are corporate and so are the attitudes (from my experience anyway). Employment Hero has a very welcoming, casual, and laid back culture, all the while being a professional and fast-moving company. The hierarchy is especially flat, leaving the work environment tension-free. Employment Hero also brought to my attention that Aussies exercise in the middle of the day and that Friday afternoon in-office drinks (FriYAY drinks as the team call it) are not only accepted but expected. Overall, one of my favourite things about Employment Hero is that it feels like a family. You can even bring your dogs to work! Or wear slippers around the office! After noticing these things, I thought all offices in Sydney were like this but then I realised not every company has that same culture. Regardless, I still feel like Australian business culture is more laid back than American culture especially with regard to New York.
What I've learnt
Interning at Employment Hero saw me gain a lot of hands-on marketing experience and build my professional skills. I was able to help manage their social media accounts, I had to present my ideas in meetings, and I also helped put together a content calendar. The company has some big plans and I was privy to certain processes and events that only some marketers will be lucky enough to gain exposure to during their career.
In conclusion
In my time as an intern I was able to see how a business works from the inside out. I worked in the marketing department but joined in meetings across the company and had the opportunity to shadow people in different departments. This gave me insight into how everyone in the office works together to reach company goals. From marketing to sales to implementation and every other position, Employment Hero wouldn't be a family without every single department (and the people who work in them) and I am very glad to have interned with the company.
By Gianna Varotta