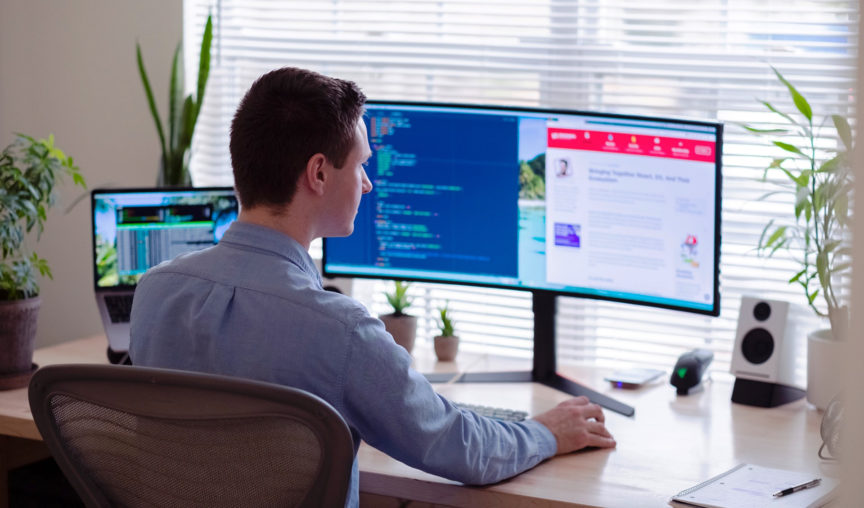 Let's face it, we spend too much time looking at our computers. The demands of working in a digital age are that we spend an ever increasing amount of time sitting at our desk. So how can we make that time more effective, efficient and healthy for our bodies and minds? Technology of course. Here are 8 tools for your computer that will help you work from home, ranging from small tools to company game changers.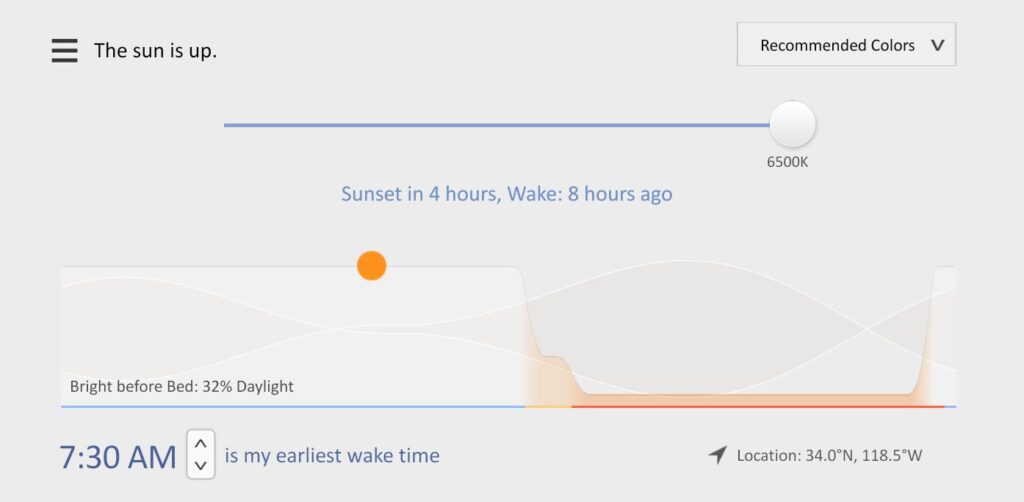 Source: justgetflux.com F.lux is an easy-to-use program that your eyes will thank you for downloading. The premise is simple; F.lux will adjust the light colour of your monitor depending on the time of day to reduce eye strain. While this can be setup automatically depending on your location, F.lux can also be customised to the users preference of warmer or colder light at any time of the day. F.lux also comes with a handy reverse alarm. This can remind you to go to sleep during those late night working sessions so you can be well rested for your set wake up time. Studies show that harsh blue light from monitors can place stress on your eyes and negatively impact your sleep schedule. F.lux is a must have program for anyone's home office. Price: Free Availability: Mac, Windows, Android or iOS.
Source: pcworld.com Ever wish you had more time in the day? While RescueTime won't magically add more hours to your schedule, it can track your time usage habits and show you where your productivity is slipping. After installing the app, RescueTime will log each minute of your day and what you are spending that minute on, be it emails, Facebook or Photoshop. You can then see which days or hours you are most productive, as well as which apps or sites are stealing your precious minutes. Apps and websites can also be sorted into custom categories depending on their use as part of your work. Working from home can often lead to many distractions that went previously unencountered at the office. RescueTime helps to identify and prioritise these productivity leeches and will revolutionise the way you spend your time working.   Price: Free, or A$9 a month which nets you more detailed reports and custom app blocking. Availability: Mac, Windows, Chrome, Android or iOS.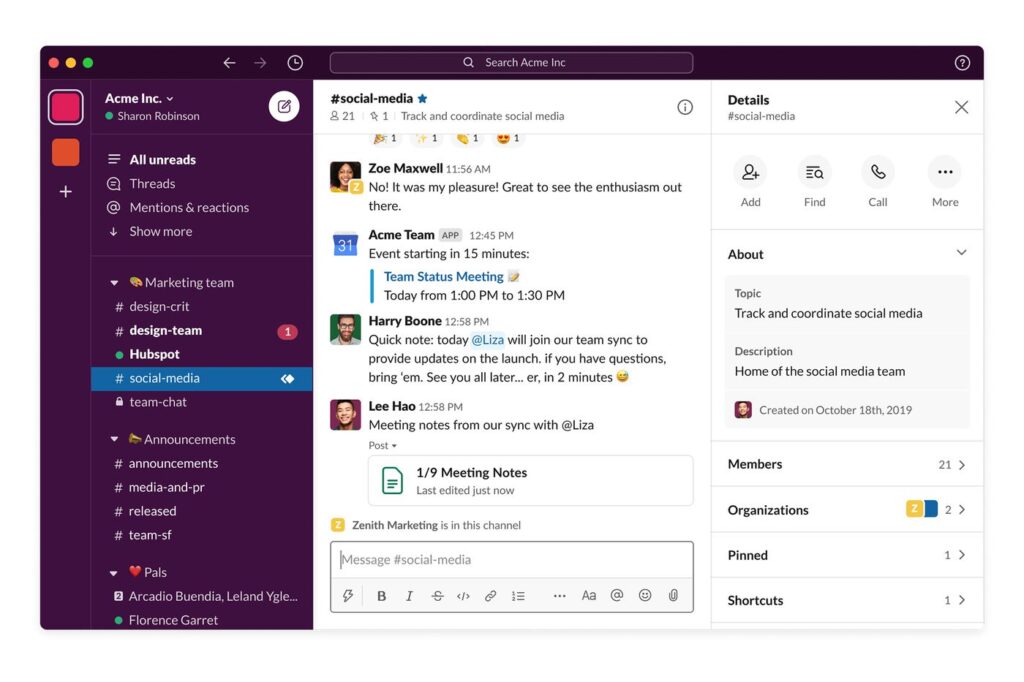 Source: theverge.com Slack is the ultimate workplace communications app that eliminates excessive and unnecessary email use, as well as offering a plethora of productivity boosting features: file sharing, video calls, G-suite integration and automation make connecting and corresponding with team members effortless. You can also send GIFs and react with custom emojis, which can help inject some positivity and fun into your work day. While you work from home, online communication is more important than ever. Apps such as Slack can make a tremendous difference for the productivity of your company as a whole by speeding up and smoothing out the entire communication process.   Price: Slack's standard plan starts at A$9.30. Availability: Mac, Windows, Android or iOS. Also available in your internet browser.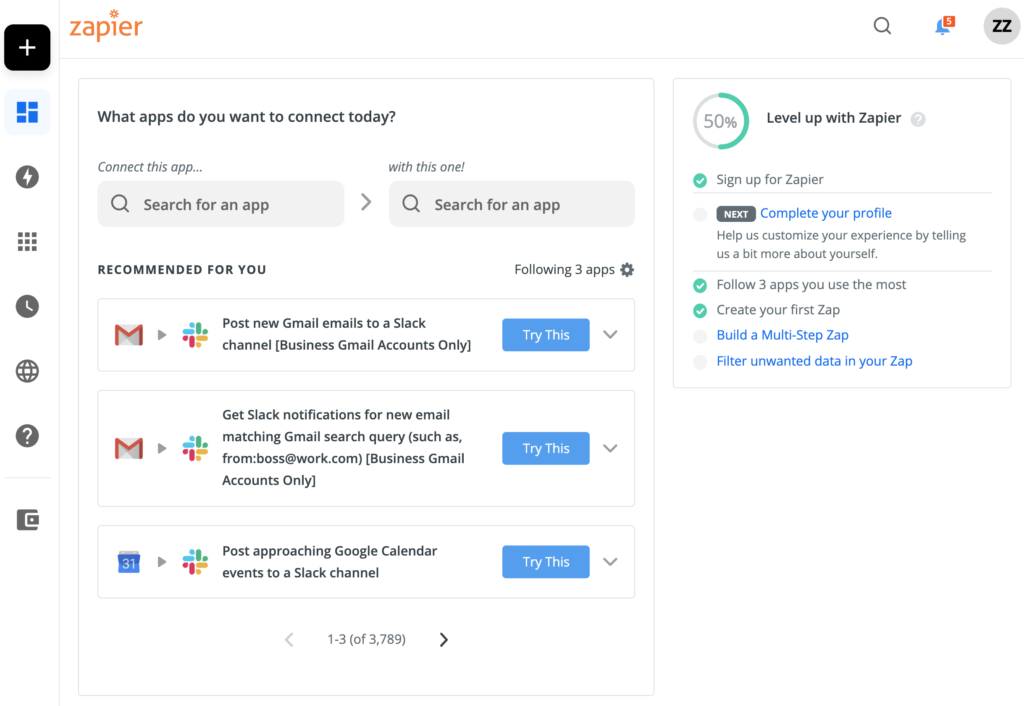 Source: zapier.com Just got a new lead from a Facebook ad? How about having that lead automatically added to your Google sheet, while a message is sent to your team on slack, all without pressing a button. With Zapier, users can create custom automated workflows called Zaps between programs and websites. Zapier's motto is "makes you happier", which it does by cutting down menial work and giving you more time to spend on what matters. This means that even when you work from home, Zapier is helping you stay productive during your lunch break or coffee run. Zapier integrates with over 2,000 apps but works best when automating workflows between G-Suite programs (Google Docs, Drive, Sheets.).   Price: Free, with the option of multiple plans with increasing functionality. This includes the option of team or company Zapier plans which allow unlimited users. Availability: Mac and Windows.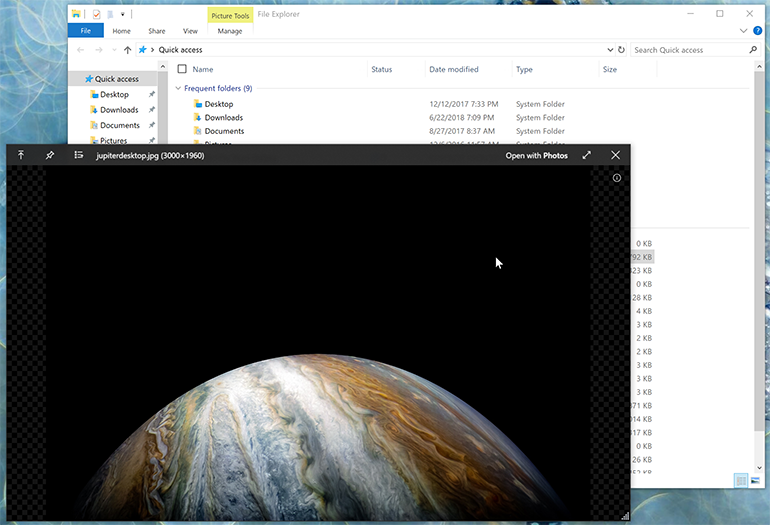 Source: techrepublic.com QuickLook is a very simple and easy to use program that will save Windows users an immense amount of time in the long run. If you use Mac, chances are you are familiar with using the spacebar to preview all sorts of files, photos and GIFs. However, Windows users have to wait for the file to open. QuickLook is available to Windows users for free in the Microsoft Store and replicates the Mac feature.   Price: Free Availability: Windows.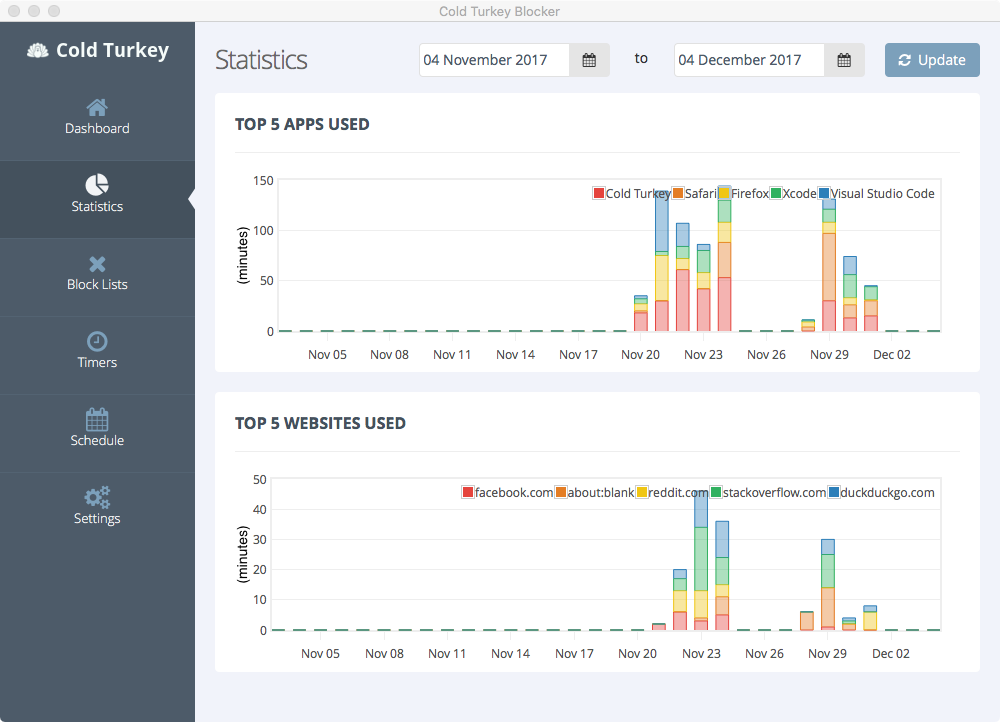 Source: getcoldturkey.com When you open Cold Turkey's website you are greeted in bold with the line "Meet your match, Zuckerburg". This encapsulates perfectly what Cold Turkey is all about — eliminating the parasitic and distracting nature of sites such as Facebook. Cold Turkey is a website blocker that offers advanced features such as application blocking and cross browser support. The program can be extensively customised as well, with options to lock blocks until a predesignated time. Where other website blockers are simple to switch off and cheat, Cold Turkey requires a PC restart or the completion of a typing exercise to beat the block. Furthermore, pomodoro style break systems can be implemented if you can't quite stomach going full cold turkey. For more info on pomodoro and other planning methods check out this blog. In the comfort of your own home, it's easy to form bad habits such as excessively checking social media or watching a quick episode of Brooklyn Nine-Nine, especially when you work and relax using the same laptop. That's why blockers such as Cold Turkey might be necessary to counteract your limited focus in the home office.   Price: Free, (Cold Turkey Pro for a one time payment of A$55). Availability: Mac and Windows.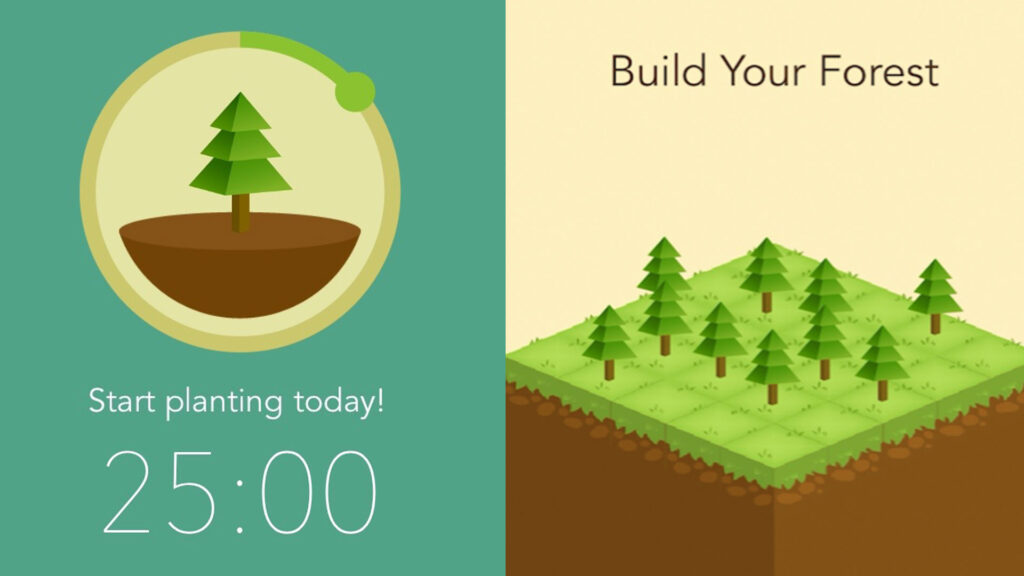 Source: mashable.com Forest is a beautiful app that helps you focus and earn credits which can then be spent on planting real life trees. The user sets a timer of how long they want to work for. During this time, a tree will grow every 30 minutes that you focus. However, if you close the app or open a different app, the tree will die. Users can then build up and show off their forest as an extra incentive to stay on task. The app is also available as a Chrome extension using a customised blacklist of websites that users cannot visit.   Price: $2.99. Availability: iOS, Android and via a Google Chrome extension.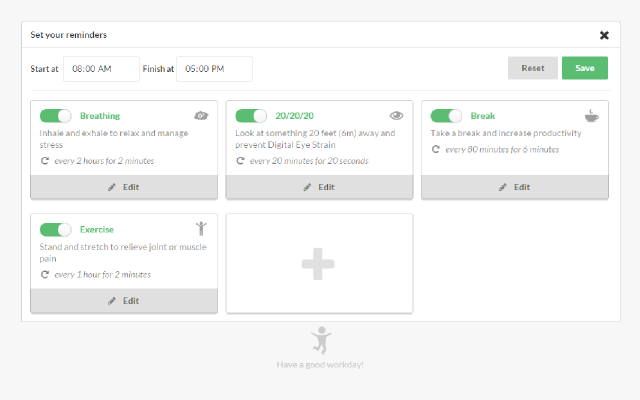 Source: Chrome web store Although there are hundreds of great apps out there that can help you take regular breaks, MicroBreaks offers some of the more customisable features. There are also hundreds of studies that prove the effectiveness of regular breaks on improving employee productivity and mental wellbeing. Users can freely edit break timings, descriptions, notifications and icons. Plus, there are a few helpful templates to choose from.   Price: Free Availability: Available on Chrome, however there should be many break reminder apps available for whatever software or browser you are using.