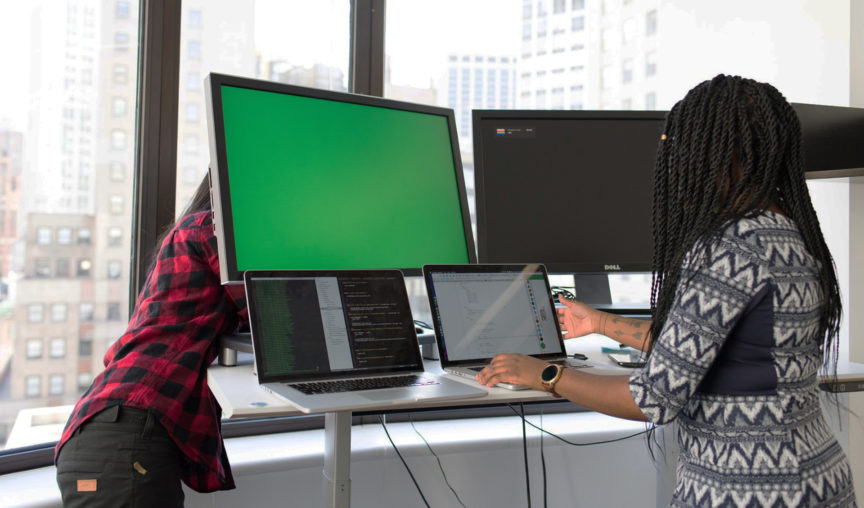 2020 changed the world at work forever and although the past year looked different, Employment Hero's goal to make employment easier and more rewarding for everyone remained the same. So although there were disruptions to the working world, Employment Hero continued to evolve and transform its features to adapt and embrace the changing landscape, ensuring businesses continued to thrive – even in extraordinary circumstances.
COVID-19 Assistance
COVID-19 Resource Hub Employment Hero's COVID-19 Resource Hub helped companies navigate the sudden disruption of business that occurred in 2020. Resources such as new policy templates, informative posters, whitepapers, remote work resources, webinars and access to community forums are collated in this hub to support Australian businesses (customers and non-customers) during COVID-19. JobKeeper Wizard The JobKeeper Wizard helps identify which employees are eligible for the scheme by assisting employers to send, collect and report on their employees' JobKeeper Employee Nomination Notice form using Employment Hero. The implementation streamlines the process by keeping a digital report enabling employers to view the status of employees in the scheme.
Global Expansion
Global Teams Employment Hero's Global Teams is a professional employer organisation (PEO) that helps SMEs easily create and manage a global workforce. It is an all-in-one solution that assists in attracting, hiring, managing, paying, motivating and rewarding both local and global teams in one platform. International HR Launch Employment Hero is live in the UK, New Zealand, Malaysia and Singapore, with more markets still to come. Customers can now onboard overseas employees, assign a country to employees' locations, localise onboarding journeys for employees in the UK and New Zealand, as well as choose the salary currency and contract templates for each location. International Payroll Launch Employment Hero Payroll is also available to UK and New Zealand customers, making it easier for employers to correctly pay their team correctly.
Updates to Improve Efficiency
Employment Hero's applicant tracking system (ATS) software is a robust solution for total employee lifecycle management where you can recruit, hire, onboard, pay, engage, develop and off-board employees in Australia and around the world, all within the Employment Hero platform. The Management Dashboard Employment Hero's Management Dashboard has streamlined admin tasks to improve efficiency by displaying pending action items such as leave requests, recognition approval and incidents to ensure nothing is overlooked. The Management Dashboard also visualises employee engagement and happiness scores to recognise which team members are thriving and those who may be at risk. The Management Dashboard has developed to further improve efficiency for managers with:
Performance Reviews added as action items to ensure employees are receiving timely feedback loops, ultimately creating a more engaged and high performing team.
Certifications added as action items in the dashboard to review and understand what qualifications/training your employee has received.
Goals added as action items where admins can see the percentage of employees with goals set, the alignment of those goals to the company goals and the progression rate.
Your Accounts Tab is a new tab added to the dashboard where admins can view all the elements of Employment Hero that are set up, as well as those that still need to be completed. Within this new tab there is an allocated 'Set Up Now' button enabling users to experience a guided tour of how to set up a particular feature.
Employee File Enhancement
Employment Hero streamlines HR admin by allowing employees to update their own employee files. This affordance has been updated to allow employees to edit their own company email and mobile from the overview tab using their desktop device. Additional Gender Title items have been added in the Employee File including 'Non-binary' and 'Prefer not to say', whilst 'Mx' is now available under the Title field. These can be updated in individual employee files and are also now available during onboarding. Previously only Admins or Owners could edit these fields, further streamlining employee HR self-service.
Bulk Employee File Upload
Admins can now export all their employee data in a single .CSV spreadsheet, then use the spreadsheet to update employees in bulk.
Tasks
Employment Hero's Task feature has added improvements to ensure employees are updated on their responsibilities whilst promoting collaboration and enhancing productivity. Some new affordances include:
Create and assign tasks to either individual or multiple employees. After a task is assigned to an employee, they become the task owner and are accountable for completing the task. Tasks also have subtasks that can be created under a task.
Tasks Widget on the dashboard enables users easy access to tasks in the widget with the ability to update as well.
Onboarding and Offboarding Checklist has been updated so these tasks will automatically create tasks for the relevant user as employees are onboarded or offboarded, like creating a task for the IT manager to organise a laptop for a new hire.
The Other Tasks Tab: Admins and Owners can now view a summary of all tasks in their organisation — including onboarding and offboarding tasks — in the Other Tasks tab. Admins and Owners can also edit the name, description, assigned date and due date of existing tasks from this view. Managers can see the tasks of their direct and indirect reports, but unlike Admins and Owners, Managers cannot edit these tasks.
Task Reassignment: users can now reassign tasks to other members of their organisation. This can be done in one of two ways: the creator of a task can reassign an existing task to another user or an admin can do the same reassign tasks to anyone, regardless of whether or not they created the task.
Collaborative Tasks: this is the latest enhancement to Tasks that streamlines team work to ensure nothing gets overlooked. ALL users can add collaborators when creating a task.
Asset Register
Employment Hero's Asset Register is a new feature to help improve business efficiency by keeping track of a company's assets such as office furniture, IT equipment, tools, software licenses, vehicles, keys and uniforms. Having a history of asset ownership improves transparency and accountability, reduces loss and helps calculate depreciation where necessary. Employment Hero's Asset Register makes it easier than ever for companies to assign and track its assets which are found in the main menu of the platform.
Weekly Timesheets
Employment Hero enables employees to submit either daily or weekly timesheets. Until now, weekly timesheets could only be submitted using the total hours worked per day. Employees can now choose to either submit weekly timesheets using their start and end times for the day, or using the total hours worked that day.
Real-time Timesheets Sync
Customers using Employment Hero Payroll, QuickBooks Online and KeyPay can now choose to sync timesheets to their payroll platform as soon as they've been approved in real-time.
Organisation Chart Updates (Open Beta)
An organisation chart displays the structure or hierarchy of a business. It allows employees to view the unique relationships between various reporting lines, teams or individuals. It provides everyone in an organisation with the understanding of how structure or hierarchy flows, the number of levels or teams. An updated Organisation Chart is available in open beta that displays the chart as an interactive pyramid rather than a nestled list, encouraging engagement and understanding.
Safety Incidents Enhanced
Safety incidents can now be reported by all users (previously they could only be submitted by the individuals involved). Managers of affected employees are notified of safety incidents, as well as the nominated WorkSafe/SafeWork authority.
Content Management System
Employers can now upload a PDF and drag and drop fields to build templates including employment contracts, HR documents and more. Employee fields (e.g address, first name, last name or email) will auto-populate from an employee's file when a document is generated from the template, making it easier for both employees and employers to access documents efficiently.
Webhooks for Platinum HR
Webhooks allow users to simplify the integration between Employment Hero and external applications. When an event occurs (e.g a leave request is created), the data is automatically sent to the client's application.
Badges
Employment Hero's Badges feature aims to provide users with a visual display of their progress in adopting and utilising features within the platform. Badges are now available to be achieved on the Adoption Dashboard and can be gained as organisations reach certain milestones. 'Get My Badge' guides show users the steps needed to be taken to earn that badge, whilst recommended badges will appear until all badges are achieved.
Leave Requests and Negative Balances in Open Beta
Account admins and owners can choose whether leave requests can be made if doing so puts the leave balance into a negative balance. Leave Requests in Days and Weeks Customers can use leave categories that use a Days/Weeks balance instead of hours. After these new leave categories have been created, employees will be able to submit leave requests using days or weeks, instead of hours.
Updates to Payslips imported from Xero
Payslips imported from Xero will now include a breakdown of tax contributions.
Updates to Mobile App
Safety Incident Reporting in App Incidents that happen in the workplace need documenting when they occur to ensure the organisation can track, manage and report on the health and safety of both employees and their preventive safety procedures. This feature was only available previously on desktop devices but is now available on mobile, ensuring a simplified task flow and higher accessibility to the feature when incidents occur. HR Documents in App With the aim to create greater parity between desktop and mobile, additional app functionality now allows employees to view any uploaded or finalised HR Documents in their employee file using Android or iOS. Employee Leave Balance in App Managers can now see an employee's leave balance before they approve or reject a leave request on mobile devices, creating greater convenience and efficiency. App UI Enhancement Timesheets, Safety Incidents, Recognition, Goals and Policies have all had enhancements made to their app functionality to ensure a positive user journey and experience across all devices.
Updates to Improve Business Performance
Employment Hero's Happiness Score is an aggregate score based on the responses to an anonymous and recurring survey. Employees rate their happiness at work on a scale of 1-10 and can elaborate using the comments section. However, sometimes more information is needed on comments which is difficult as they are submitted anonymously. Employers can now respond to individual comments using the thread in Employment Hero, without revealing the author. This closes the feedback loop and helps managers improve employee happiness and therefore, business performance.
eHappiness Score for Desktop
Employment Hero's Happiness Score was previously only available on the mobile app but is now visible on the desktop platform, making it easier for all of your employees to submit their happiness score!
Company Feed Enhancements
Employment Hero's Company Feed is the first port of call in the platform used for Shout Outs, Recognition and Announcements. The Feed's visibility has been improved for employers to see all posts made by their employees, including private and team-only posts. As well as this, two new affordances have been added to help internal communication:
Attachments(.PNG, .JPEG, .GIF, .PDF) can be shared with the entire company, specific teams or individually with Shout Outs, Recognitions and Announcements from both desktop and mobile devices.
Threaded Comments: Admins, Owners, Managers and Employees can comment on posts in the Company Feed, including Announcements, Shout Outs and Recognitions, as well as tag other users. When users are tagged in a comment, they'll receive a push notification. Individual users can delete their own comments, while Admins and Owners will be able to delete any comments.
Feedback
Feedback is a key component to engagement as it helps motivate employees to improve their performance. Employment Hero has developed Feedback to streamline the process by making it easier to give and receive feedback, as well as collating each piece of feedback in one convenient location. Employees and managers can now utilise it as a foundation for development.
Custom Surveys
Employee surveys are one of the easiest ways to encourage a culture of feedback within a company to improve employer/employee relationships and help businesses succeed. Employment Hero has developed Custom Surveys to enable employers admins to create and sendsurveys to their employees, allowing them to easily access, collate, track and analyse employee feedback pertaining to specific issues (e.g stress levels during COVID-19).
Hero Dollars are a tangible, affordable and efficient way to reward employees when appropriate. This feature has been enhanced through enabling account admins to:
Preset how many Hero Dollars are distributed per occasion, for example $10 Hero Dollars for Recognitions, $20 Hero Dollars for birthdays or $50 for work anniversaries.
Purchase Hero Dollars in bulk without leaving the Employment Hero platform using a credit card.
Download invoices directly from the platform when purchasing Hero Dollars, as well as receive invoices via email.
1:1s strengthen the relationship between managers and their team, reduce turnover and increase productivity. It is an opportunity for employers to nurture and mentor employees, check in on goals and ensure there are no issues preventing them from achieving their best results. For 1:1s to be as effective as possible, they should be scheduled, recurring and structured. This is why Employment Hero has developed 1:1s as a new feature on the platform. This feature guides managers and employees through structured and regular meetings with the goal of providing an environment for bidirectional coaching and feedback. This new feature enables users to:
Create a 1:1 sessions with any employee in the organisation, including their manager
Schedule recurring 1:1 sessions (either weekly, fortnightly, or monthly)
Reschedule upcoming sessions
Create talking points
Comment on talking points (as well as edit and delete talking points)
Threaded comments can continue the conversation
Hero Academy is a collection of workshops that ensure users get the most out of their Employment Hero subscription. Whether they're a brand new user or just need a bit of a refresher, users are able to register for workshops on everything from navigating Employment Hero and managing timesheets and leave to issuing HR documents and performance reviews.
Custom Branding
Custom branding gives users the ability to replace the Employment Hero logo with their own brand logo. Allowing them to maintain the branding of the platform, email and login page with the organisation's well known visuals, enabling company alignment. This feature allows companies to:
Upload brand logo
Edit the position of the image and then apply that logo in the specified locations.
Edit the uploaded image and disable custom branding at any point.
Apply chosen background image on desktop login page
Apply logo on desktop login page, password reset page, on sidebar menu
Apply logo on mobile app login page and dashboard page
A new widget that displays free resources to support mental, physical and financial wellbeing on the Dashboard of the employee portal on desktop, creating a more holistic approach to HR to ensure employees are happy, health and performing at their best.
Recognitions can now be downloaded as certificates, further enhancing employee engagement from technology-based recognition to physical appreciation that can be displayed.   Looking forward… And much, much more went on behind the scenes! We look forward to making the working world even better in 2021, stay tuned.